Commodity currencies usually fall when metal and energy prices drop – it's on the lable.  A strengthening USD should push commodity prices lower. Therefore, if USD strength is returning, any commodity currency priced against the USD could suffer a double whammy selling effect. Come in AUD/USD.
In volatile trading AUD/USD hit  a high above 0.7830 and a low beyond 0.7150 in the last two months. After what may be a corrective rally, the  price could be turning as we head to the FOMC decsision, and a potential rate rise, next week.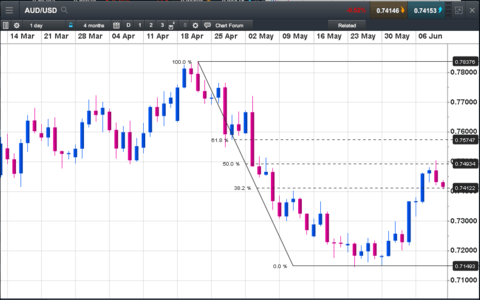 The potential for a stronger USD to sink the pair is evident. The possible failure at the 50% retracement may have traders selling on a fall through the 38.2% level, at say 0.7390, targeting potential moves towards the bottom of the range at around 0.7165. A rise above the current candle high at 0.7440 may be enough to stop-out shorters.
More problematic is any rise above 0.7510. This would suggest the up move is more than corrective, and indicate on a technical basis that higher ground is coming. Naturally, this would fly in the face of weakening commodity prices and higher US interest rates.