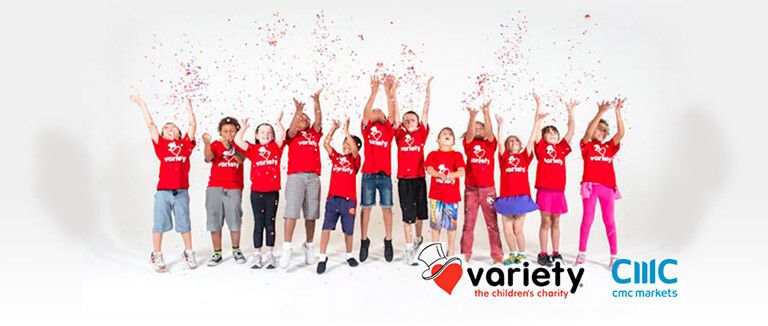 Celebrating over 8 years of partnership and a founding sponsor of Gold Heart Scholarship programme with Variety

Variety – The Children's Charity is honoured to recognise CMC Markets as one of its Principal Partners and a founding sponsor of its Gold Heart Scholarship programme. The programme, launched in 2007, is designed to help talented Kiwi kids reach their full potential and overcome personal challenges. Thanks to their commitment to the programme 45 scholarships have been granted enabling young people who are physically or financially challenged to fulfill their ambitions in the arts, sports or education. These future leaders, artists and sportspeople have had their dreams funded and have achieved success thanks to the vision of CMC Markets.
Meet this year's Gold Heart Scholarship Recipients
Henare Cherrington-Christie (13) - Kaitaia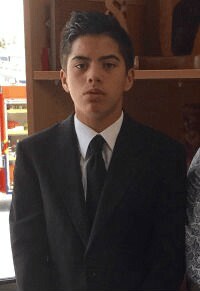 13 year old Henare has been passionate about swimming since he was six years old. He started competing when he was eight and has been doing well ever since. The Kaitaia local qualified and competed at the New Zealand Junior Swimming Championships in Wellington last year and competed at the Auckland Senior Swimming Championships. In 2015 he has qualified for the Division 2 Senior National Swimming Championships held in Dunedin.
Henare's swim coach Jim Larkin says that his specialist strokes are backstroke and freestyle of which he has earned top rankings in Northland and nationally and he also does extremely well in butterfly. Henare's scholarship was kindly funded by CMC Markets and will be used to help fund equipment and training costs as well as travel and accommodation for meets and competitions held far from his hometown.
Grace Jale (16) - Auckland
Grace is a 16 year old with a passion for football. Her coach Paul Marshall says she is a particularly talented player who is a likely candidate for selection into the New Zealand U17 squad to prepare for the FIFA U17 2016 World Cup. She was selected for the New Zealand U17 training camp taking place in July. She was part of the New Zealand Secondary Schools football squad who travelled to a competition in Australia in 2014 and was a member of the under-18 New Zealand Football Development Squad. She plays in her school's First XI team who last year remained undefeated without conceding a goal. She also plays club football at premier level.​​
Grace won the award for 'most promising player' at her school last year and her coach and manager describe her as polite and respectful, always willing to lend a hand preparing meals and helping while away at tournaments.
The gifted footballer's scholarship was kindly funded by CMC Markets and will be used to help pay for National Talent Centre training camps, equipment and tournament costs.
Rebecca Petch (15) - Te Awamutu
16 year old Rebecca has been racing BMX since she was three years old. She rode her first Nationals when she was just four and a half and has been racing at a top level ever since. She has been a National Champion on her 20 inch bike nine years in a row. Rebecca very recently won the one elite junior women's spot on the New Zealand team to travel to the UCI BMX World Championships in July, which means she'll be jetting off to Belgium to compete.​​​
Rebecca's main goal is to become a world champion in Belgium and to race in the 2020 Olympics when she is old enough to compete. Rebecca's BMX skill and dedication has taken her to several different countries including England and the Netherlands and she is mentored by Olympic medallist Sarah Walker.
Rebecca's scholarship was kindly funded by CMC Markets and will be used for overseas competitions, bike parts and race and safety gear.
Shakti Krishnan (17) - Hamilton
It is Shakti's dream to represent New Zealand at both the summer and winter Paralympics. If his dream comes true and he achieves this, he will be the first New Zealander to do so.​​
Shaki was born with spina bifida and is confined to a wheelchair but this has not stopped him from achieving great things in sports. Shakti has played table tennis at a very high level achieving wins at both singles and doubles table tennis tournaments as well as competing in school and club competitions which are able-bodied events.
He has also achieved highly in skiing and this year will be competing in an International Paralympic Alpine Skiing sanctioned race. This will give Shakti the chance to race against overseas competitors and edge him closer to his Paralympic dream.
Shakti's Gold Heart Scholarship was kindly funded by CMC Markets and will be used towards international table tennis tournaments in countries such as Australia, Thailand and Korea and for skiing training camps and competitions in the winter all bringing him closer to his summer and winter Paralympic goal.
Ji Hoon Cook (16) - Auckland
Ji Hoon's goal is to "help the world" and the 16 year old plans to become an engineer or medical doctor to achieve this. He has been awarded a Gold Heart Scholarship which was kindly funded by CMC Markets to continue tuition in maths and science to be able to reach university entrance level for engineering or medicine.​
The teenager is actively involved in extracurricular pursuits at school, including tennis, soccer and playing violin for the school orchestra and band. He has received awards for both his school studies and in international exams.
Both of Ji Hoon's parents are currently studying full-time. Gifted and Talented teacher Melvin Din says that this is a reflection of the huge importance that the family place on taking education and training seriously. Ji Hoon comes from a disadvantaged economic background and private tuition in maths and science will undoubtedly increase his chances of a dream career in engineering or medicine.
Ka Hee Cook (14) - Auckland
Ka Hee has a passion for music. The 14 year old has played a number of instruments but her main goal is to now focus on the violin and viola. She is a member of the Auckland Youth Symphony Orchestra amongst other groups. Dr John Thomson, conductor of her college Chamber Orchestra says that Ka Hee's "ability, dedication to improvement, and potential for future success" rank her in the top 3% of students he's seen over his last 25 years in New Zealand and in the United States.​
Ka Hee also contributes to the community with her music, often volunteering to play at retirement homes. She has achieved many formal music certificates including Grade 8 violin from the Associated Board of the Royal Schools of Music. This examination is considered equivalent to university entrance level so is a considerable accomplishment for a student who was in Year 9 at the time.
Ka Hee's scholarship was kindly funded by CMC Markets and will be used for extra music tuition to open up more opportunities for her to realise her dream of playing professionally.
Vince Te Tomo (14) - Ngaruawahia
Vince is a talented sportsman who has been identified as a player who could go on to achieve highly in rugby league as well as number of other sports. Vince has been selected as part of the Te Iti Rearea under-15 rugby league team to tour Australia. The team plays at a high level and has won every grand final in the grade it has competed in, every year since its inception seven years ago. He has played in a number of both school and club teams and performs well off the sports field too, doing well in his studies.
Vince catches two buses to school every day, leaving the house at 6:25am. School finishes at 4pm and after two more bus rides he is home at 6pm. The young sportsman manages to fit league training around this. Lisa Williams has known Vince for seven years through her involvement with Waikato School Boys Rugby League and says that he is an excellent role model to his friends and younger siblings and is always very grateful for anything he's given. Vince's Gold Heart Scholarship has been kindly funded by CMC Markets and will be used for his upcoming tour and equipment costs
CMC Markets has been involved with Variety Children's Charity for the last 8 years since inception of the Gold Heart Scholarship programme. The scholarship is a great initiative to be able to provide direct financial support to a group of very talented children who can excel even more in their area of talent. Working with variety is a rewarding initiative for CMC Markets.
We enjoy being able to make a very small difference in the community and a visible impact in the lives of Gold Heart recipients each year. It has been a pleasure supporting Variety over the last 7 years and all of the amazing work they are doing for New Zealand Children and globally via their network. Well done to Lorraine and her team.
Regards Chris Smith , General Manager, CMC Markets NZ