By Chloe Edwards, Trade With Precision
As we approach the end of the year, I'm taking stock of the major moves of 2019 and preparing for the year ahead.
After what seemed like a very poor end to the year in 2018, all three major US indices – US NDAQ 100, US 30 and SPX 500 - have recovered and performed strongly throughout 2019, with all three indices printing significantly higher levels than the previous highs of 2018.
The monthly chart of the SPX 500 below shows the uptrend in place, with nine of the last 11 months closing strongly, with the final month of the year so far looking likely to follow suit. Both MACD and RSI are also looking strong, indicating that the trend is healthy, and I am therefore looking for a continuation of these bullish trends into 2020.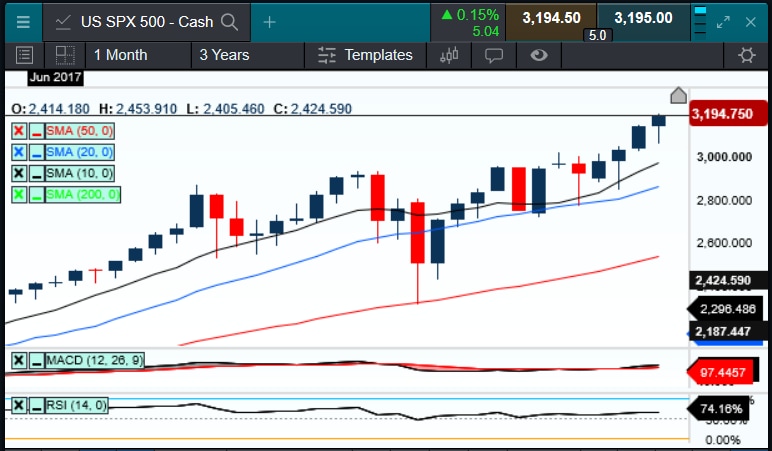 Taking a look at the daily chart of the SPX 500, I observe an uptrend, with higher highs and higher lows in price action, along with bullish geometry of the moving averages (MA). I will be awaiting a pullback into the buy zone around the 10 and 20 MAs, where I'll be looking for long opportunities for the rest of 2019 and into 2020.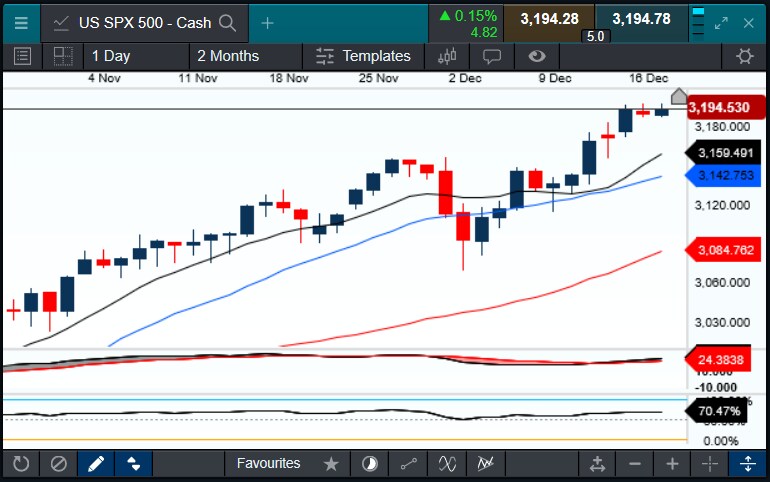 Other global markets have also performed strongly this year, with the Australia 200 looking particularly bullish. Price is currently pushing up beyond 2007's all-time high of 6,851.5, as shown in the monthly chart below. And there is a strong uptrend in place. I'd like to see this significant level of 6,850 broken if I am to continue to look for buying opportunities here into 2020.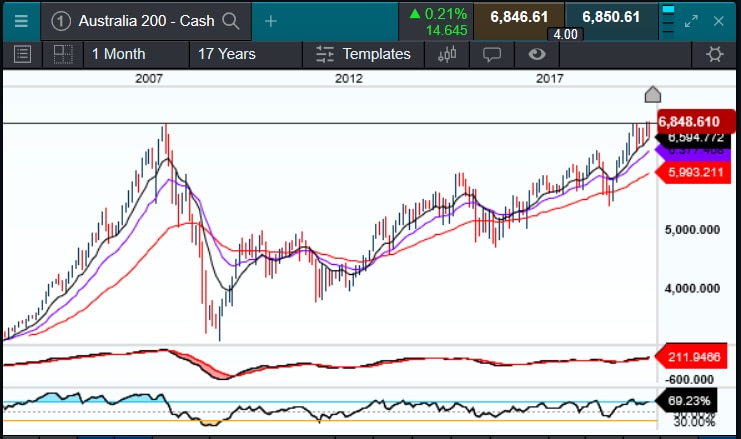 Precious metals have for the most part performed well in 2019, with Gold and Silver seeing a renewed bull market. With low interest rates and market uncertainty looking set to continue into 2020, Gold could continue to attract demand as a safe haven. I will be looking for Gold to push initially up to $1,600 in the first months of 2020, although higher levels could feasibly be achieved.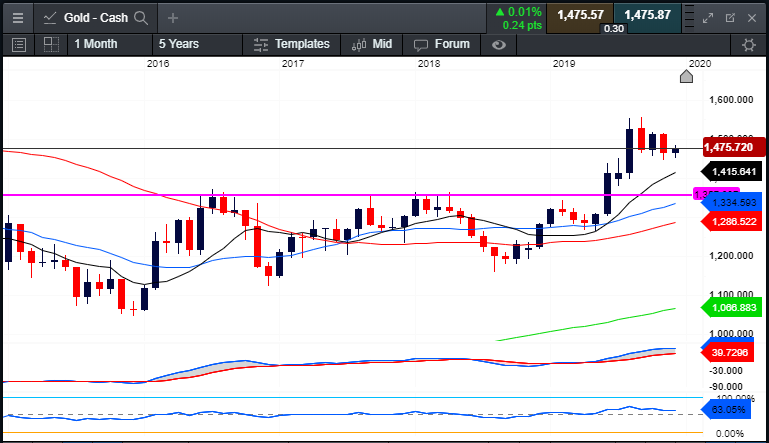 Palladium continues on its bull run, fuelled by low supply and high demand, and has yielded many trending opportunities to buy throughout 2019. The monthly, weekly and daily charts are still showing a healthy uptrend, so I will be continuing to look for long opportunities on Palladium, and across the precious metals, into 2020.
The final quarter of the year has also seen the price of Crude Oil recover, as seen in both Brent and West Texas. The daily chart of Brent below shows an uptrend, with price forming higher highs and higher lows, bullish MA geometry and bullish convergence of the MACD and RSI indicators.
While these bullish trends are intact, I will be continuing to look for long opportunities into 2020. A pullback into the 10 and 20 MAs on the daily timeframe may yield further buying opportunities, but I will also be keeping a close eye on the 4-hourly and 2-hourly timeframes, as the trend remains strong here too. These lower timeframes could yield higher reward-to-risk opportunities.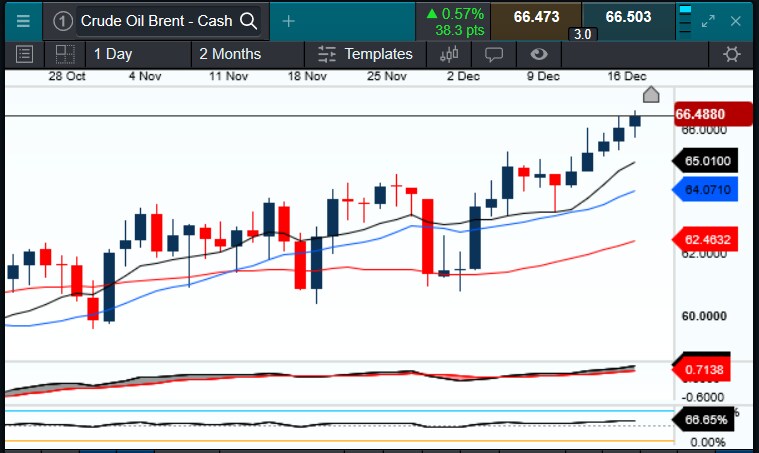 In the currency markets, the Australian dollar has shown continued weakness throughout 2019, and currently sits between two significant support/resistance levels at 0.6685 and 0.6920. If price breaks below the 0.6685 level, I will be continuing to look for selling opportunities, but if it manages to hold above the 0.6920 level I will be watching for a recovery.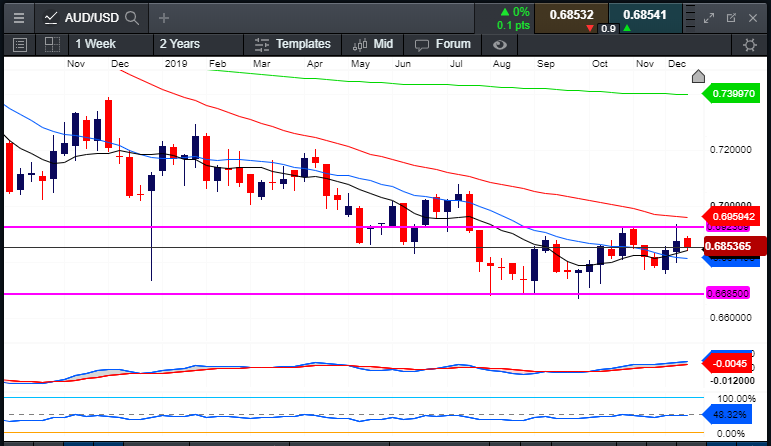 With Brexit being argued on all sides, GBP tested the lows of 1.2000 in the UK summer, but has been on a recovery since then with the potential threat of a no-deal Brexit waning, and the result of the general election lending more political certainty to a deal being completed. I remain flexible on my outlook here, but for now continue to be bullish with the daily uptrend in place, although I am awaiting a re-test of the 1.2960 level as shown on the daily chart below.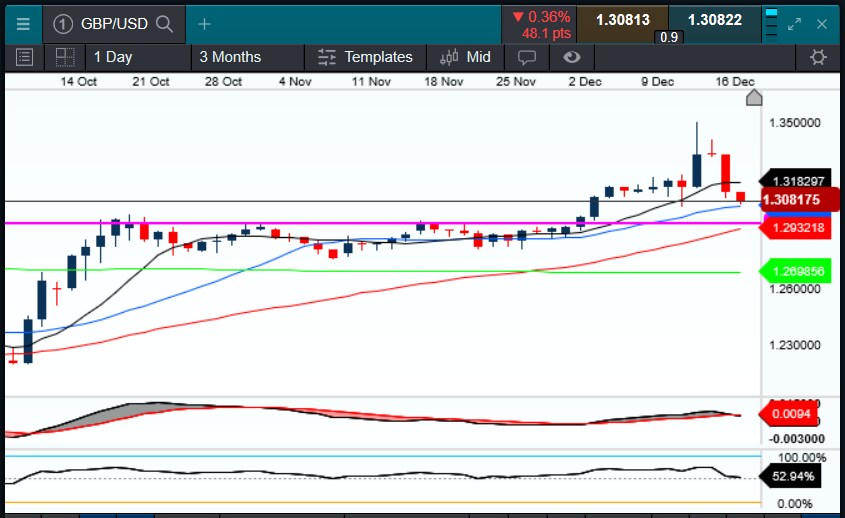 USDJPY has been looking bullish for the last few months of 2019, and if it breaks above the current level around 109.60, I wil be looking for the uptrend to continue into 2020, initially back up to the highs of 2019 around 112.00.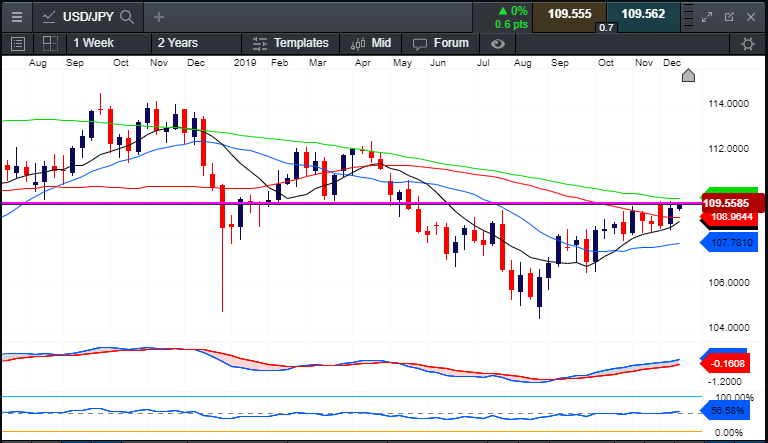 Wishing you all a very happy festive season and prosperous New Year.