US equities pulled back from recent highs overnight as markets started to price-in the impact on corporate earnings due to the outbreak of Covid-19.
The S&P 500 dropped 0.38%, dragged by information technology (-1.01%), Healthcare (-0.62%), communication (-0.61%), energy (-0.17%) and industrials (+0.16%). Technically, the S&P 500 index sees an immediate support at 3,355 points, breaking down below will lead to further downside towards the 3,320 area.
Strengthening US dollar also points to weaker earnings prospect as Corporate America generates a significant portion of its revenue from overseas markets. The Dollar Index is trading at 99.7 area, its highest level seen in three years. 
Precious metals jumped alongside with treasuries amid virus uncertainty. Recent rallies in gold and palladium also reflect the prospect of easing monetary policy by central banks in the regions mostly affected by Covid-19, namely China, Thailand, Singapore, South Korea, Japan and more. 
Gold price stood at US$ 1,620 this morning, reaching its highest level seen since 2013. Technically, gold is riding a bullish trend with upward momentum. Fibonacci Extension suggests a key resistance level could be found at US$ 1,642 (161.8%) and then US$ 1,664 (200%) area.
Palladium is consolidating at its record high of US$ 2,714 area, after gaining 43% this year.
In Singapore, UOB and OCBC bank both released their Q4 earnings this morning. UOB's Q4 profit is up 10% to S$ 1.01 billion, in line with expectation. It is worth noting that UOB has seen it's Net Interest Margin (NIM) – a key measure of bank's profitability – decline 4 basis points to 1.76%. This reflects the erosion effect of a lower interest rate environment on bank's earnings. Loan growth has slowed down to 3% year-on-year and may decline further in the first quarter due to impact from the virus.
OCBC sees a whopping 34% jump in Q4 earnings to S$ 1.24 billion on higher wealth management, higher trading income and insurance business. The result smashed consensus forecast of S$ 1.15 billion net income. The bank has proposed a final dividend to S$ 0.28 per share, up from S$ 0.23 a year ago. Net Interest Margin (NIM) rose 5 basis points to 1.77%, and loan growth at 3%. Non-interest income climbed 58% to S$ 1.31 billion,
Precious Metals Index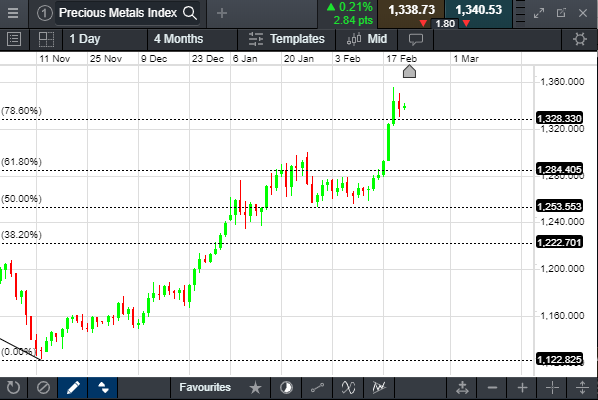 Source: CGTN