The Chines e-commerce giant, Alibaba, is to report its second-quarter earnings for the fiscal year 2023 before the US markets open later today. The company's shares rebounded 365% from its October low but are still down 75% from the October high in 2021 due to the macro headwinds and Beijing's regulatory crackdown on Chinese tech companies. In the upcoming earnings report, it's mainstream business, e-commerce sales will be on close watch, along with its growing cloud business.
An improvement in revenue growth is expected
Alibaba beat earnings expectations in its Q1 FY23, with a flat revenue growth year on year, and a 29% decline in its earnings per American depositary share. According to Bloomberg analysts, in the September quarter, the company's revenue is expected to be at 209 billion Yuan ($29.69billion), or a 3.95% growth year on year.  Its earnings per share are expected to be at 11.225 Yuan ($1.29) or a 2.2% growth year on year.
China's Covid-lockdowns had a major negative impact on the company's sales apart from Beijing's regulatory overhaul on Chinese tech companies in the prior quarter. In the June quarter, Alibaba's domestic e-commerce sales declined by 1% from a year ago due to a fall in its customer management revenue (CMR). Since mid-June when major Chinese cities came out of restricted lockdowns, e-commerce sales were seen signs of recovery, though China's renewed covid curbs in October may have had a similar impact on its sales. Alibaba's domestic active users exceeded 1 billion in FY22, representing the largest market share, paving the foundation for its sales growth. Evidence could be seen in its sales for the first 10 months, which rose 7.2%, higher than a 6.2% growth reported in January. However, Alibaba did not disclose its single-day sales this year for the first time in history, but the number could have reached $84 billion according to Tradingplatforms.com, which may be slightly up from last year's sales of $76.1 billion. Alibaba said this year's gross merchandise volume (GMV) was "in line with last year's GMV performance despite macro challenges and Covid-related impact."
A slowdown in the growth of the cloud business 
The year-on-year growth in Alibaba's cloud business has slowed to 9% in the June quarter from a 12% growth in the prior quarter, but it still accounts for the largest market share in China. The division was hit by Beijing's crackdown on the online education industry, which caused a major customer loss. The signs of relaxed regulatory scrutiny of the Chinese government could improve the division's growth outlook.
Technical analysis
Directional bias - bullish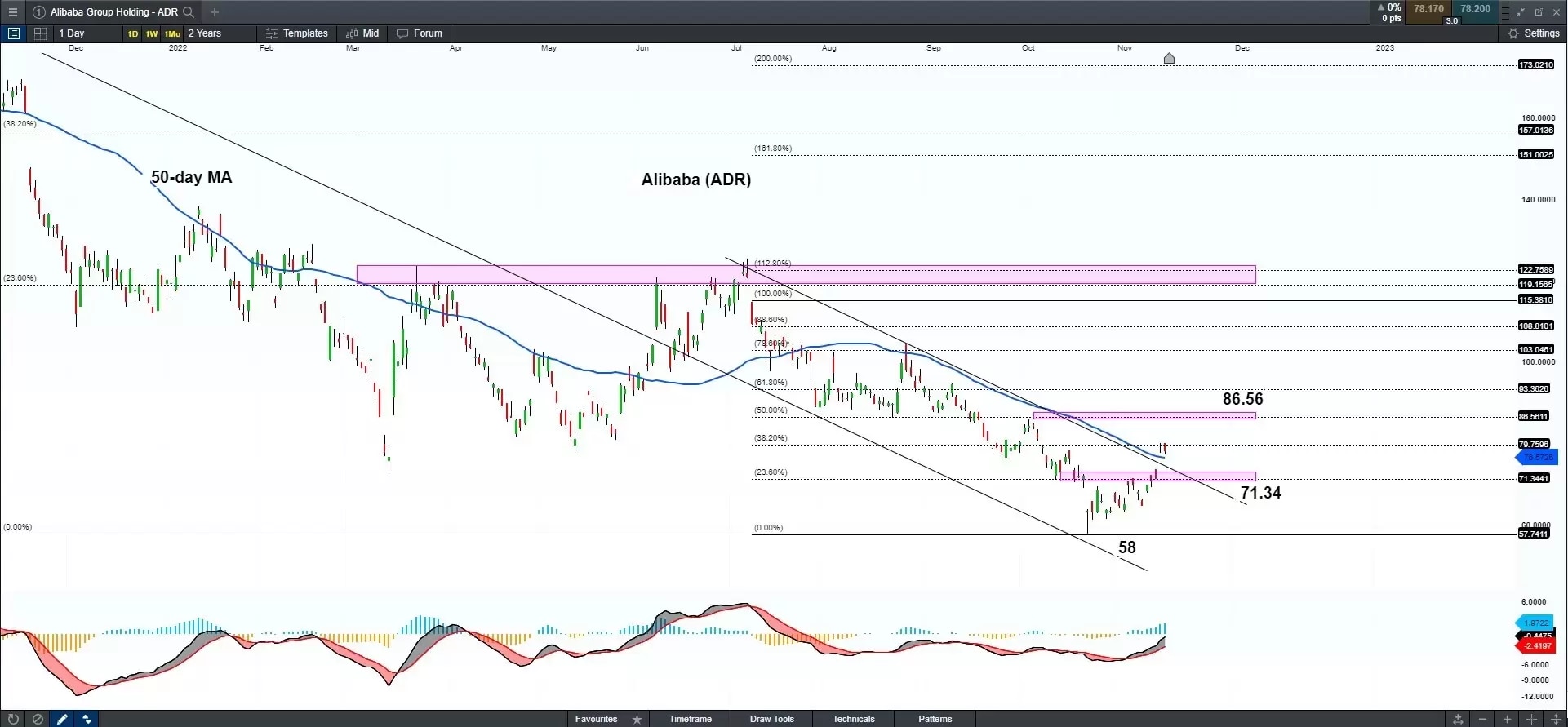 CMC Markets as of 17 Nov
(Click to enlarge the chart)
Alibaba (ADR)'s shares price had a major bullish breakout of its descending trendline, confluence with the 50-day moving average resistance of 76.57. MACD indicates that the upside momentum stays strong, suggesting that its share price could hit a further long target of above 86 if earnings results beat expectations.
On the flip side, weaker-than-expected earnings reports could press the shares down and test the near-term support of 71. A breakdown below this level may take the shares back to their October low of 58.