Wall Street kicks off the week with a mixed close amid the big bank earnings results. Goldman Sachs' shares plunged nearly 7% with its EPS missing the estimate by 39%, which made the biggest miss since 2011 due to a sharp decline in revenue and a jump in expense and credit loss provisions, while Morgan Stanley's stocks rose 6.3% amid a beat on expectations due to strong wealth management revenue. The mixed results from the US major banks, however, sparked concerns about the deteriorating credit risks as most banks have hugely increased their loan default provisions. The major tech earnings will be released starting from Netflix this Friday to gauge the tech industry's health. Notably, the US 2-year bond yield slipped while the yield on the 10-year notes rose, suggesting that market participants continued to bet on a further slowdown in the Fed's rate hikes, and pressing on the US dollar.
In Asia, China's greater-than-expected economic data buoyed oil and copper prices, lifting commodity currencies against the USD. However, a major risk event is ahead, which is the upcoming BOJ meeting, where the central bank is expected to give up on its government bond yield curve control, further tightening its monetary policy.
Futures point to a mixed open across Asian equity markets. ASX futures were up 0.30%, Nikkei 225 futures rose 0.50% and Hang Seng Index futures slipped 0.02%.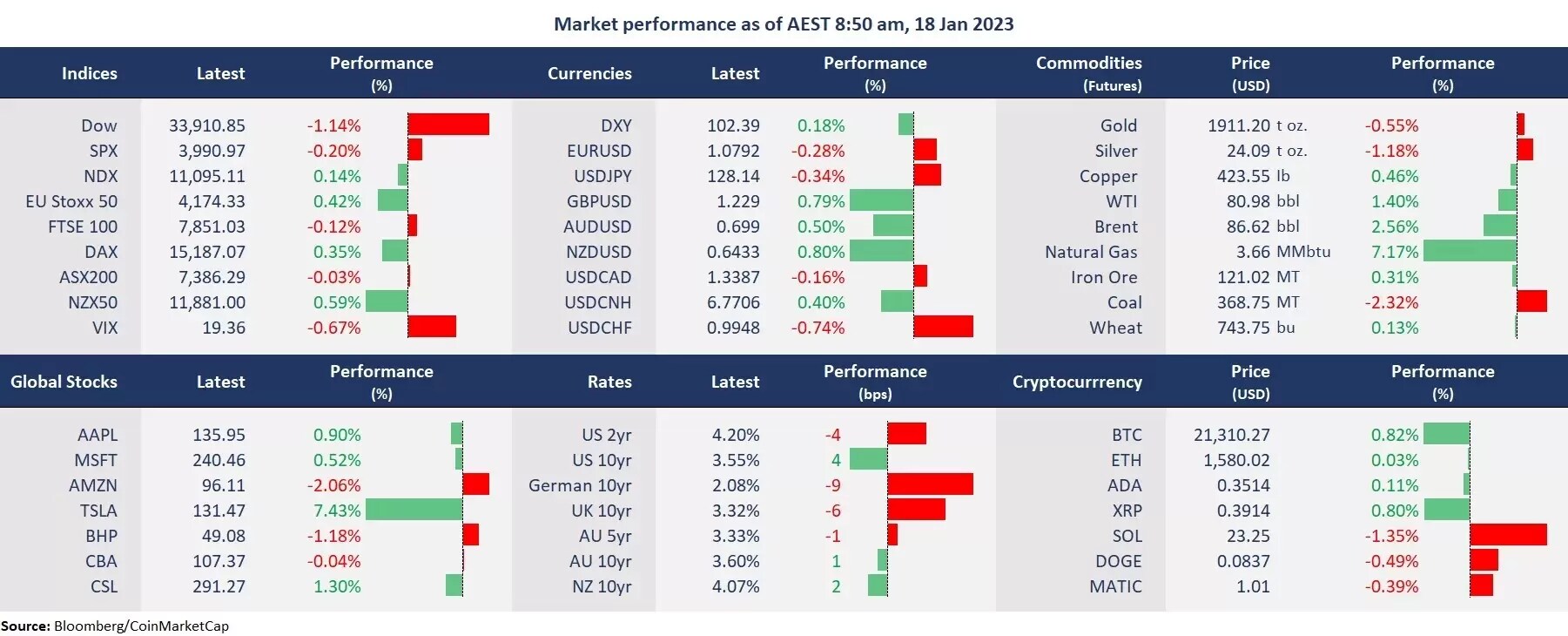 Click to enlarge the table
Dow slashed more than 400 points amid disappointing major bank earnings results while Nasdaq was higher on the tech's outperformance. 5 out of 11 sectors in the S&P 500 closed higher, with Technology leading gains, while Materials and Communication Services fell the most. Tesla shares jumped 7.4% amid dip-buys ahead of its fourth-quarter result next week.
United Airlines' shares jumped 5% in after-hours trading due to a beat on earnings expectations. The carrier reported $834 million in earnings, or $2.46 in EPS on a $12.4 billion revenue, topping analysts' estimates of $ 2.10 and $12.2 billion, respectively. High demands and increased fares helped the airline to return profitable, along with a positive outlook in 2023.  
Canadian inflation cooled to 6.3% year over year in December, lower than an expected 6.4%, also a sharp decline from November of 6.8%. The cooling CPI data may promote the BOC to slow its pace on rate hikes to 25 basis points next week, bringing the interest rate to 4.50%.
The Euro dollar slipped against the greenback on the news that the EBC may scale back its rate hike to a smaller increase of 25 basis points in March. EUR/USD rose about 13% from its low in September 2022, facing a resistance of 1.0875 from a technical perspective.
The Japanese Yen strengthened against the USD ahead of the BOJ meeting. USD/JPY cut the early gains and drifted lower ahead of the major event today. A policy change in the central bank may cause a further drop in the pair, heading to the next potential support of 122.50.
China's growth-sensitive commodities, including copper and Crude oil rose amid stronger-than-expected Chinese economic data. The Chinese data for December showed a resilient economic rebound since the country lifted most of the Covid control restrictions, sparking optimism towards commodity demand outlooks, typically in industrial metals and the oil markets.