US stocks closed mixed with Dow posting the second straight-day gain, while the rally on the tech-heavy index, Nasdaq, took a breather as investors were awaiting major tech earnings results. Microsoft's shares jumped 4% in after-hours trading amid the better-than-expected earnings report, lifting broad sentiment in tech. Hence, US equity futures may take a ride in today's Asian session.
On the other hand, both US and EU government bond yields slid as global manufacturing PMIs for December stayed contracted, despite a pickup from the prior month. The US dollar index slipped below 102 again, signing further weakness ahead. Interestingly, major Asian government bond yields climbed as the 10-year Japanese bond yield rose to 0.40% from 0.37% a day ago. Both New Zealand and Australia are to report the fourth quarter CPI data, with an expectation that inflation may stay elevated in the two nations. ASX futures fell 0.07 and Nikkei 225 futures were down 0.4%.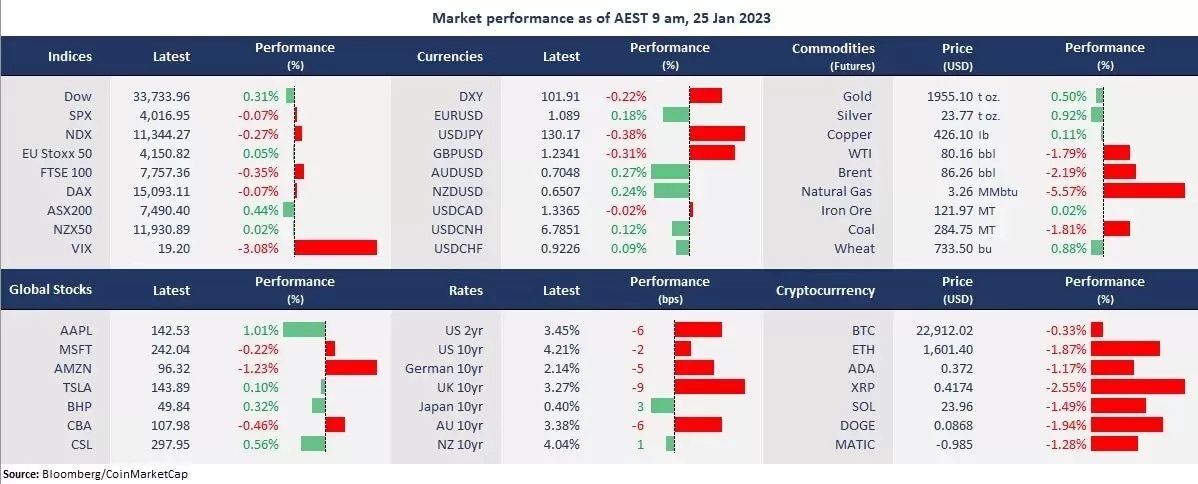 Click to enlarge the table
Dow was up 0.31%, the S&P 500 slid 0.07%, and Nasdaq fell 0.27%. 6 out of the 11 sectors in the S&P 500 finished higher, with Industrial leading gains, up 0.7%. All the growth sectors, including Consumer Discretionary, Technology, and Communication Services were down as the rally on tech came to a pause.
Microsoft's shares jumped on the positive earnings report. In its Q2 FY23, the tech giant reported earnings per share at $2.32, higher than an estimated $2.29 However, the revenue for the quarter is at $52.75 billion, lower than an expected $52.94 billion, or a 2% growth year on year, which is the slowest in more than 6 years. The revenue in its core business, Azure and other public could services grew at 31%, further cooling from 35% in the prior quarter.
Google's parent company, Alphabet's shares declined 2% amid the second antitrust lawsuit against Google by the US Justice Department. The lawsuit seeks to make Google divest parts of the business, which is expected to go to trial in September.  
New Zealand's Q4 CPI printed at 7.2% year on year, higher than the 7.1% expected. The sticky inflation strengthens the odds for the RBNZ to continue its jumbo 50 bps rate hikes in the February meeting, bringing the OCR to 4.75%. The new Zealand dollar spiked on the data.
Gold futures climbed to a fresh 9-month high due to the decline in bond yields and a softened USD, while oil prices fell due to uncertainties about global economic growth as major economies' flash manufacturing PMIs were still in the contraction territory, with the US data contracting for the fourth consecutive month.