On Monday I posted an opinion piece on possible turning points for the Dow and Aussie Dollar. As I see it, both these situations are still in play. Here's an update.
US 30 chart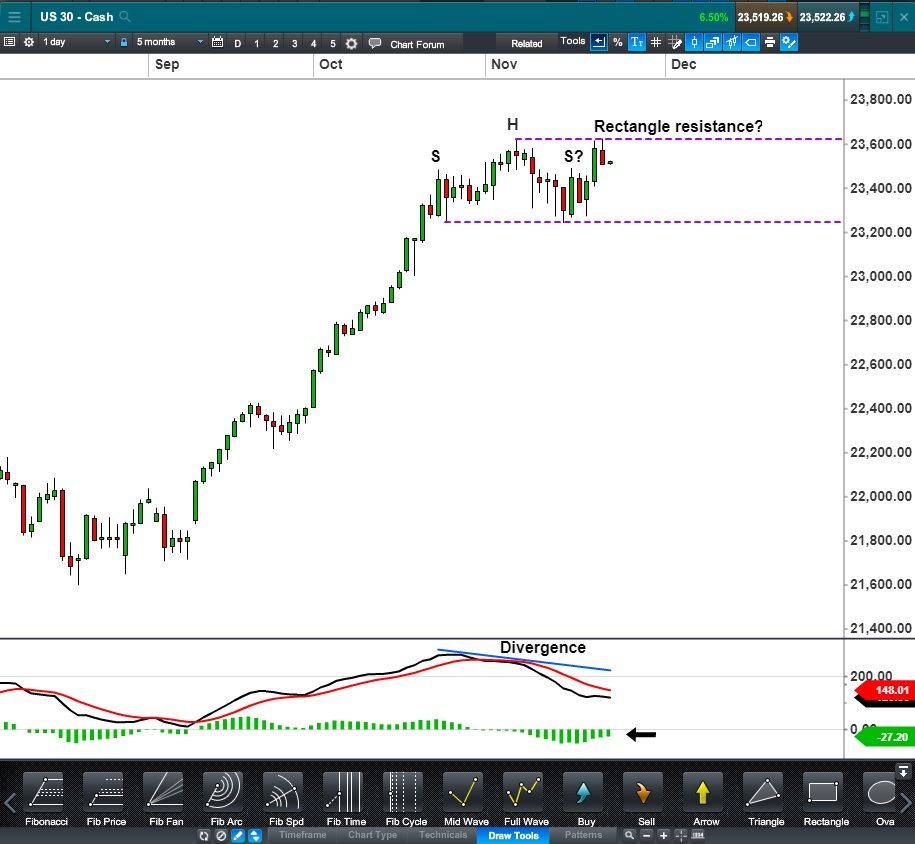 Earlier in the week, US 30 could have formed a head and shoulder pattern. This did not happen. Tuesday's rally went passed any level that could have been called the right shoulder and negated the pattern.
So far though, the rally has pulled up at the previous high. That leaves the possibility of a rectangle or double top style pattern being confirmed. A move below Tuesday's low would confirm rejection of the rectangle resistance. That could set up for a possible break of support, completing a double top pattern in a bearish development.
After showing bearish divergence with price, the MACD continues to indicate a downtrend with the MACD line being below its signal line and the histogram bars being below 0.
Despite this, if price moves higher from here, the rectangle, like the head and shoulder, will be negated. In those cicumstances MACD is likely to provide confirmation with the histogram moving above 0. 
Aussie Dollar chart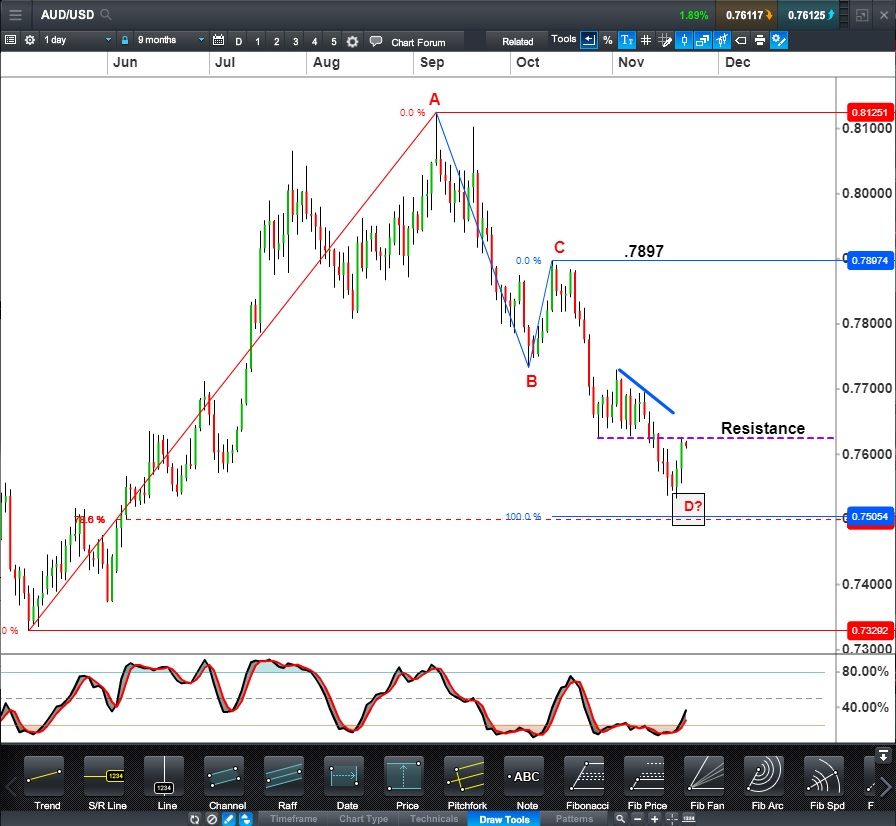 My post on Monday noted that a trend change in the vicinity of 75c would occur at a harmonic level on the Aussie Dollar chart. That could make it a potentially significant turning point
Aussie is now trending up, making higher highs and lows. This occurred close enough to 75c to call it significant according to my trading rules. As I outlined in my recent Fibonacci webinar, I use a tolerance threshold of 0.6% on daily forex charts.
Aussie Dollar stopped at the .7625 resistance last night. This looks a significant level to me. A push above it would "overlap" through the last swing low. This is often a sign of strength and suggests that, as a minimum, Aussie could now be embarked on a correction of the move down from .7897. If there is an overlap, Aussie becomes a buy dips scenario for short term traders not already long in my view.
I will be covering how to use "overlap" as a tool to help with trend identification and trading strategy in a webinar next week. If you are interested you can register here.