Chart of the week - AUD/JPY
"Double Top" in play for AUD/JPY
Short-term technical analysis (1 to 3 weeks)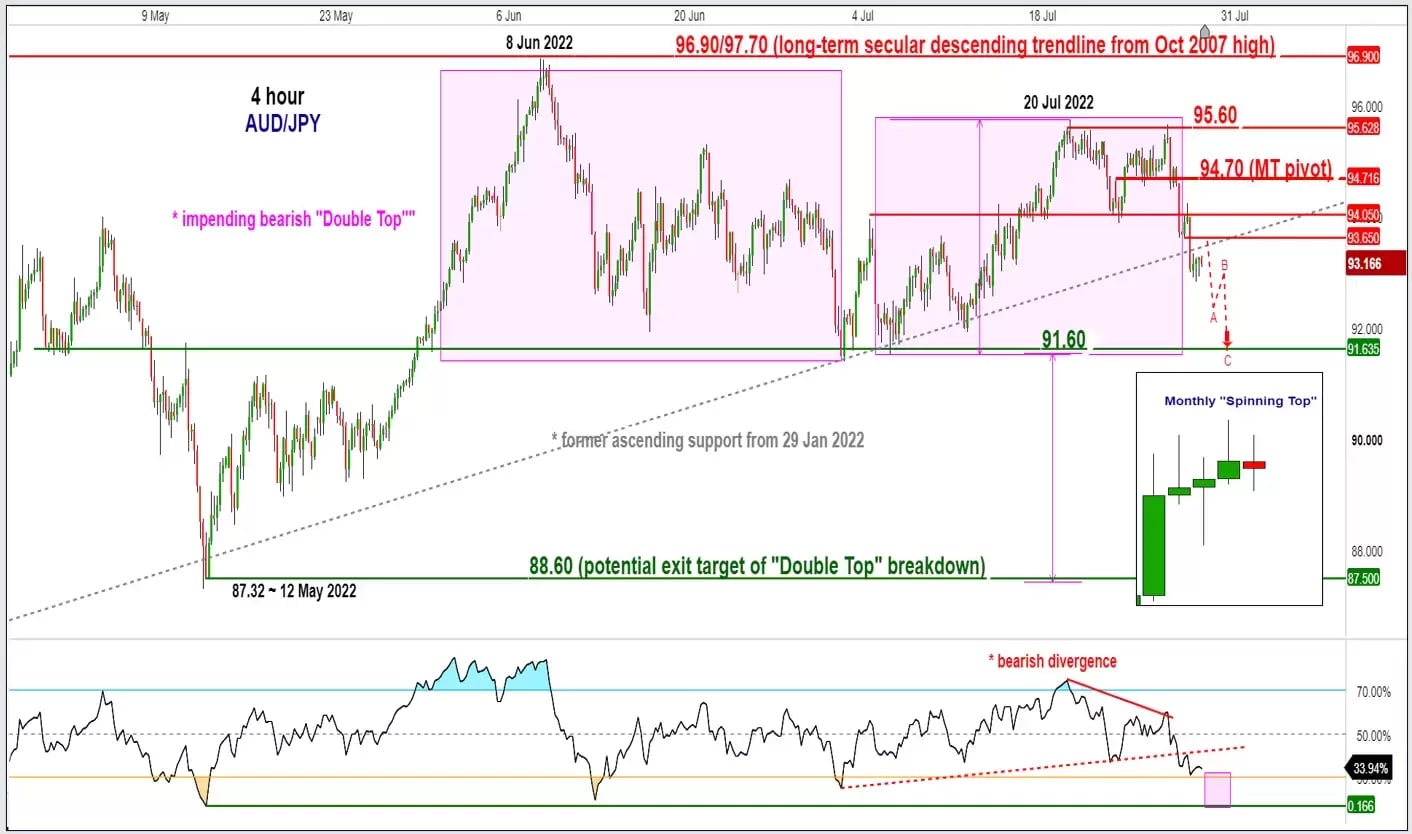 (
click to enlarge chart
)
Time-stamped: 31 Jul 2022 at 12:30 pm SGT
Source: CMC Markets
Australia's central bank, the RBA will meet on Tuesday, 2 August to decide on the magnitude of its next interest rate hike on the policy cash rate. Consensus is set at a 50 bps increase, a similar move that was decided at the prior July monetary policy-setting meeting.
Recent price actions of the AUD/JPY cross rate since 20 July 2022 minor high of 95.77 has shed by -290 pips to print a low of 92.86 on last Friday, 29 July and formed a monthly "Spinning Top" for July that represents signs of exhaustion for the current medium-term uptrend phase from late November 2021 low.
Bearish signals have emerged from an integrated technical analysis point of view. Watch the 94.70 key medium-term pivotal resistance after the likelihood of a minor bounce towards the intermediate resistance zone of 93.65/94.05 for a further potential impulsive down move towards the 91.60 support (neckline of the "Double Top") in the first step.
However, a clearance with a 4-hour close above 94.70 put the bearish tone on hold for a push-up to retest 95.60 and the 96.90/97.70 long-term pivotal resistance (a descending trendline that has capped previous rallies since October 2007 high).
Negative elements; price actions have just staged a bearish breakdown from its former medium-term ascending trendline support from the 29 January 2022 low, price actions have evolved into a bearish "Double Top" configuration since the 8 June 2022 high right below the 96.90/97.70 long-term pivotal resistance and the 4-hour RSI oscillator remains in a bearish configuration since its bearish breakdown below its former key corresponding support at the 40% level, also it still has not reached its extreme oversold level of 16% which suggests that short-term downside momentum remains intact to support a further potential drop in price actions of AUD/JPY towards 91.60 (neckline support of the "Double Top").