Beach Energy has suffered less of a correction than most of the other oil and gas stocks over the past week. No doubt, last week's news that Beach has discovered a potentially large gas resource in South Australia is making investors reluctant to sell. This makes for the kind of weak correction against a strong uptrend that trend followers look for.  
Gas Discovery
Last week, Beach announced discovery of a new gas field in the Otway Basin in South Australia. There is a long way to go to prove commercialisation but the company's report was optimistic. It said test results indicate "a highly deliverable reservoir and provide encouragement to move towards commercialisation of a large gas resource"
The oil and gas sector has been under pressure since this announcement but Beach has fallen less than its peers have. Santos, for example, which tends to be more volatile than other gas stocks, is currently 5% below its peak on 10 January.  Beach on the other hand, rallied after the discovery announcement and despite minor weakness over the past couple of days, it is still 2% above its 10 January close  
This creates some risk of negative catch up if the Beach discovery disappoints. Against that, is the benefit of what looks to be a positive chart outlook and good news on the new gas field.
Beach Energy Chart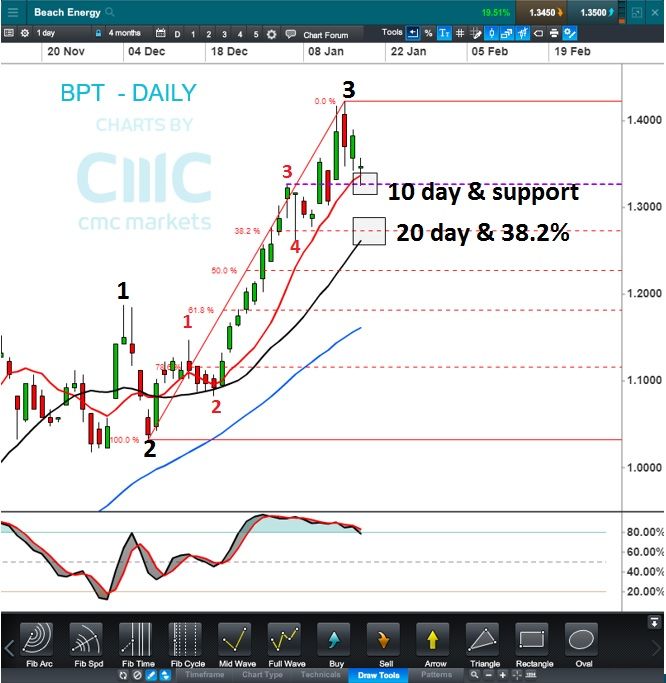 Beach has been in a strong up trend since early December. A quick visual appraisal show this. However the moving averages confirm it, with the 10, 20 and 50-day averages all well spaced and heading up
It also looks to me as though Beach has just completed the third wave in an Elliot five wave pattern. If that plays out there is another leg of this rally to come.
In these circumstances, pullbacks can be minor, especially where investors are waiting on confirmation of a significant commercial gas discovery. A pull back into the zone of the 10 and 20-day moving averages plus a sign that the market is stabilising can be a buy opportunity.
At this stage, two possibilities look interesting to me.
The first is where the market is now. This picks up the 10 day moving average and potential support of the recent minor peak
The second is the 20 day moving average and 38.2% Fibonacci retracement around $1.27
As usual, I would want to see signs of the market stopping at these levels. If price just falls straight through, I will be looking for lower levels, not attempting to catch a falling knife. Where positions are taken, close stop loss levels are appropriate for traders in these situations.