By Chloe Edwards, Trade With Precision
The global Coronavirus pandemic has caused the biggest fall in the index markets since the financial crisis of 2008, during the months of February and March 2020. Since then however, there has been a general trend of recovery in some of these markets, with the US NDAQ 100 notably now pushing back up towards the all-time highs seen in February just before the crash.
However, one of the markets I'm currently focusing on is the Australia 200 index. Australia appears to have kept its cases of COVID-19 low compared to much of the world, so we might see a quicker rebound of our economy over the coming months. And that would bode well for a continued bullish trend on the Australia 200 index.
As always keeping risk management at the forefront of my mind in these uncertain times, I am going to continue to look for opportunities to take advantage of the bull trend.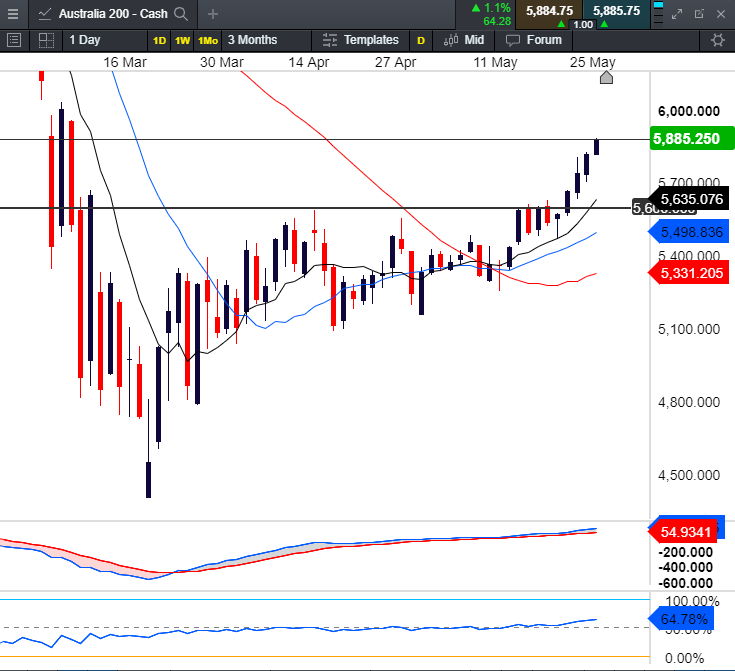 Looking at the daily chart of the Australia 200 above, I can see that price has broken to a new high over the past few days, and is now beginning to show an uptrend in price action with higher highs and higher lows. The MACD and RSI indicators are converging with price, suggesting there may be further momentum to the upside. The next level of horizontal resistance lies around 6,100, leaving room for further gains.
On the daily timeframe I do not see good bullish geometry of the moving averages (MAs) yet, although the 10, 20 and 50 EMAs are not far off coming into alignment. That means I will need to look to a lower timeframe to find a potential trading opportunity. And that may also offer the benefit of finding a higher reward-to-risk opportunity than trading on the daily timeframe.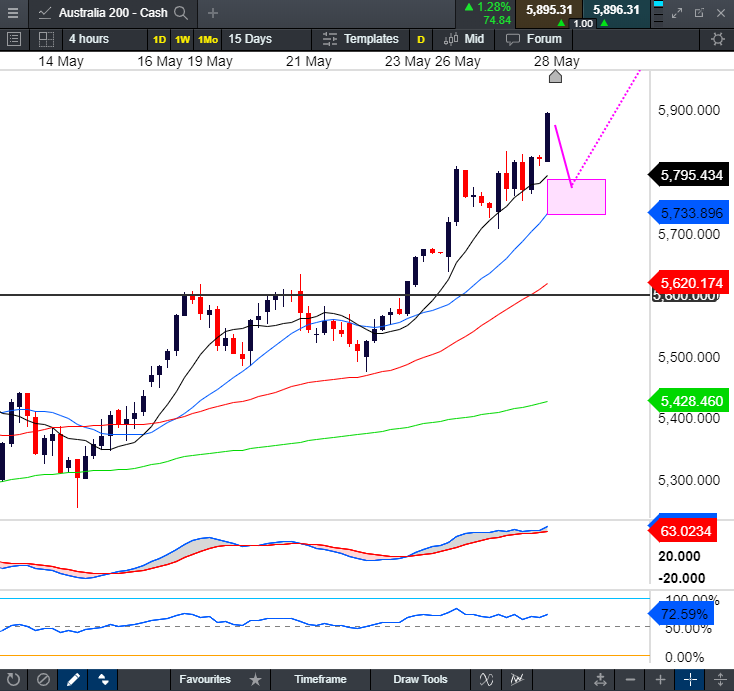 On the four hourly chart, I can see an uptrend in place, with price action forming higher highs and higher lows, and the 10, 20, 50 and 200 MAs lined up and showing good bullish geometry. The MACD indicator is trending higher in a bullish fashion, which could confirm the trend momentum to the upside.
The combination of this price action and the indicators suggests to me the potential for possible long trading opportunities, so I am currently looking at the pullback into the area around the 10 and 20 MAs on this timeframe, which has recently taken place. I will be waiting for a small bullish candle to print around this area, and if this happens, I will use this as the basis for a long entry.
My target for this trade will be the 6,100 area, although in these uncertain times it may be prudent to progressively scale out of the trade as price continues upwards.
Stay safe and healthy, and happy trading.