Aristocrat Leisure has been moving into the social casino area in search of a new growth option. This has come at some cost in the form of an increased risk profile. In the meantime, the share price wheels are spinning. The stock is struggling to gain the traction needed to move past chart resistance
Aristocrat Leisure background
Aristocrat, has been a big winner for shareholders in recent years.  The share price rose 260% over the past 3 years and was up 53% in 2017
Aristocrat has been a turnaround story. After a horror period, new management cleaned up the balance sheet; improved the product offering via a successful R&D program and achieved impressive profit growth in the US. 
However, growth opportunities in Aristocrat's traditional slot machine markets are maturing. In Australia, the total number of poker machines is limited by regulation. Aristocrat is now by far the dominant player, limiting its capacity for further market share gains. Overall market growth in the US is moderate and to maintain its recent momentum, Aristocrat will need to keep expanding market share.
Management have responded to this situation by diversifying into the online, social casino market. It has done this via acquisitions, the latest of which was the $US990m purchase of casino publisher, Big Fish in November
Social casino's is a growing market and makes use of Amazon's expertise in developing gaming product. However, diversification into this market may also increase Aristocrat's risk profile via greater exposure to competition. Barriers to entry are much lower than in the traditional slot machine market. Online, game developers with a good idea can launch apps relatively easily.
Aristocrat Leisure Chart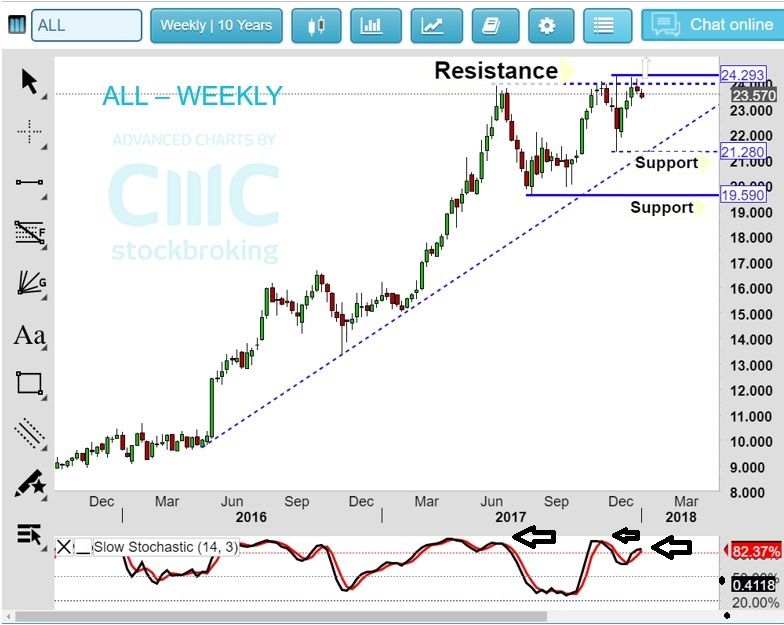 The 53% gain in Aristocrat's share price [RS1] all came in the first half of the year. The uptrend peaked and was followed by a significant correction
The stock price has recovered since but is struggling to get past resistance between $24 and $24.30.
This is the third test of this resistance since June. Each time the slow stochastic has been in the overbought zone above 80% (see arrows in the box below the chart). If the share price does begin to reject this resistance again with candles making lower highs and lows, another retreat towards support could be on the cards given current valuations of around 22 times forward earnings.