Wall Street's rally lost steam, with both Dow and S&P 500 finishing the week lower. However, the tech-heavy index, Nasdaq again outperformed both major US and & EU markets as optimism towards a slowdown in Fed's rate hikes and tech earnings continued to fuel the dip-buys. At the same time, Asian markets rise further amid China's reopening optimism and strong commodity prices, suggesting investment funds may have been shifting to more policy-supported regions.
This week, the Q4 US GDP will be in the spotlight for investors to gauge the health of the world's largest economy. Plus, both Microsoft and Tesla will report their Q4 earnings, which will further drive the market's movements.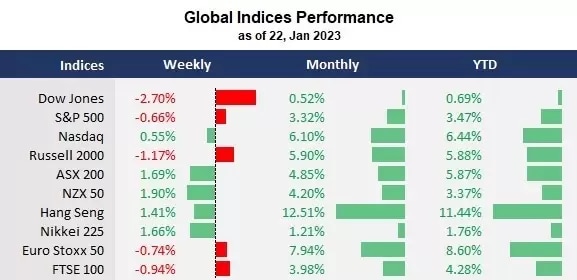 Click to enlarge the table
What are we watching?
Australian markets pop: The ASX200 rose for the third straight week, with the Australian miner's stocks, such as BHP and Rio Tino leading gains amid strong output numbers and positive guidance. The index is only 2% from its all-time high seen in April 2022.
Gold extends gains: Gold futures rose for the fourth consecutive week, to a 9-month high. The precious metal consolidates above key support of 1,900, heading to the next potential long target of 1,976.
Crude oil tops 80: Oil markets continued to rise amid an improved demand outlook due to China's reopening, which outweighs recession fears as cooled US inflation strengthened the odds for a slowdown in rate hikes by the Fed.
Bitcoin jumps: Bitcoin jumped 6%, to above 22,000 on Friday and popped above 23,000 at the weekend, to the highest seen in August 2022, while Ethereum surged 16% to above 1,600 last week as risk-on prevailed markets broadly.  
Economic Calendar (23 Jan – 27 Jan) All time is in Australian AEST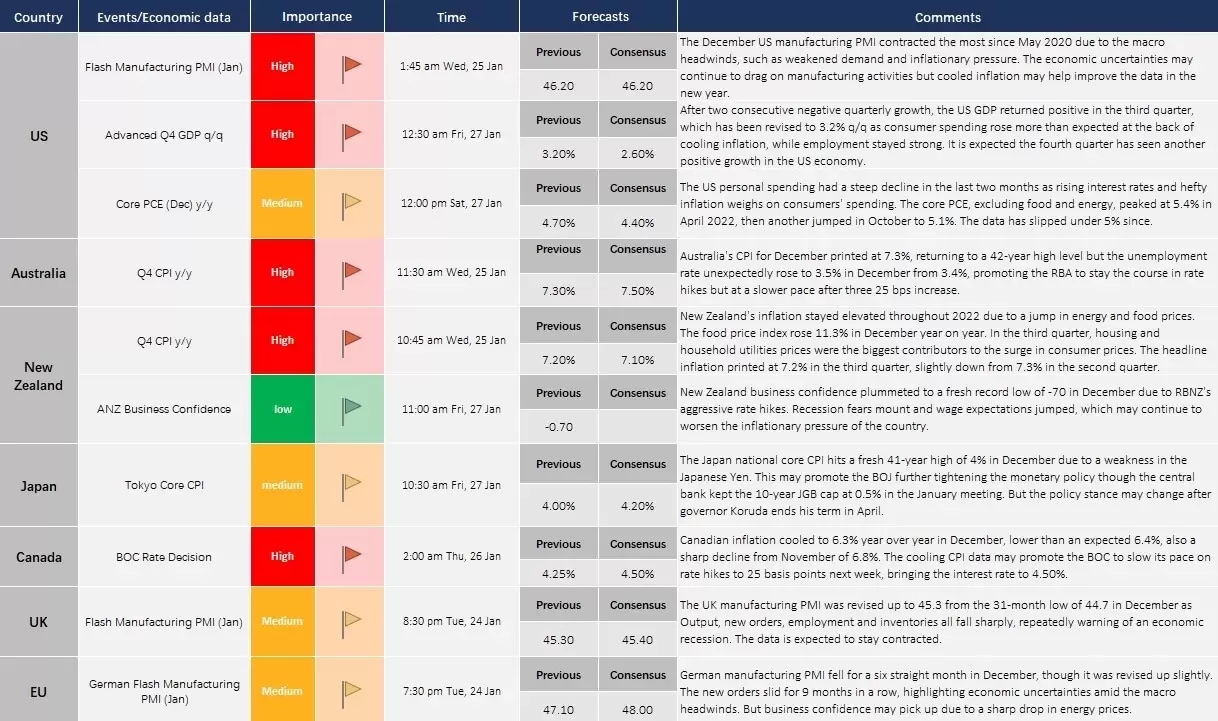 Click to enlarge the table