Major global stock markets finished higher in the first week of 2023, which were fuelled by hopes that inflation will continue to cool as the US wage growth in December came to be less than expected. Hence, the US CPI data will be in the spotlight for investors to monitor the inflation trajectory. However, risks remain as central banks' aggressive rate hikes may further press on stock valuations, which makes the upcoming US earnings a focus to steer market movements. The US big banks, including JPMorgan Chase, Citigroup, and Bank of America will kick off earnings season this week.  
Notably, Chinese stocks continued to rise amid China's reopening optimism, with Hang Seng Index up 6% for the week, and about a 45% surge from its October low, suggesting that the Asian stock's outperformance may continue, led by the stimulus measures taken by Beijing, which has also lifted the global resource prices.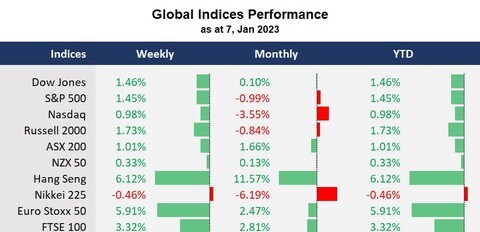 Click to enlarge the table
What are we watching?
The US bond yields decline: Despite an ongoing hawkish tone by the Fed, the yields on benchmark US bonds retreated from a multi-week high, suggesting that markets bet for a sooner Fed pivot than what the Reserve Bank projects.
Gold surges: The decline in US bond yields and a softened USD led to a sharp rally in gold prices, with gold futures jumping 2% to a 6-month high. Gold may again become a haven asset to hedge recessionary risk in the new year.
Chinese Yuan strengthens: The rally in Chinese stocks has also pushed the Chinese Yuan higher, with USD/CNH falling to just under 6.83, the lowest since August 2022. Yuan's outperformance among Asian currencies could continue as China's reopening optimism may domain future moves.
Crude oil retreats: Crude oil futures had their biggest weekly losses in a month due to recession fears as oil prices have been positively correlated with inflation since 2022, though China's reopening may buffer the decline in the near term.
Economic Calendar (9 Jan – 13 Jan) All time is in Australian AEST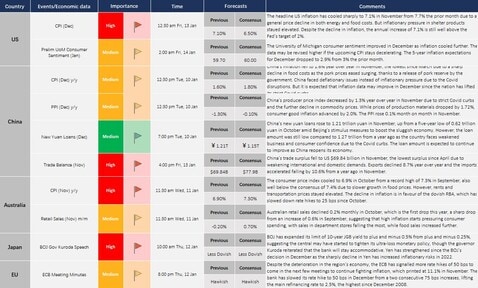 Click to enlarge the table