A hint for you to start the week: Although last Friday's non-farm payroll data offered a rapid bounce to the broad equity markets, investors did not enjoy much of a respite from the short-lived rally. All the US major averages closed at session lows and fell for the third consecutive week, which marks the end of the "bear markets rally".
Markets performance: Most of the world's major equity markets finished lower last week, with the US small cap, Russel 200, and the tech-heavy index, Nasdaq leading losses, suggesting that the hawkish central banks' reiteration again started slashing market valuation for those higher leveraged equities, typically in growth stocks. Notably, the New Zealand stock markets outperformed global markets for the last month due to strong company earnings reports and positive outlooks.
 World major indices performances as of 04, September 2022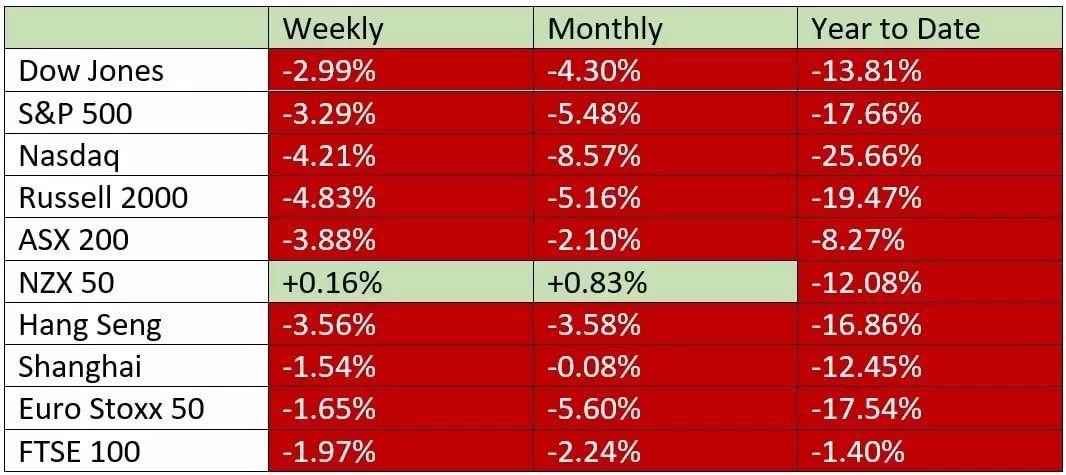 A Highlight for the week: Three major central banks, including the ECB, RBA, and BOC will hold policy meetings this week, with expectations for them to keep the aggressive pace on rate hikes. The European Central bank has signalled for a 75-bps increase this time.
What are we watching?
Economic Calendar (05 Sep – 9 Sep)