By John Sheridan, Trade With Precision
Amazon has morphed from an online bookshop back in the nineties, to an "everything you want" megastore. Now a global giant, Amazon has been accused of having a virtual monopoly of online sales. Whether that is a good thing or not, it does make it an interesting target for traders.
As well as being able to order almost anything online and have it delivered to your home - often within a day if you are a Prime customer - Amazon is rapidly expanding into different markets.
Its activities now range from delivering online entertainment and tablet devices, to groceries (it recently acquired organic supermarket chain Whole Foods Market). So what opportunities does Amazon offer technical traders?
Starting our analysis on the Monthly timeframe below, we can see that Amazon has now been in an uptrend for almost a decade. The company's trading performance is almost a textbook view of an uptrend. It has consistently made higher highs and lows, with the moving averages (MA) fanning out in the optimal geometry for an uptrend with the 10 period MA above the 20 MA which is above the 50 MA and which is above the 200 MA. 
You'll also notice that the momentum of the trend is confirmed by the indicator convergence. Price is currently overextended from the moving averages, but I'm not overly concerned about that on this timeframe.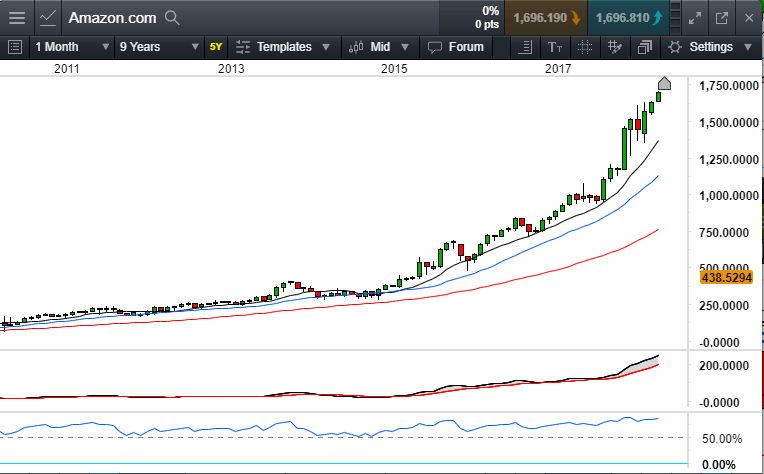 Moving down to the Weekly timeframe (below) we can see that price is again in a text book uptrend, also with optimal MA geometry. We have gone through a level of resistance just above the 1620.000 level. And what is interesting is that as price made a higher high, the indicators have stayed relatively flat, suggesting that price may well pull back.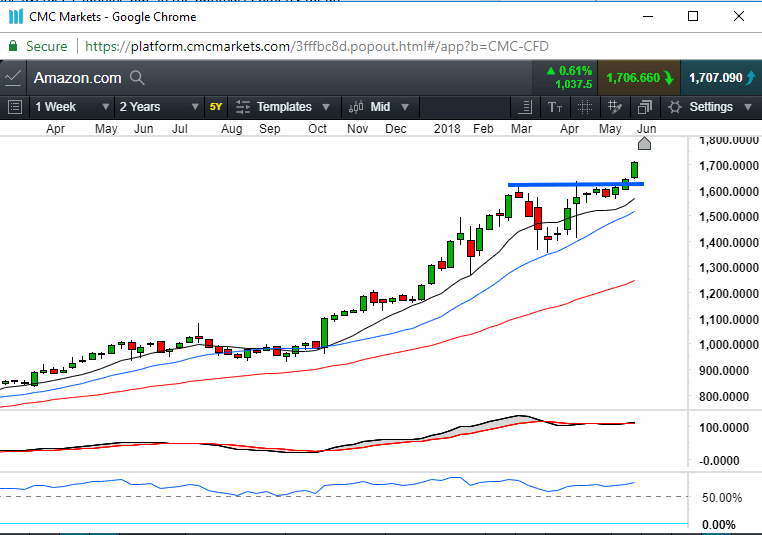 On the Daily chart (below), we can see that while the trend isn't as elegant as it is on the higher time frames, it is still valid. The MA geometry is again optimal and we have indicator divergence.  Price is over-extended on this timeframe, which could imply that we are due a pullback.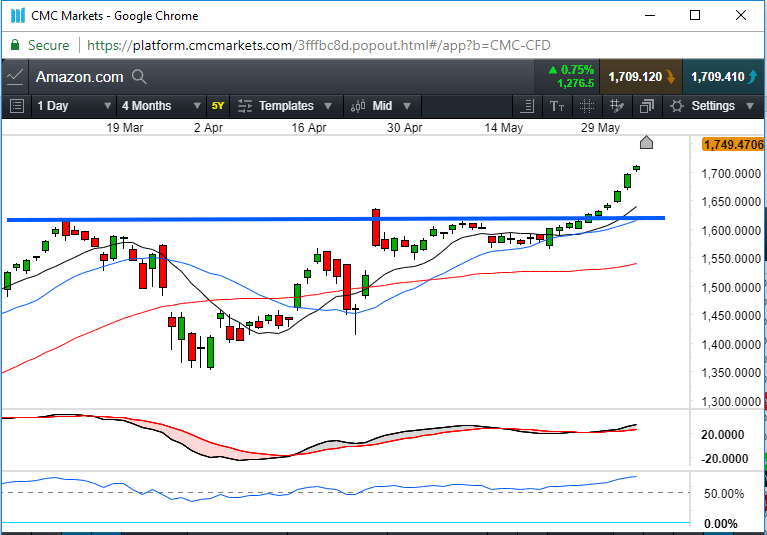 An obvious place for price to pullback to, would be the level that we have just broken through, although ideally, we would like some further confirmation of the strength of this level. With that in mind let's add a Fibonacci study to the chart.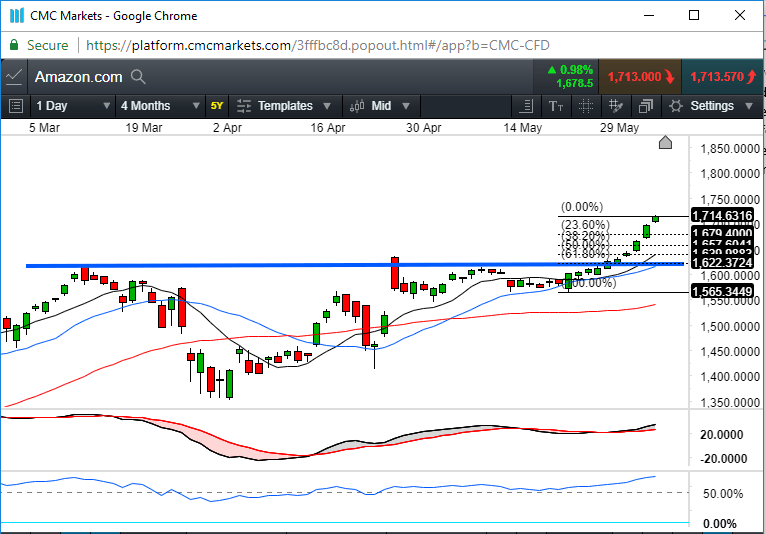 So, the 61.8 percent Fibonacci retracement level overlays closely with the level of support that we are targeting, which could add further probability to our idea that price may pull back to this level. I will be watching this level closely to see if price does pull back and present me with a trading opportunity.
To summarise, with a bullish picture being painted across the Monthly, Weekly and Daily timeframes, aligned with Amazon's dominance in the online marketplace, I'll be keeping it on my long wish list.