If there is going to be a year-end stock market rally, tomorrow's US CPI data and Fed meeting could be the catalyst. A dovish outlook on interest rates could do the trick, lifting investor spirits. Sydney Airport, which is bouncing off trend line support today, could be a stock to benefit.
Background
Based on its 2017 dividend guidance of 34.5c, Sydney Airport's dividend yield has risen to 4.7% from around 4.5% a couple of weeks ago.
This is no Telstra situation; growth prospects look solid. Total passenger numbers were up 3.8% in the year to October, driven by an increase in the lucrative business of Chinese customers.
The recent selling in Sydney Airport was probably due to concerns about rising bond yields. If tomorrow's inflation data and/or Fed meeting delay these concerns for a few months, the recent minor pullback may be enough for bargain hunters to return
Sydney Airport chart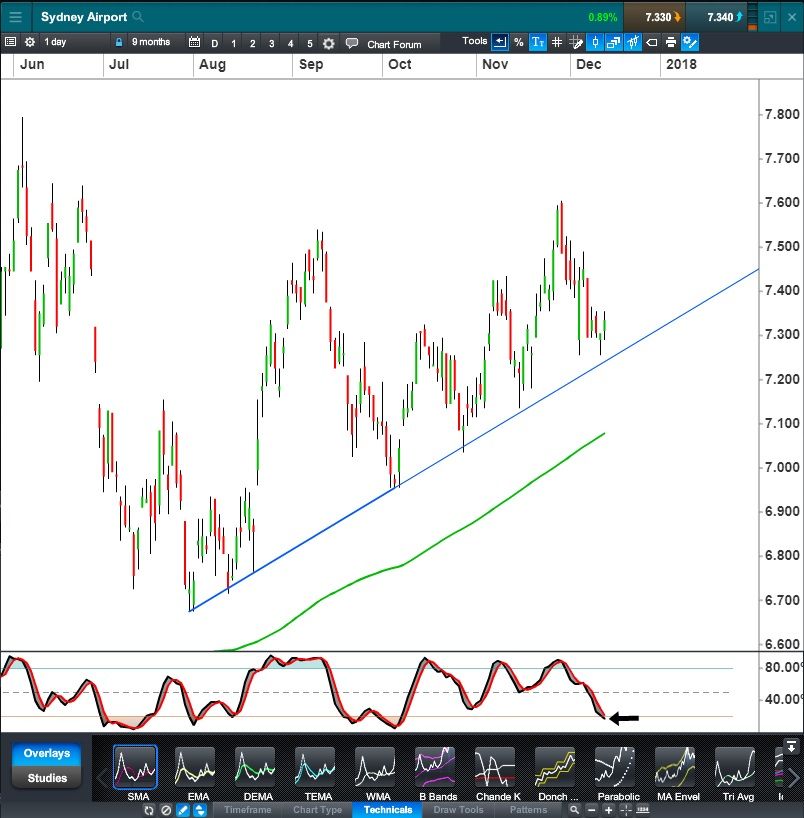 Today's candle is showing signs of rejecting established trend line support for a seventh time since July. At this stage, today's candle has made a higher high and higher low, leaving yesterday's candle as a trend low very close to the support line.
If there is a bearish outcome and the trend line is broken, it may be worth monitoring the 200-day moving average, which is tracking parallel to the trend line at a lower level. This could provide a second level of support around $7-$7.10