Homebuilders had a strong start to 2018 as a combination of low interest rates, accommodative mortgage polices and the help-to-buy scheme all helped keep demand robust. The sector has enjoyed a positive run since 2012/2013, but every economic cycle must come to an end. 
The industry shook off the doom and gloom projections in relation to Brexit, but the housing market began to show signs of cooling, particularly in London and the south east. Markets can't go up forever, and that is the same for the housing sector. Eventually, prices become too stretched and demand cools. Some parts of the country are seeing the growth rate cool, while prices in London are actually falling, albeit by a small amount. One could argue that the reduced prices are still too high. 
The share prices of Persimmon, Barratt Development, Bovis Homes, Berkeley Group, and Taylor Wimpey all set multi-year or all-time highs in 2018, but most are now near or below their June 2016 EU referendum levels. 
In August, the Bank of England hiked interest rates from 0.5% to 0.75% – its highest level since 2009. Admittedly, it wasn't a massive move, but it was symbolic. Bank governor Mark Carney talked about gradual rate hikes in the years to come, but that will also be dependent on Brexit. In the grand scheme of things, interest rates are still at rock bottom levels, but higher borrowing costs will squeeze some potential buyers out of the market. Personal debt levels are also at high rates, and that will also put pressure on some households.
The housebuilders operate in various areas across the country, and therefore target different markets. York-based Persimmon focus on northern England, the west midlands and Wales. Since property prices are, on average, lower in these parts of the UK than in the south-east of England, that is reflected in the selling price of Persimmon's homes. 
Berkeley Group concentrates more on the luxury end of the housing market, and is very much focused on London. Average house prices in the capital have comfortably exceeded the pre-housing crash level, but have now started to cool a little, so that is more likely to have an impact on Berkeley Group than any of its sector peers. 
Construction companies with lower average selling prices are more likely to benefit from the scrapping of stamp duty for first-time buyers. Persimmon has the lowest average selling price of the listed homebuilders, in the region of £216,000. Taylor Wimpey and Bovis Homes have average selling prices of £253,000 and £334,000 respectively, whereas a house build by Berkeley Group will set you back on average £715,000. 
Homebuilders that sit on land banks will come under pressure to develop the sites and increase housing supply. Some people have been critical of homebuilders for deliberately taking their time to develop the land as a way of only slowly increasing the housing stock supply. This may quicken the pace at which new homes come on the market. Some construction firms may have the desire to build, but not have the resources to develop the land, as they might be held back by labour constraints or access to funds. 
The Royal Institute of Chartered Surveyors' (RICS) construction and infrastructure outlook for the third quarter was optimistic considering the uncertainty surrounding Brexit. Overall there was an increase in the number of respondents who said that workloads increased in the quarter. The private housing sector was one of the areas which reported a higher workload increase. On the downside, more than half of builders believe that tender prices will continue to rise. Demand for skilled workers remains high, and labour and material prices are rising. Financial constraints and access to loans and credit was the greatest issue of concern for the industry. This might be because there are worries in relation to Brexit, and banks might not want to be overly exposed to the construction sector. 
Politics is playing a role in the construction sector. EU nationals residing in the UK will have their rights protected, and there is a reciprocal agreement for British citizens living in the EU. This news should provide some confidence to the construction sector. The government needs to ensure it's promoting trades and apprenticeships to young people as there has been a skills shortage in the UK for a number of years. 
The sudden collapse of Carillion at the start of the year sent shockwaves through the construction sector, but the industry made a quick recovery and growth was stable from April onwards. The average reading year-to-date isn't too different from the readings in 2017. The sector is still growing at a respectable rate, but it has certainly cooled from the 2014-2015 era.  
Berkeley Group fared the best of the bunch as its share price only dropped 21%. The company posted a 15% rise in annual profit in 2018, as revenue slipped by 1.09%. Equity analysts are expecting net income to fall by 29.6% and revenue to drop by 6.1% in 2019. The dividend yield is currently 1.2%. 
Taylor Wimpey was the worst of the group as its shares lost 36%. Full-year profit and revenue jumped by 7.8% and 12% respectively. The dividend was increased by 20.4% this year, and traders are expecting next year's dividend to be increased by 12.4%. Analysts are optimistic in their outlook for the stock, as they expect revenue and net income to increase by 3.9% and 5.45% respectively.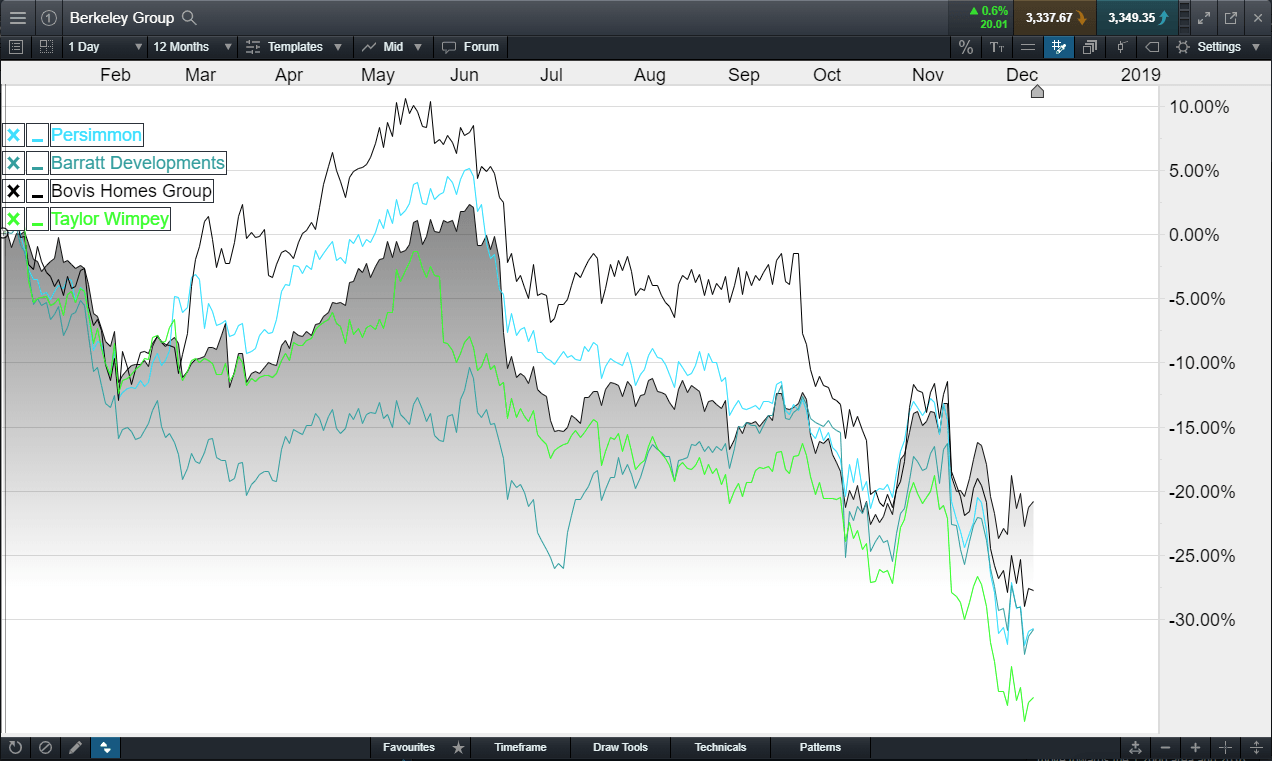 Source: CMC Markets
The housebuilders are looking a little on the soft side going into 2019, as a dip in average house prices has weighed on the stocks. The property market has enjoyed such a good run since 2012 and the recent pullback is not necessarily a bad thing. Demand for houses might cool in the first quarter of 2019, as some potential buyers might hold off from making such a big investment while the UK prepares to leave Europe. Interest rates are still at rock bottom levels and mortgage rates are competitive, so provided there isn't a disorderly Brexit, demand should remain stable. Regardless of the political outcome, homebuilders are likely to feel the pinch as the underlying housing market is edging lower while the costs are creeping up, and there is a sense that we are beyond the peak of the market. 

Disclaimer: CMC Markets is an execution-only service provider. The material (whether or not it states any opinions) is for general information purposes only, and does not take into account your personal circumstances or objectives. Nothing in this material is (or should be considered to be) financial, investment or other advice on which reliance should be placed. No opinion given in the material constitutes a recommendation by CMC Markets or the author that any particular investment, security, transaction or investment strategy is suitable for any specific person. The material has not been prepared in accordance with legal requirements designed to promote the independence of investment research. Although we are not specifically prevented from dealing before providing this material, we do not seek to take advantage of the material prior to its dissemination.