For most of the last two to three years we've been bombarded by headlines that have been all about the pressure on the retail sector, with numerous CVA's, some high profile failures in the form of House of Fraser, Debenhams and Mothercare as well as a number of smaller names like Forever 21, BonMarche, Links of London, LK Bennett and Patisserie Valerie.
While there were some self-inflicted failures, the inability to carry on trading appears to have owed more to changing consumer shopping habits, as more people shop on line, but also due to rising costs and outdated business models.
This has resulted in numerous retailers issuing profit warnings over the last 12 months the most notable of which have been companies like John Lewis, who split their Waitrose and John Lewis brands into separate structures. Dunelm Group also issued a profits warning last year as it struggled to integrate two recent acquisitions into its business. Since then the fortunes of both have stabilised while a number of other high profile names have also performed well.
The increasing popularity of Black Friday sales, driven by Amazon and which now start in mid-November, is testament to this changing retail landscape, as retailers start their sales earlier in order to drive turnover, as well as looking to boost sales.
Spending in the lead up to Christmas has also become more patchy, sometimes starting in November, as consumers eye a bargain, but there can also be a later surge in the hope that retailers leave discounting later and later in order to preserve their margins as best they can.
This year retail sales figures have been patchy at best with big gains one month followed by a consolidation phase. This was particularly true in the first six months of this year with decent numbers in Q1 and Q2.
In the second half of the year consumer spending has been more restrained despite continued decent wage growth and benign inflation. This slowdown probably has more to do with the most recent extension to article 50 and resultant general election, which had started to look ever more likely as the summer came to an end. Now that the election is out of the way we could well see a recovery in consumer spending as consumers look to a more stable and predictable political environment.   
On an annualised basis retail sales growth has also been fairly steady, only dropping below 3% in May and August, and currently at 3.1%.
Despite all of the negative headlines 2019 has been a fairly decent year for general retailers in the FTSE350, though it also needs to be looked at in the context of an awful 2018, which saw the FTSE 350 General Retailers index hit a seven year low in the last week of 2018.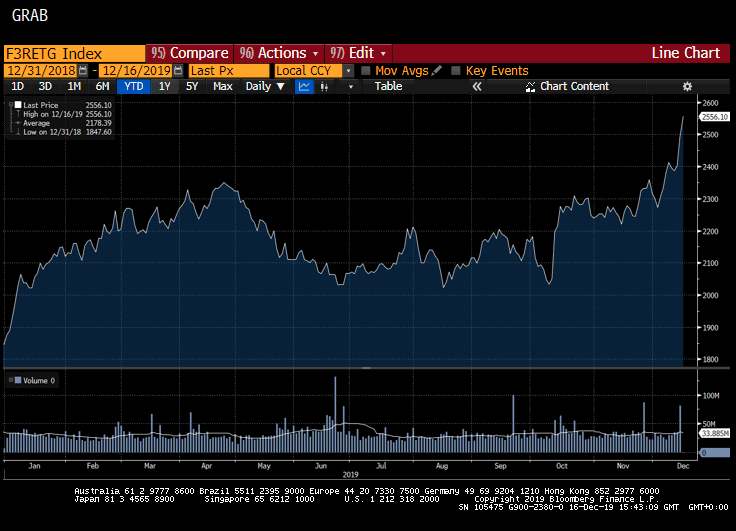 Source: Bloomberg
Since then the index has performed well rising over 35% year to date helped by a strong performance from the Next PLC, which has a 22% weighting in the index, and has seen gains of over 50% this year, but also some decent gains from the likes of JD Sports and Dunelm which have seen gains up to 100%, while Sports Direct shares have rallied over 40%, helping offset underperformance on the part of Marks and Spencer and Kingfisher.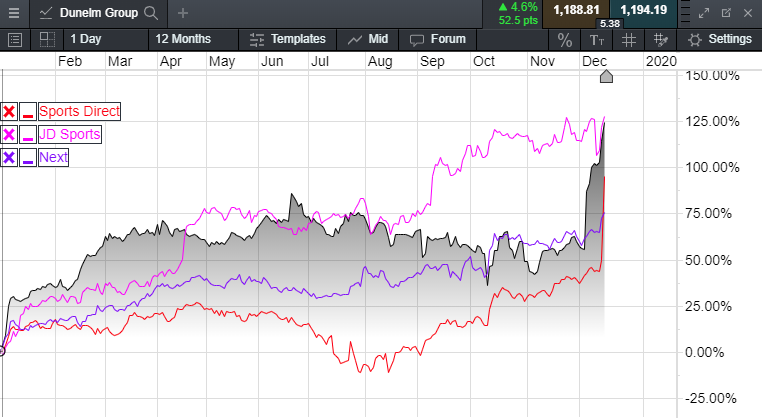 Source: CMC Markets
Other retailers that have done well have been Zara and New Look owner Inditex, listed on the Spanish stock exchange which has seen gains of over 30%, after a tough couple of years, and Swedish retailer H&M which also appears to be on the comeback trail with gains of over 50%, as it continues its recovery from its inventory problems of the last few years.
It's been a similar story for more bespoke and niche clothing retailers, of the likes of Burberry, but we have a seen a respite for the rest of the sector, with the exception of Ted Baker, where shareholders have taken a bath.
Boohoo.com shares have come back strongly after a tough 2018, with the company buying the on-line operations of Karen Millen and Coast in August this year, after the company went into administration, having not recovered from being caught in the fallout of the collapse of Debenhams and House of Fraser.
Asos shares have also stabilised after an awful 2018, where they fell over 50%.
For Ted Baker the woes have continued this year, with the share price imploding on the back of continued warnings over profits.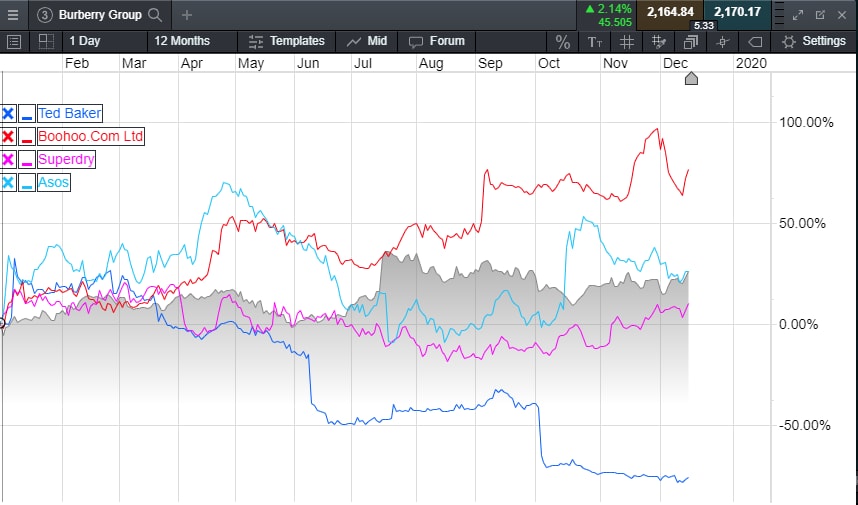 Source: CMC Markets
The company's pessimistic outlook, wasn't helped by a scandal around founder Ray Kelvin which damaged its brand, and saw his departure as CEO earlier this year. A year ago profits were estimated to come in at £75.9m, a figure that in the end proved fairly wide of the mark, eventually coming in at £53m. This year is expected to be even worse with a best case scenario of £10m if the company has a good Christmas period, and worst case £5m, after the company wrote down the value of its stock by £20m earlier this month. 
The result is the share price is now at 2009 levels of £3.40p, and speculation is rife that the company could be subject to a takeover bid. It's a far cry from February 2018 when the share price was trading at the heady heights of £32 a share, and the company had a £1.35bn valuation.   
Burberry's share price performance has been slow and steady as new CEO Marco Gobbetti takes the company forward with a new strategy to adopt a more targeted high end approach by focusing on the top end of the luxury market.
The slowdown in Asia markets, along with the problems in Hong Kong isn't helping it but in their latest numbers revenues showed an increase of 5% to £ 1.28bn. This improvement also helped drive a strong rise in operating profits of 14% to £203m. An improvement in operating profit margins from 14.6% to 15.9% also helped, with management saying that events in Hong Kong had affected performance, as it took a modest £14m impairment charge due to the unrest.
Superdry shares have stabilised this year after a torrid couple of years. Earlier this year company founder Julian Dunkerton managed to regain his place on the board, prompting the existing board to resign en masse. Since then the shares have broadly traded sideways as investors weigh up whether he can deliver a plan to turn the business around. In May the company posted yet another profits warning, the third one in 12 months, however there are signs of a recovery, but this year is likely to be a period of consolidation.  In terms of revenues at its most recent trading statement there was a fall of 11.3% to £367.8m, with stores, e-commerce and wholesales all underperforming, as the company worked off legacy stock. The decision to focus less on discounting has seen margins improve and this week's interim statement is expected to see the delivery of a full review of the first half profit and cash performance
Conclusion:
After a disappointing 2018 the UK retail sector has recovered some of its lost ground this year, and while all the headlines this year have been ones of more company failures and CVA's, there has also been some success stories, where companies have managed to restructure their businesses and turn themselves around.
Three companies in particular over the last few years are notable in this regard, with Next PLC, JD Sports and Dunelm all having had problems of their own to contend with. Even Sports Direct, which has seen CEO Mike Ashley almost single handed take on regulators and government bodies about the inequities that retailers have to contend with, has seen a share price recovery.
Whatever you think of the boss of Sports Direct, and he does ruffle feathers, he does speak his mind, and tells it the way he sees it, in the hope that our economically illiterate politicians will look at new ways to try and deal with a problem that continues to change the face of the high street.
Rising and inequitable business rates, along with higher staffing costs as a result of the living wage have also shrunk margins, so even without Brexit the challenges would have been just as significant, and don't believe any company that says Brexit is their primary concern.
Brexit in a lot of cases has been used an excuse for a retail environment which is struggling to adopt to the growth in online and click and collect, as well as changing retail shopping habits.
The retail sector in 2020 is likely to continue to see challenges and changes in the weeks and months ahead, irrespective of any upcoming Brexit denouement, however a benign outcome is likely to be preferable if only for the sake of consumer confidence, which has now started to impact margins in the online space, something most investors didn't consider a possibility at the beginning of this year.  

Disclaimer: CMC Markets is an execution-only service provider. The material (whether or not it states any opinions) is for general information purposes only, and does not take into account your personal circumstances or objectives. Nothing in this material is (or should be considered to be) financial, investment or other advice on which reliance should be placed. No opinion given in the material constitutes a recommendation by CMC Markets or the author that any particular investment, security, transaction or investment strategy is suitable for any specific person. The material has not been prepared in accordance with legal requirements designed to promote the independence of investment research. Although we are not specifically prevented from dealing before providing this material, we do not seek to take advantage of the material prior to its dissemination.