It's been a big year for initial public offerings (IPOs), not only for the ones that made it out of the gate but also for the ones that didn't.
Starting with the one that didn't and which was arguably the most eagerly anticipated, WeWork fell flat on its face as soon as it published its S1 filing and investors looked at how the company was being run from a corporate governance point of view. It was certainly a year to forget for Softbank, which provided a lot of seed funding for a good number of these companies and whose due diligence in hindsight left a lot to be desired.
In a lot of these cases, however, hindsight shouldn't have been needed, as merely looking at the valuations should have clued people in that a lot of these companies were speculative punts, and as such should have been steered well clear of by investors. When doing an IPO a decent rule of thumb should be how much of the proceeds are being used to reinvest in the business, or being used as a mechanism for early investors to cash out. If it's the latter, the IPO becomes less an initial public offering and more an initial ponzi offering, and most of the IPOs that came out of the blocks this year are now trading below their initial listing price.
WeWork comes across as everything that is wrong with capitalism. Despite the failure of the business to get its IPO out of the door, CEO Adam Neumann walks away with a nice little pay cheque for coming up with an idea of sharing office space, which isn't even original. A valuation of $47bn, or $25bn or $15bn was never realistically grounded in any sort of reality, not even virtual reality, and yet it was only after Uber and Lyft fell flat on their faces that investors started to pay attention to the fact that a lot of these unicorns had business plans based on shifting sands.
Which brings us on to the ones that did make it out of the door this year and after some initial optimism we can safely say that a lot of the early enthusiasm in the first half of 2019 has given way to a little bit of a reality check. The most high profile belly flop after WeWork was Uber, the ride-sharing and food delivery app, which launched its IPO $45 a share, valuing the business at over $82bn and raising $8.1bn in the process. That was still considerably less than some estimates bandied about at the time, including some of over $100bn.
One look at the internals should have told you this was one to avoid. In May the company said that estimates on revenues were set to improve from $11.27bn to $14.18bn this year, but losses were also expected to rise to $5.4bn by the end of this year, and decline only slightly in 2020 to $4.1bn, according to Bloomberg estimates. The reality was actually worse than that. This year alone the company is on course to lose $8bn, having lost $5.2bn in Q2 alone, outstripping last year's loss of $3bn at a stroke. Uber has already started to cut staff, with over 1,000 jobs going in the last 12 months, while also looking to expand in India and other emerging markets. Not surprisingly the shares are down sharply, so far over 30% with little sign of an upturn, yet still have a market cap of $48bn.
Lyft's share price performance hasn't been much better, listing at $70 a share, the shares are also down over 30% at below $50, and currently valuing the company at $13.5bn.
Lyft share price chart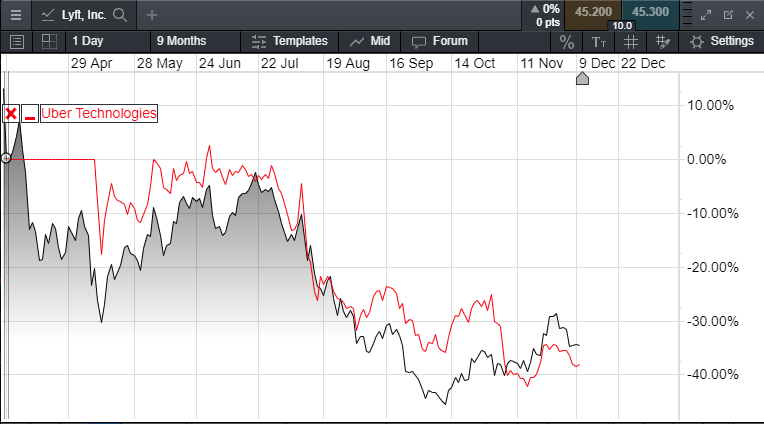 Source: CMC Markets
In terms of the internals, revenues to date are $3.27bn and Lyft expects to lose $710m this year alone.
Pinterest had a more positive debut, initially trading above its $19 IPO price, with a valuation in excess of $15bn on revenues of $756m. The company also made a loss last year of $63m, and is estimated to lose $414m in 2019, though most of this is likely to be one-off costs due to the IPO. Nonetheless full-year revenues are only expected to rise to $1.1bn. Since then the air has come out of the share price and it is now trading below the IPO price.
As for Beyond Meat, the vegan burger meat brand, the market appears to have lost the plot on this one. After debuting at $25 a share, the Beyond Meat share price soared as high as $239 a share in the first few months of trading, valuing the business at over $15bn, on turnover of $87.9m and losses of $28m. Since then we have come back to trade at $75, but nonetheless it's still a lumpy valuation on a company that has increased its turnover to $231m and is expected to increase that to $275m, but is still not expected to make a profit until the end of 2020.
Another company that launched itself on the US stock market was Slack Technologies, which went down a slightly different route in the form of a direct listing. In a lot of ways this is a better way of determining the value of a new company to market, as you avoid bankers juicing the valuation with markets look to establish the demand by way of supply and demand. Even here the shares have underperformed: debuting at $26, Slack's share price slipped back towards the $20 level, with the company looking to generate revenues of around $610m for 2020. This would be a significant increase on last year which came in at $400m. The company has yet to make a profit, and warned in September that revenues might slow in the next couple of quarters. Given that its main competitor in the messaging space is Microsoft, the company has a mountain to climb if it hopes to be able to grow at a rate that will enable it to boost revenues substantially.
The latest unicorn to fly out of the blocks was Peloton, which priced at $29 a share, valuing the business at $8.1bn. Again this looks a heroic valuation and for now the market appears to be buying it, with expectations of $1.5bn in revenues expected for the current fiscal year. Peloton describes itself as a technology company, which appears a bit of stretch. In reality the company sells exercise bikes with touch screens strapped to the handlebars for $2,000 a pop, and then a $40 a month subscription fee by which the company streams exercise classes to the user. Like all our other IPOs this year, it is also loss-making and while it expects to double revenues to $2.1bn by the end of 2021, it is hard to be enthusiastic about the overall idea. For a fraction of the price you could buy an exercise bike and strap an iPad to the handlebars.
One of the few IPOs to actually do well this year has been a UK IPO. Trainline.com launched at 350p and is now trading well above 400p. It also makes a profit, and perhaps that's the trick when it comes to IPOs. Invest in a company that has a sustainable business model, a steady revenue stream and actually makes a profit, as well as using the proceeds of said IPO to invest in the business. Now there's an idea.
If anything, investing in IPOs in 2019 has been a fool's errand, and a good rule of thumb, as indicated at the start is to look at the reasons for the IPO. If it's just so that early investors or management can cash out, then it's probably better to avoid it. This sort of approach is true of any investment regime: as always, caveat emptor.

Disclaimer: CMC Markets is an execution-only service provider. The material (whether or not it states any opinions) is for general information purposes only, and does not take into account your personal circumstances or objectives. Nothing in this material is (or should be considered to be) financial, investment or other advice on which reliance should be placed. No opinion given in the material constitutes a recommendation by CMC Markets or the author that any particular investment, security, transaction or investment strategy is suitable for any specific person. The material has not been prepared in accordance with legal requirements designed to promote the independence of investment research. Although we are not specifically prevented from dealing before providing this material, we do not seek to take advantage of the material prior to its dissemination.