Two new and exciting ventures, with spectacular, meteoric rises to match. And then the crash, as the speculative bubble reaches bursting point. The dotcom and bitcoin bubbles certainly have a few things in common.
Between 1995 and 2000, the US Nasdaq Composite stock market index rose 400%. In a single year – 2017 – bitcoin's value soared by 900%. In both cases, speculators and investors helped fuel a whirlwind of hype, propelling the respective values through the roof. And in both cases, the extraordinary leap in value wasn't sustainable.
What next for cryptos?
Spread bet or trade CFDs on five cryptocurrencies
Create an account
Take a view on bitcoin, bitcoin cash,
ethereum, litecoin or ripple
Boom or bust
The dotcom boom got into full swing in the late 1990s, as the world wide web took hold and computers became a necessity rather than a luxury. A raft of new internet-based companies were founded, and as is the scenario in the present day, an environment of low interest rates was prevalent.

The Nasdaq Composite rose by 85% in 1999 and 24% in the first part of 2000, in sharp contrast to the Dow Jones index, which fell by 13%. In 1999, Qualcomm shares leapt by an extraordinary 2,619%, while 12 other large-cap stocks each jumped by over 1,000% in value, as investors continued to sell stocks in slower growing companies to invest in internet stocks.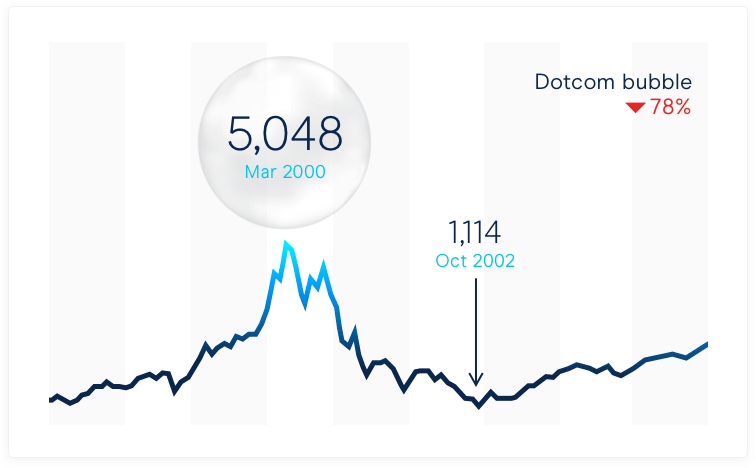 The Nasdaq Composite peaked at 5,048 on 10 March 2000. Three days later, Japan officially entered into a recession, causing a domino effect which hit technology stocks to a disproportionately severe extent. On Friday 14 April, the Nasdaq Composite fell 9%, ending the week down a huge 25%.
In November 2000, the much-hyped and Amazon-backed Pets.com went bust just nine months after completing its IPO. Despite a high profile marketing campaign helping to boost the company's profile in such a short time, the company was not actually making money. Many other internet firms lost most of their value or folded, whereas others, such as eBay and Amazon, survived and eventually regenerated. By the end of the stock market downturn of 2002, stocks had lost $5 trillion in market value. The Nasdaq Composite dropped to 1,114 in October 2002, down 78% from its peak.
The crypto bubble
In more recent times, investor enthusiasm peaked as interest in bitcoin and blockchain technology increased throughout 2017, prompting a wave of buying. Yield-starved investors poured money into what was widely perceived as a significant step forward in a new technology, resulting in warnings that people would get burnt in a very illiquid market.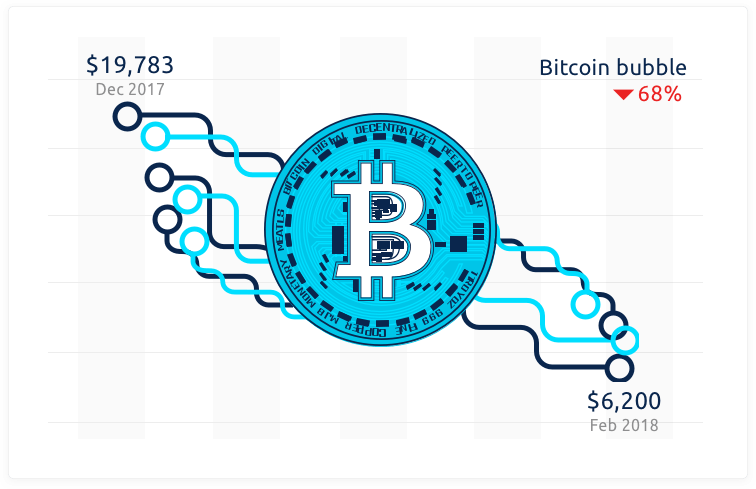 These warnings came true at the end of 2017 as the bubble eventually popped, causing prices to tumble as bitcoin's value plummeted from close to $20,000 just before Christmas 2017, dropping 67% in two months. Other cryptocurrencies, such as litecoin and ripple, also lost significant value. Some say the crash is the beginning of the end for cryptocurrencies, whereas others take a more optimistic view. What is undeniable though is that policymakers and regulators are taking a closer look – Europe's finance ministers recently met in Vienna to discuss the EU's view on cryptocurrencies. A Brussels report concluded that there should be an EU-wide adoption of rules and regulations for digital currencies, although nothing has yet been agreed between EU member states, with further analysis due to take place.
What next for cryptos?
The Nasdaq eventually recovered, but the jury is still out on bitcoin and other cryptocurrencies. One aspect that's undisputable is that both bitcoin and the dotcom bubble presented significant market-moving moments, and there are sure to be some exciting developments to come in the cryptocurrency and tech sphere.
What next for cryptos?
Spread bet or trade CFDs on five cryptocurrencies
Create an account
Take a view on bitcoin, bitcoin cash,
ethereum, litecoin or ripple

Disclaimer: CMC Markets is an execution-only service provider. The material (whether or not it states any opinions) is for general information purposes only, and does not take into account your personal circumstances or objectives. Nothing in this material is (or should be considered to be) financial, investment or other advice on which reliance should be placed. No opinion given in the material constitutes a recommendation by CMC Markets or the author that any particular investment, security, transaction or investment strategy is suitable for any specific person. The material has not been prepared in accordance with legal requirements designed to promote the independence of investment research. Although we are not specifically prevented from dealing before providing this material, we do not seek to take advantage of the material prior to its dissemination.