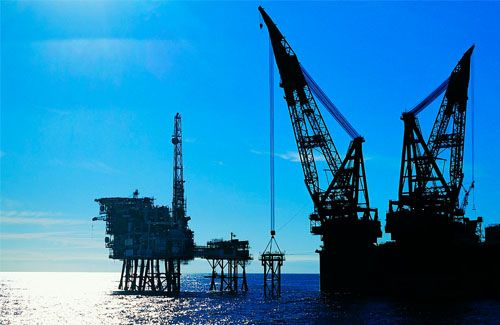 UK & Europe
The stock market rally of the past two days has petered out with investors again taking their cue from a slumping oil price. The price of black gold sank after Russian and Saudi Arabian oil ministers at a meeting in Doha, failed to reach an agreement to cut production in response to decade-low oil prices.
A German backlash against the money-printing in the Eurozone took the wind out of the sails of European markets which had been lifted on Monday when ECB President Mario Draghi hinted at further easing next month. Bundesbank president Jens Weidmann told the German constitutional court that quantitative easing was "not necessary at present." The court was assessing the legality of the 2012 OMT program.
Merlin Entertainments and British Airways-owner IAG were top of the FTSE 100 ahead of earnings next week while Standard Chartered was propping up the index after two broker downgrades.
Anglo American shares dropped after the miner reported double the previous year's loss thanks to falling commodity prices. Not helping matters, rating agency Moody's downgraded the company's credit rating to junk. The plan for asset disposals makes Anglo a leaner meaner machine but will also limit future growth and was likely a last resort since shareholders have little appetite for injecting new capital.
US
US markets opened higher in a catch-up from yesterday's gains in Asia and Europe after yesterday's Presidents Day holiday but gave back a double digit rise indicated by index futures when the price of oil dropped.
FX
The dollar was broadly stronger on Friday despite disappointing Empire manufacturing data after positive comments on the US economy from Philly Fed president Patrick Harker.
The British pound plummeted after inflation data fell short of expectations and Brexit fears resurfaced after David Cameron's European reform efforts ran into problems including disagreement over child benefit payments with Poland. UK core CPI rose 1.2% y/y in January, down from 1.4% last month and 1.3% expected. GBP/USD fell to a two-week low beneath 1.43.
Commodities
An agreement between oil producers Saudi Arabia, Russia, Venezuela and Qatar to freeze production at January levels caught out oil bulls hoping for an output cut. Having just touched the highest this month, oil markets were looking a bit exposed and an output freeze was just not enough to take prices any higher.
That OPEC has reached an agreement with a non-OPEC producing nation is certainly a new development but the decision by itself will have a limited effect on the supply glut weighing on prices. Top oil producing nations agreeing to keep output at record levelsis not exactly a reason to get too bullish on oil.
With Iran not a part of the meeting, it's still a bit far-fetched to think this is a precursor to a future cut. Iran's absence from the meeting means overall OPEC output should still rise. Iran has said it has no plans to freeze production until it has reached its pre-sanctions output.
Defiant comments from Saudi oil minister Ali al-Naimi after the meeting reduced the prospect of an eventual output cut even further. Mr al-Naimi said his country's economy had not been negatively impacted by lower oil prices and that he did not want lower production.
The price of gold saw a sharp reversal from early losses as investors returned to havens when stock markets rolled over. The price rebounded perfectly from the previous peak reached in October, a sign that traders are beginning to view gold as in an uptrend.