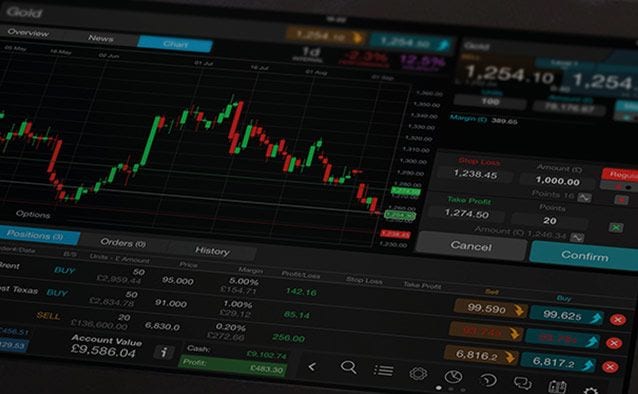 A very active week for markets has started been winding down overnight with markets around the world starting to claw back some of their recent losses. There wasn't much in the way of overnight news outside of mixed earning reports out of the US, but sentiment appears to have stabilized enough to encourage some traders to start short covering or bargain hunting. Commodities in particular have been strengthening with gold crossing back above $1,400/oz and UK crude retesting $100.00/bbl. It's still early but these rebounds suggest that the worst of the selling may have passed for now and traders start to pick up the pieces from the hurricane that blew through last Friday and Monday. Chinese
indices
had a particularly strong rebound overnight with Italy's MIB leading the way higher in Europe. Miners had helped to give the Aussie200 an early boost which suggests that the resource weighted Canadian indices could also benefit from recovering commodities today. US markets appear to be off to a tepid start with the City of Boston shut down while police conduct a house to house search for one of the bombing suspects after the other was killed in a confrontation with police overnight. Earnings reports stateside have been mixed with positive results from industrials and financials offsetting disappointments out of the technology sector. Currency markets have been active again overnight. EUR is leading the pack after German finance minister Schaeuble suggested the ECB should tighten liquidity. Actually they have been, European banks have steadily been paying back a few billion EUR of last year's emergency LTRO funding each week for the last few months. GBP has also been climbing. Interestingly, in resource currencies it has been the opposite with the dollars (AUD, CAD and NZD) outperforming the Kronas (NOK and SEK). JPY has been droping like a stone again after Japan's Finance Minister Aso indicated that the country's aggressive monetary easing moves have not encountered any major opposition at the G-20 meeting. Without fears of reprisal or sparking a currency war, traders appear ready to allow the currency to resume its primary downtrend.
Economic News
Significant economic announcements released overnight include: Italy's Parliament failed to elect a new President on a third ballot. China leading indicator 0.0% over month Italy industrial orders (7.9%) vs previous (3.3%) Canada consumer prices 1.0% vs street 1.1% Economic reports due later this morning include: There are no major announcements scheduled for later today or the weekend other than communiques and press conferences from the G-20, IMF and World Bank meetings.
Corporate News
Earnings reports have started to pick up today. Highlights include: Google $11.58 vs street $10.64, revenue $11.01B vs street $11.11B Microsoft $0.72 vs street $0.68, revenue $20.49B vs street $20.53B IBM $3.00 vs street $3.05, revenue $23.4B vs street $24.6B GE $0.35 in line Honeywell $1.21 vs street $1.14 Capital One $1.79 vs street $1.61 SunTrust $0.63 vs street $0.61
North American indices
US30 has a key trend support test underway today near 14,500. A failure would signal the start of a deeper correction where 14,400 or 14,080 could be retested. Resistance on a bounce near 14,675. SPX500 continues to drift with
RSI
falling below 50, a bearish momentum signal. It has been unable to retake the support line it broke near 1,555. A break of 1,535 would signal a new downtrend with next support near 1,510 and 1,500. NDAQ100 is trying to stabilize near 2,760 but remains in a downswing after breaking trend support near 2,800 earlier this week. RSI under 50 suggests mo remains bearish with next support near 2,750 then 2,715. US SmallCap 2000 is holding just above the low end of its 900-955 trading channel with RSI suggesting momentum turning downward. Next support on a breakdown near 870 with initial resistance near 915. Canada60 continues to build support above 682 with resistance near 692 then 700 initially.
UK and European Indices
UK 100 has bounced up off of 6,210 support once again and RSI suggests that momentum may be going into neutral. It still needs to break through 6,340 to call off a big descending triangle. Germany30 is consolidating recent losses in the 7,440 to 7,560 range but remains in a downtrend below 7,660. France 40 has established support near 3,600 and started to rebound but faces initial resistance near 3,680 Italy 40 has successfully retested old resistance line as new support and climbing up off a higher low near. Resistance appears near 16,000 then 16,250 with support near 15,500. Spain 35 appears to have completed a double bottom near 7,740, supported by a positive RSI divergence. Testing trend resistance near 7,960. A breakout would signal a new uptrend with next resistance near 8,100.
Commodities
Gold has broken through $1,440 this morning as it continues to steadily recover from a massive selloff. It's next key test appears near $1,445, the high end of its $1,300-$1,445 or 50%-62% retracement support zone. Silver is starting to creep higher in its $22.00 to $24.00 base building range with Fibonacci resistance in place near $24.40. Copper has run into some resistance near $3.20 but appears to be starting to carve out a base above $3.10. US crude continues to consolidate in the $85.00 to $89.00 range with next resistance on a breakout near $91.00. UK crude has another key test of $100.00 a major psychological barrier and 62%
Fibonacci retracement
of a prior uptrend. On a breakout could take a run at trend resistance near $102.50 with support near $97.50 it is fails. Gasoline continues to find support above 2,700 with initial resistance near $2.80 then $2.86. Natural Gas has started to encounter some resistance near $4.45 and has dropped back a bit with initial key support near $4.20.
FX
USDCAD is bouncing again today as it consolidates recent gains in the $1.0230 to $1.0280 range. EURUSD is climbing within a $1.3000 to $1.3140 trading range. RSI above 50 indicates uptrend continues with next resistance on a breakout near $1.3200. GBPUSD remains under accumulation, holding trend support while RSI above 50 indicates upward momentum remains intact. Upside resistance appears near $1.5375 to $1.5400.