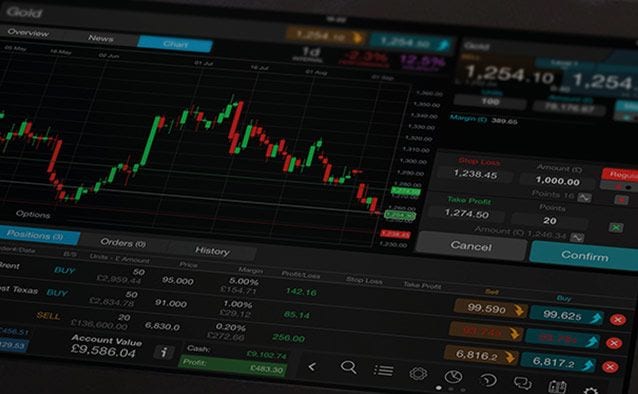 Having gained on all days during the shortened week last week, US
indices
ended with a weekly gain of more than 3%, the most since July. The S&P 500 added 0.1% on Thursday as we headed into the Easter long weekend while the Dow fell by the same amount, dragged by IBM which posted an eighth consecutive quarterly decline in sales. Google shares fell 3.65% following earnings which disappointed as the company faces risings costs and lower revenues from cost-per-click advertisements. Shares at the eastern version of Twitter, Weibo soared more than 19% following its debut on the Nasdaq. The decision to sell fewer shares at a lower price paid off as it curbed concerns that the stock may be overpriced, inviting more interest back into the social media stock. Easing tensions in Ukraine have also helped to calm markets after four-way talks in Geneva revealed an agreement to de-escalate the crisis in Eastern Ukraine. The effect was seen on falling US treasuries, with 10-year yields rising by as much as five points to 2.7%, helping to support the ailing dollar. Casualties over the weekend, however, may have made recent efforts futile with three reported killings in the city of Slovyansk. Elsewhere, better economic data have also provided support for US equities and the dollar. Jobless claims came in much better than expectations at 304K versus 316K, albeit rising slightly from last week's figure of 302K. Considering a buffer for the Easter holidays, the figure is surprisingly upbeat while its four-week average is also at its lowest level since October 2007. Manufacturing activity in the Philadelphia state also proved resilient. Having recovered sharply from the effects of a cold winter, the index put in its best reading since September 2013, at 16.6. Earlier this morning, we were reminded of the inefficacy of Abenomics, following the trade balance data which continues to show a swelling deficit. Despite a lower currency, exports have not increased as manufacturers are not taking the opportunity to slash prices overseas. Trade is instead hit by higher import costs of energy. Looking ahead this week, US Q1 corporate earnings will continue to take centre stage with recent beleaguered stock Netflix reporting later tonight, while big names like Apple and Facebook report on Wednesday after the bell. With only second-tier economic data due for release this week, the focus will likely be on corporate earnings in the US, with nearly one third of S&P 500 companies reporting earnings. In local markets, PACC Offshore Services Holdings will make its debut later this week with aims to raise over $388m from its IPO. Given the lack of mainboard listing this year, POSH IPO may generate some interest amongst investors.
IMPORTANT NOTE AND DISCLAIMERS
Market OpinionsAny opinion(s), news, research, analyses, prices, or other information contained on this website / document is provided as general market commentary and are from publicly available resources or otherwise obtained, and does not constitute investment advice nor does it seek to market, endorse, recommend or promote any investment or financial product. CMC Markets Singapore Pte Ltd. (Reg No./UEN: 200605050E) ("CMC Markets") will not accept liability for any loss or damage, including without limitation to, any loss of profit, which may arise directly or indirectly from use of or reliance on such information.Accuracy of InformationThe content is subject to change at any time without notice, and is provided for the sole purpose of assisting traders to make independent investment decisions. CMC Markets has taken reasonable measures to ensure the accuracy of the information, however, does not guarantee its accuracy, and will not accept liability for any loss or damage. CMC offers no financial advisory services in any of the content or vouch for the veracity of any information.DistributionThe content of this publication is not intended for distribution, or use by, any person in any country where such distribution or use would be contrary to local law or regulation. None of the services or products referred to or mentioned are available to persons residing in any country where the provision of such services or investments would be contrary to local law or regulation. It is the responsibility of the reader to ascertain the terms of and comply with any local law or regulation to which they are subject.Third PartiesCMC Markets may provide you with opportunities to link to, or otherwise use, sites and services offered through or by third-party(ies). Your use of these third-party services is subject to such terms as posted by these third-party(ies). We have no control over any third-party site or service and we are not responsible for any changes to any third-party service or for the contents thereof, including, without limitation, any links that may be contained in or accessible through such third-party service. These links are provided solely as a convenience to you. You will need to make your own independent judgment regarding your interaction with these third-party sites or services. Our inclusion of advertisements for, or links to, a third-party site or service does not constitute an endorsement of any of the representations, products or services listed therein.Important NoteEach reader/recipient agrees and acknowledges that: (a) no express undertaking is given and none can be implied as to the accuracy or completeness of this document; (b) this document does not constitute in any way a solicitation nor incentive to sell or buy any Shares, Stock Options and Contracts For Difference (CFDs) and similar and assimilated products; (c) each reader/recipient of this document acknowledges and agrees to the fact that, by its very nature, any investment in Shares, Stock Options,
CFDs
and similar and assimilated products is characterised by a certain degree of uncertainty; that consequently, any investment of this nature involves risks for which the reader/recipient is solely responsible and liable. It is to be noted that past performance is not necessarily indicative of future results. In this respect, past performance of a financial product do not guarantee any and are not an indication as to future performance; (d) the use and interpretation of this document require financial skill and judgement. Any utilisation whatsoever by the reader/recipient, relating to this document, as well as any decision which the reader/recipient may take regarding a possible purchase or sale of Shares, Stock Options, CFDs and similar and assimilated products, are the sole responsibility and liability of the reader/recipient who acknowledges and agrees to this as a condition precedent to and prior to any access to this document; (e) as a result of the above, all legal liability directly or indirectly arising whatsoever.