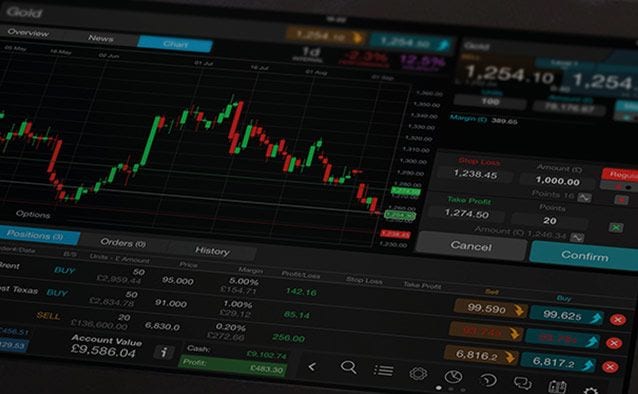 Better than expected earnings from US tech giants IBM and Intel after the bell in the US last night have created a positive carry over effect into Europe today pushing equities back towards the tops of their recent ranges and the FTSE back above the 6,000 level, though it has to be said volumes are rather low, at post-Christmas levels, ahead of this week's Easter break.
Unsurprisingly given the positive story from chip maker Intel, ARM Holdings is leading the early gainers, leaving commodity stocks in its wake.
Amongst the miners Chilean copper miner Antofagasta leads the way followed by Xstrata as commodity prices rebound.
Royal Dutch Shell leads the oil sector as oil prices pull back from this week's lows.
Resolution has continued its weakness of recent days after this week's downgrade by UBS.
In signs of weakening consumer demand Argos owner Home Retails saw profits slump 13%, however the share price has remained fairly resilient given that the drop was in line with market expectations.
Household goods provider Reckitt Benckiser has managed to shrug off the early week blues of losing its CEO by posting strong headline Q1 numbers with developing markets emerging fairly strongly.
GKN is another big mover, powering ahead on speculation that its "Driveline" division will increase production capacity by 50% in response to increased demand from China, and positive broker comment from RBC.
The only negatives to speak of were all ex-div stocks with BAE Systems, Reed Elsevier and Legal and General all lower.
US markets opened significantly higher today with the Dow pushing to its highest levels since June 2008, boosted by IBM and Intel's results after the bell last night and building extensively on this morning's gains in Europe.
Apple Q2 earnings due out later are expected to come in at $5.36c a share, though the effects of the Japanese earthquake on Q3 earnings may well have a dilutive effect on the outlook, given part of Apple's supply chain resides there.
Wells Fargo Q1 earnings came in slightly above expectations of $0.66c a share but revenues fell back by over $1bn.
In economic data US existing home sales for March rose by 3.7% above expectations of 2.5% and improving significantly from February's decline of 9.6%.
FX
The US dollar has been spanked across the board today, falling against all the major currencies as the US dollar index closes in on its 2009 lows at 74.17, and looking as if it could move towards its all-time lows at 70.70 seen in March 2008. The pound initially slipped back against the greenback this morning after the Bank of England minutes showed no change in voting patterns suggesting that next month's May meeting will in all likelihood keep interest rates unchanged thus delaying speculation about the prospects of an increase in rates. However it looks as if it could well test its 2009 highs at 1 6460 as the US dollar continues to come under pressure.
The single currency has continued to gain on higher rate expectations pushing to 15 month highs on the back of the relative success of this morning's 10 and 13 year Spanish bond auction which saw just over €3bn sold albeit at much higher rates with the 10 year fetching 5.472% against March's 5.162%.
Portugal also managed to get some 6 month T-Bills away at 5.52%, but still above the previous rate of 5.11%.
Some talk in the afternoon session that a Greek restructuring could be announced over the Easter break has prompted some nervousness and this could limit the upside as resistance at 1.4580 and the 2010 highs comes into view.
The Australian dollar continues to surge to post float highs pushing towards 1.07 for the first time since 1982, helped in no small part by the weaker US dollar and surging gold prices.
Commodities
Gold prices have continued to rise pushing through the $1,500 level but it continues to be usurped by the performance of silver which has broken above $44 as the yellow metals little brother continues to outperform its illustrious bigger brother with an outperformance of over 25% year to date.
Copper prices have also rebounded from the lows of the week shrugging of rising inflationary concerns in Asian markets.
Oil prices have pulled back from their recent lows on the back of renewed confidence about global growth prospects in the wake of the last 24 hours positive earnings reports.
Agricultural commodities have also shot up today with corn and wheat higher as fears of poor weather in the US, China and Europe for the latest planting season have prompted concerns about supplies.
Rice prices which had to date remained fairly stable from the price rises affecting wheat and corn also shot up today, on speculation that Asian growth could see demand rise.