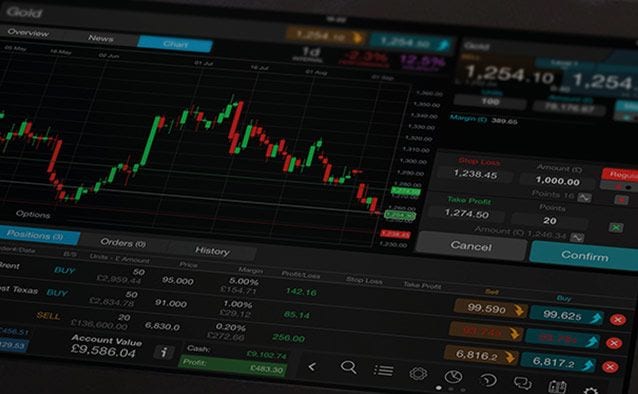 After several days of sideways trading on both sides of the Atlantic we finally got the move we were looking for yesterday, and it was in the form of a sharp move to the downside across all major markets, as one earnings announcement after the other continued to lack the conviction investors were looking for to take equity markets higher, ahead of more possible action by the US Federal Reserve next week. Yesterday's disappointing economic data from China may have been the initial catalyst for the move lower, but a significant improvement in German economic data as well as some average US data appeared to suggest that as far as the ECB is concerned there is unlikely to be any further imminent easing, while yesterday's US data was just about good enough to suggest that we could well get further Fed action next week. With central banks currently in no mood to sweeten the punch bowl further, investors appear to have taken this as an excuse to take some risk off the table and load up on gold,
treasuries
and the Japanese yen. While talking about concerns of tighter monetary policy, Bank of England governor Mark Carney appeared to suggest that the Bank of England's guidance threshold of 7% unemployment may not be as important as markets had been led to believe, in comments made in Davos. When asked about changing the guidance, he played down the importance of "focussing on one indicator." Some have suggested that the Governor has decided to ignore this particular indicator, but given we haven't hit the 7% level yet, and may not do so for a couple of months yet, it seems premature to consign it the scrap heap just yet, given the threshold was always a "staging post" and not a trigger. For the ILO measure to hit the 7% level in the December numbers, we would need to see a one month figure of 6.6%, which would be a huge surprise, given that November's number was 7.4% and October's was 7%. In any case as far as getting forecasts wrong the Bank of England does have previous. It wouldn't be the first time that the Bank of England has ignored a guidance threshold, or got their forecasts hopelessly wrong. They've been getting the inflation one wrong for years and no one is suggesting that they scrap that. Last night's comments shouldn't really have been a surprise given comments he made in November last year "one could imagine a scenario where the unemployment threshold is reached and that the best policy for the MPC at that period of time is to keep rates at current levels because the trade-off between output and inflation is attractive," he said. With inflation now at 2% the Bank is clearly playing that trade-off. It doesn't change the fact that markets will be looking for some form of rate rise by 2015, but they pretty much knew that when the 2016 guidance was announced. Markets will now be looking towards February's inflation report when the Bank publishes its latest forecasts and guidance thresholds. In other news ratings agency Moody's is scheduled to give a ratings update on the UK and France. In company news Royal Mail is scheduled to give a trading update. Last year's Royal Mail share float continues to divide opinion and analysts in equal measure particularly with the
shares
trading well above their float price of 330p, reaching highs of 618p last week as the company prepares to issue its second interim management statement as a publicly listed company and its first as a member of the blue chip UK100. Given the recent share surge the company will now have to justify the current rich valuation, with expectations high that the company will have enjoyed a bumper Christmas period. Last year Royal Mail reported profits of £324m and this week's 9 month trading update is expected to show the company is on track to meet annual expectations of pre-tax profits of £500m, on slightly higher revenues of £9.4bn. Given the growth in on-line sales in the past couple of months and the positive on-line updates from high street retailers it would be a surprise, and a disappointment if this number does not come in higher, particularly as this expectation has remained unchanged since October.
CMC Markets is an execution only provider. The material (whether or not it states any opinions) is for general information purposes only, and does not take into account your personal circumstances or objectives. Nothing in this material is (or should be considered to be) financial, investment or other advice on which reliance should be placed. No opinion given in the material constitutes a recommendation by CMC Markets or the author that any particular investment, security, transaction or investment strategy is suitable for any specific person.