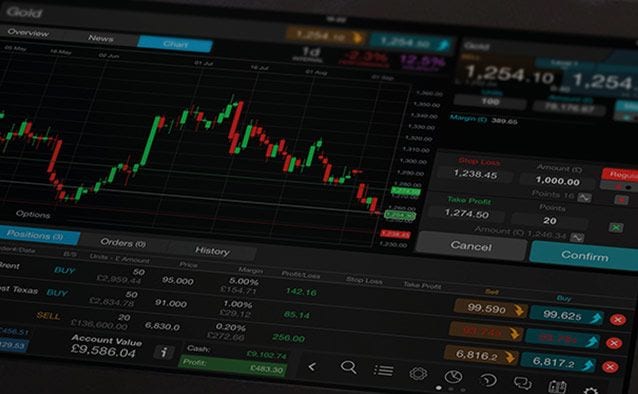 Stock markets in Asia and Europe have been retreating overnight and downward momentum appears to be carrying right through into today's North American session. The Bank of Japan maintained interest rates and its QE program at current levels. While this was widely expected, some have taken this as a bearish sign which seems at first glance to be odd considering that the Japanese central bank launched a massive QE program only two months ago. On second glance, the market reaction to today's BoJ decision exposes the big problem that has been widely ignored through the rally of the last six months, which is that the rally has been fuelled by more by central bank stimulus than improving underlying economic or corporate fundamentals. While stocks have skyrocketed in the last six months, commodities have been in retreat, reflecting the impact of ongoing struggles in Europe and a slowing Chinese economy on the outlook for resource demand. This big divergence indicates that easy money from QE programs has been following the path of least resistance into the stock market. While stimulus can give markets a boost, liquidity driven rallies with nothing else to support them aren't sustainable. The Nikkei's round trip between 14,000 and 16,000 last month even with QE underway is an example of this. The problem stocks now face is that
indices
appear to have fully priced in current QE levels and without more QE, appear overextended and ripe for a correction. Following the end of QE1 and QE2 in the US, major world indices fell by over 10% within three months which highlighted how QE can overinflate stock prices. This time around, central banks appear more likely to withdraw slowly rather than go cold turkey, so we may not see as sharp a falloff, but we could see ongoing volatility for some time as continued QE support battles it out with fears of overvaluation and QE withdrawal. As this struggle plays out, we could see increased volatility and trading opportunities for both sides over the next several months. It's most important for traders in this environment to reject complacency (the trader's worst enemy at the best of times) and to be prepared to take advantage of opportunities as they present themselves. Commodities, particularly metals, remain under pressure today, as we have also seen some rotation of capital back into defensive havens. In addition to stocks and currencies, this rotation is also being seen in bond and
currency markets
with treasury yields for Greece and Portugal climbing after Greece's asset sale program ran into problems and Germany's supreme court debates the validity of the OMT monetary support program. Along with the greenback, JPY and CHF have been outperforming this morning. The more cyclical resource dollars (CAD, AUD and NZD) have been knocked back in the flight out of risk markets. NZD has been hit particularly hard but could be getting close to a washout depending on what the RBNZ does at its meeting later this week.
Economic News
Significant economic announcements released overnight include: Japan interest rate decision no change as expected Australia home loans 0.8% vs street 2.0% Australia NAB bus conditions (4) vs previous (6) Australia NAB bus confidence (1) vs previous (2) UK industrial production (0.6%) as expected UK manufacturing production (0.5%) vs street (0.3%) Economic reports due later today include: 10:00 am EDT UK NIESR GDP estimate previous 0.8%
North American Indices
US30 remains under distribution, falling back from a lower high near 15,290. Currently near 15,100, next downside support appears near 15,000 followed by 14,810, a 23%
Fibonacci
retracement. SPX500 remains in a correction with the index falling back from a lower high near 1,655 and the RSI rolling back under 50. Downside support appears near 1,620 then 1,603 (Fibonacci 23%) and 1,580. NDAQ100 has been knocked back from 3,000 toward 2,960 with next support near 2,940 then 2,920, a 23% retracement of the previous uptrend. US SmallCap 2000 has started to fall within its 970-1,000 trading channel again as RSI suggests upward momentum continues to ease. Canada60 (Toronto60) continues to stabilize in the 704 to 710 area but a retest of 700 or 695 remains possible in the short term.
Commodities
Gold is breaking down today, taking out $1,375 to confirm the start of a new downleg with next potential support near $1,355 then $1,340. Silver remains in a downtrend, unable to retake last week's $22.00 breakdown point. Next downside support on trend appears near $21.40 then $20.25. Copper is breaking down today, taking out $4.20 support to confirm a new downleg. Its next key downside support test appears in the $3.00 to $3.04 area. RSI rolling back under 50 suggests downward momentum building again. US crude topped out at another lower high near $96.00 and has fallen back toward $94.00, confirming distribution continues. Next potential downside support appears near $93.60 then $91.30. UK crude has fallen under $102.00 again confirming that another downswing appears underway with next support near $100.80 then the key $100.00 level. Gasoline has dropped back from a lower high to retest $2.80 support which has been holding so far followed by $2.75. Initial resistance on a bounce appears near $2.86. Natural Gas continues to fall in a common seasonal downswing. Next key support appears in the $3.60-$3.65 area with initial resistance near $3.85, a recent breakdown point.
FX
USDCAD bounced up off of $1.0165 but remains in a downswing remaining well below $1.0290 resistance. EURUSD continues to consolidate recent gains in the $1.3200 to $1.3300 range with more resistance near $1.3400 and more support near $1.3160. GBPUSD is consolidating within an uptrend, currently forming a symmetrical triangle between $1.5490 and $1.5600. USDCHF is driving lower again toward the low end of a $0.9200 to $0.9400 trading channel with next support on a breakdown near $0.9060 then $0.9000.
CMC Markets is an execution only service provider. The material on this site (whether or not it states any opinions) is for general information purposes only, and does not take into account your personal circumstances or objectives. Nothing in this material is (or should be considered to be) financial, investment or other advice on which reliance should be placed. No opinion given in the material constitutes a recommendation by CMC Markets or the author that any particular investment, security, transaction or investment strategy is suitable for any specific person.