Editor's note: London-based independent trader and writer, Robbie Burns understands that financial jargon can be confusing and distracting for many. That's why in his latest book, The Naked Trader, he has compiled his trading experiences over the last four-five years into an easy-to-understand book.  
"A lot of the book is trades that I've made; the ones that went right, the ones that went wrong, why they went wrong and what I did about them. People can follow those and then they can figure out how to avoid the mistakes," he tells Opto. 
Back for its fifth edition, the book focuses more on "what to do if things go wrong" this time round, as Burns highlights the fragility of the current bull market cycle. 
"I find that people very rarely go short or they're scared of it, so I've written a bit more on how to make money out of markets when they go down, because if we're in a bear market it is very hard to make money out of anything that is going up," he says.  
"I find that people very rarely go short or they're scared of it, so I've written a bit more on how to make money out of markets when they go down, because if we're in a bear market it is very hard to make money out of anything that is going up"
The following is an excerpt from The Naked Trader: How anyone can make money trading shares by Robbie Burns, published with permission. 
Chapter 18: Trading mistakes 
This chapter is about mistakes, cockups, blunders, gaffes, screw-ups, clangers … you get the idea. It includes the top mistakes made by traders and investors, my biggest idiocies, and more.
If you've been losing money on the markets, I reckon you should find it all pretty enjoyable (or possibly painful!). But seriously, it's amazing what you can learn from making mistakes. I know I've learned a lot. And it really is true how many of us make exactly the same ones.
As long as you aren't losing a fortune, mistakes are rarely disasters. The lessons can be invaluable and going forward you should be less accident-prone. There are no right and wrong answers to the markets, but the following boobies can be easily avoided.
Mistake 1: Averaging down 
I'm starting with what is probably the biggest trading sin: averaging down. It usually means 'I'm buying more of the crap share that I originally bought at a much higher price. It's fallen quite a bit, but if I get some at a lower price maybe I'll end up breaking even when the shares bounce back.'
For example: say you bought shares in Terrible Prospects at 500p, it is now 400p and you buy the same number of TP again at 400p. Your effective buying price is now 450p. This means that at any price over 450p you're making money, whereas previously your break-even was 500p. Good news, no?
No. This is a terrible strategy, as your share is going down for a reason and if it goes down some more you will make even bigger losses. (And you've now almost doubled your position size so your losses are going to be twice the size they would have been.)
Of course, what you should have done is cut your losses on Terrible Prospects plc at 440p, got the hell out and moved on. This does not mean averaging down will never work, but more likely than not it won't.
I don't know how many people I've encountered that kept on buying something as it went down. If a share is going down, there is probably a reason behind that. Much better always to get out totally then re-evaluate and get in back in much further down (if you still think the share has a future).
Mistake 2: Buying a 'miracle' share with no thought
Greedy traders and newbies often want to make a million fast and they think by buying a company with the next cure for cancer or similar outlandish claims they are going to make their millions.
They read about it on all the bulletin boards, make the mistake of believing what people are saying, buy in and then lose – before continuing to hold it for ages … still believing.
One of the shares like this that always comes up is Sareum. Apparently, it might have had a cure for cancer. So they said. In 2013 a number of punters bought in at 2p. A lot of them lost around 75% of their money. Then it spiked up again in 2016 on more BB talk before falling back again.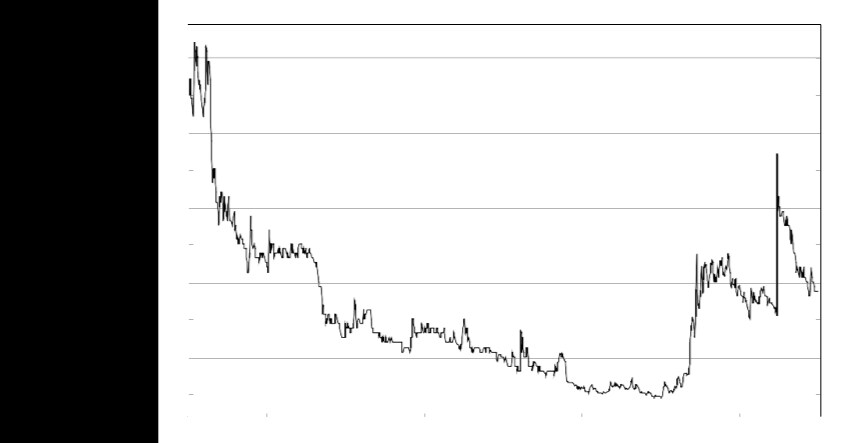 Similarly, a delegate at a seminar once told me how he had lost £3,224 on Scancell. He bought on the hope of its work on cancer cures rather than a decent balance sheet or anything like that. He then didn't set a stop-loss and couldn't bear to sell when the price dropped.
Don't believe crazy claims made by people you don't know! We would all love to see a cancer cure – just don't bet trading capital on it. We want miracles to happen but making money out of them is tough.
Mistake 3: Buying just small oil and mining shares
Buying small oil and mining shares and not much else is a common mistake. A bit like the previous mistake, the idea of these stocks can make ££££ signs appear in a trader's eyes. The big idea is to buy small oil and mining stocks – followed by some more small oil and mining stocks. I bet they find loads of gold in them thar hills, and plenty of black gold beneath them!
Of course, what usually happens is that the companies keep raising money, they keep finding nothing and the share price keeps going down… it's hard for me to even count the numbers of people I've met who began their trading experiences by buying small oil caps first. Hundreds probably.
These stocks are also all excitedly ramped on bulletin boards. Anything with oil or mining in the title gets adored. Stop. Get out. Move on to sensible investments. I'm not even going to give you an example – there are too many.
Mistake 4: Getting crunched by cryptocurrencies 
Yes, brand new for this fifth edition of the book: it's cryptocurrencies. The crazy market in crypto hit its height in 2017/8. It was so damn easy to trade Bitcoin, Litecoin, Ripple (I prefer a Cadbury Flake, personally) and a billion other 'coins', all thanks to spread betting firms. Hey, that gives me an idea – anyone want to buy Naked Trader coin? I've got loads! I'll give you a great price.
Crypto numbers fluctuate like mad 24/7 – the spread betting firms made a fortune. But punters lost their shirts as Bitcoin eventually slid – and slid and slid. It was total madness. I remember two guys at the back of a seminar in 2017 trading Bitcoin! Worse, they tried to persuade others at lunch to do it.
Just leave it alone. Please!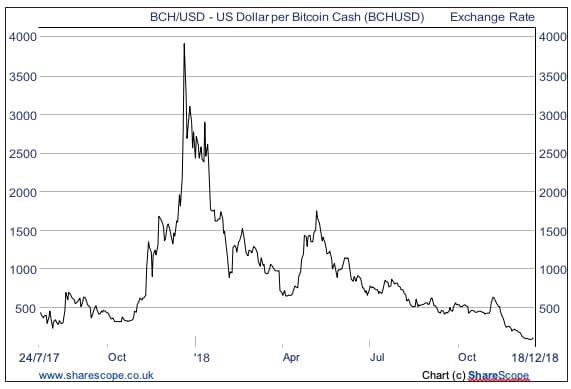 Mistake 5: Flipping out on forex 
Many people try to trade currencies. This is known as trading forex or FX (short for foreign exchange). I can tell them till I am blue in the face that 99% of trading accounts lose over time at this. They will still do it. Please don't be one of them!
Lots of sites want you to trade currencies as they know they will make so much money from you. I get asked every day by FX providers if they can advertise on my website or even in my books. 
They promise me loads of money. I don't do it because I have a moral compass. You might have some big lucky wins when playing at FX – but in the end, the only winner is the giant FX casino.
Why are they so difficult? Volatility. These markets are ferociously volatile. Even when following a trend, the sheer amount of market noise can drive you out with sudden movements. 
This volatility also leads to fear, even if it doesn't hit your stops. And fear is fatal for traders. Someone at a seminar once told me how they had lost £5,000 on a single bet. 
They were following a trend, but things suddenly seemed to spike in a different direction, and they got thrown out: and then the trend continued. But you never know if it will or won't, or for how long, or why. Avoid.
By Robbie Burns, a full-time trader, journalist and writer, who has written several other books on trading including The Naked Trader's guide to spread betting and Trade Like a Shark: The Naked Trader on how to eat and not get eaten in the stock market. 
Disclaimer Past performance is not a reliable indicator of future results.
CMC Markets is an execution-only service provider. The material (whether or not it states any opinions) is for general information purposes only, and does not take into account your personal circumstances or objectives. Nothing in this material is (or should be considered to be) financial, investment or other advice on which reliance should be placed. No opinion given in the material constitutes a recommendation by CMC Markets or the author that any particular investment, security, transaction or investment strategy is suitable for any specific person.
The material has not been prepared in accordance with legal requirements designed to promote the independence of investment research. Although we are not specifically prevented from dealing before providing this material, we do not seek to take advantage of the material prior to its dissemination.
CMC Markets does not endorse or offer opinion on the trading strategies used by the author. Their trading strategies do not guarantee any return and CMC Markets shall not be held responsible for any loss that you may incur, either directly or indirectly, arising from any investment based on any information contained herein.
*Tax treatment depends on individual circumstances and can change or may differ in a jurisdiction other than the UK.