When the tech bubble collapsed back in 2000, the Nasdaq fell from $5,132 to just $1,470 a few months later. 
Many popular stocks found their market prices gutted. For example, Cisco [CSCO] lost 86% of its market cap, while Amazon [AMZN] fell over 90% from $107 to $7. Losses such as these decimated investor portfolios.
In 2008, it happened again. The average diversified US stock fund fell a whopping 38%. The S&P 500 lost 50% by March 2009, and investors with more than $200,000 lost more than a quarter of their savings on average.
Why bring up these bad memories? Because as we get closer to the end of this bull market, whenever that will be, we see many investors wondering about two things:
1)
will "whatever's next" be as bad as 2000 and 2008; and 
2)
if so, is there a way to avoid it?
No one knows exactly when this bull will finally run out of steam, or how far it will fall; yet, there are signs we're approaching an inflection point. 
Let's jump in by highlighting four signs of a potential turn in the market.
An ageing bull 
Our current bull market began on 9 March 2009. It turned eight years old this past March, which makes it the second longest bull market on record. 
In fact, as of March, this bull was 78% longer than the average bull market length of 54 months. And now we have a bull market being described as possibly "one for the record books".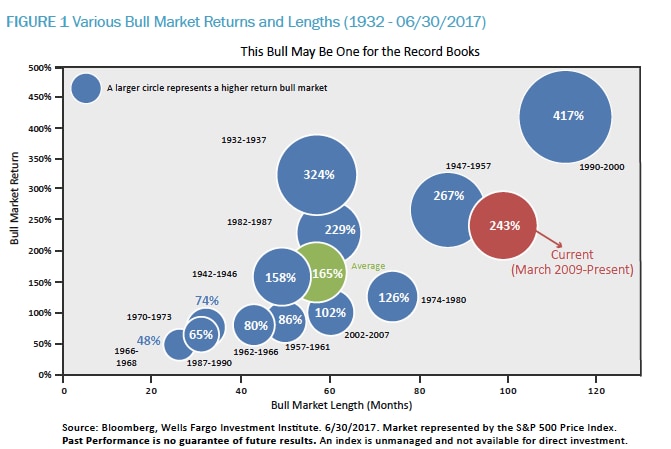 So, though obvious, the first caution-sign is simply this venerable bull's old age. We don't need to belabour this point but throwing new capital into a bull market that's already the first or second-longest in history seems unwise.
It feels a bit like being on mile 21 of a marathon, and suddenly agreeing to start and complete a new second marathon as soon as you finish the one you're currently running.
Elevated valuations
In simplest terms, we believe the stock market is overvalued. Below is the respected "Buffett Valuation", which is based on Warren Buffett's fondness for this metric, after calling it "probably the best single measure of where valuations stand at any given moment". 
It compares the total value of the stock market to a country's GDP. At the time of writing, the US Buffett valuation is about 1.3, meaning the stock market is about 30% larger than the entire US economy. 
Historically, markets start getting in trouble when this ratio passes 1.0. And if you're wondering, the ratio hit a top of around 1.1 before the 2008 crash.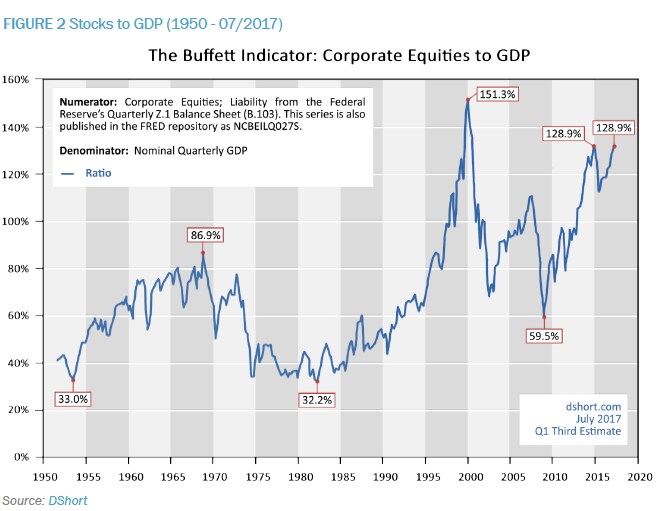 For another example, here's my favourite Shiller 10-year PE (CAPE) ratio.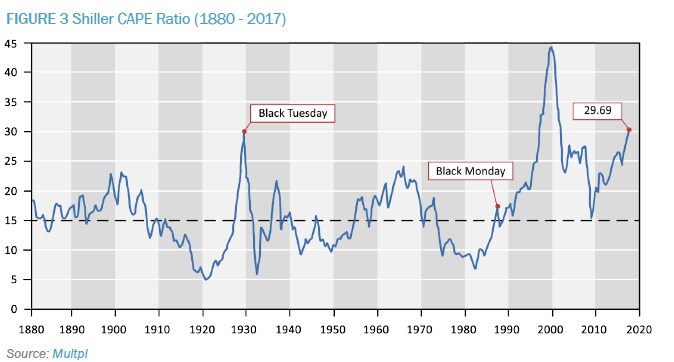 Note that we're at the highest valuation we've seen since the record-highs in the 2000 crash. And for any Shiller-detractors, don't miss the main point – pick a basket of your own favourite valuation metrics, and collectively, they'll provide you the same "overvalued" takeaway. 
Some indicators are even at all-time highs. We could argue over how accurately any single, specific valuation metric approximates by how much, but that would be largely irrelevant; if you look at a basket of common valuation metrics – things like price-to-earnings, price-to-book, price-to-free-cash-flow and so on – they're all generally saying the same thing: The market is expensive.
Here is a nice illustration from the good folks at Star Capital – I like how they describe the future as a spectrum of possibilities, and they combined the CAPE ratio and P/B: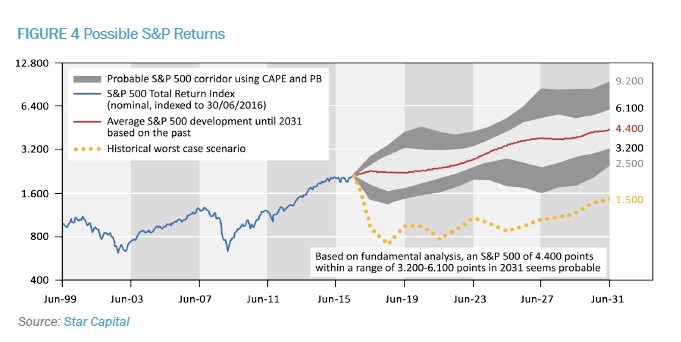 In a previous blog, we had compared the status of the market today to a blackjack player in Vegas, sitting on 16 versus a dealer's 10 up-card (this means the blackjack player does not have a good hand). 
Sure, he could take a card, get incredibly luck, and receive either a four or five so he hits 20 or 21. But odds are he's going to lose the hand. Similarly, betting on significantly higher valuations from this point carries significant risk. 
It doesn't mean you might not get lucky and get those greater gains but if we go by the odds, it's not your safest bet. 
We [at Cambria Investments] track a basket of long-term valuation metrics over on market research platform The Idea Farm, and the US is the second most expensive market in the world.  
Getting dealt that five right now would require you to be very, very lucky.
Sentiment
Then there's investor sentiment. When everyone is loving the stock market and convinced it's going higher, it's often an unwise time to be investing new capital. 
There are several different investor sentiment indicators suggesting investors are more bullish than ever, but I'll just draw your attention to a recent Meb Faber Show podcast with Doug Ramsey from Leuthold.
In it, Doug told us that this is the most optimistic sentiment he's seen in the last eight years. Remember Warren Buffett's adage: "Be fearful when others are greedy and greedy when others are fearful."
On 1 March 2017, an article in Seeking Alpha reported that The Investors Intelligence survey hit 63.1 – the highest bullish reading since 1987.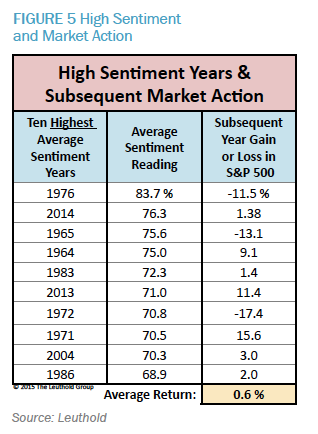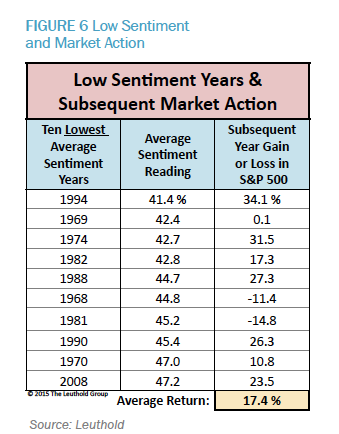 Oddly enough, the AAII sentiment surveys are not showing extreme bullishness yet. But we do know that the crowd often gets market turning points correct, just in the wrong direction!
When were investors most bullish on stocks? The literal worst time to be bullish in my career? And most bearish? The exact bottom in March 2009.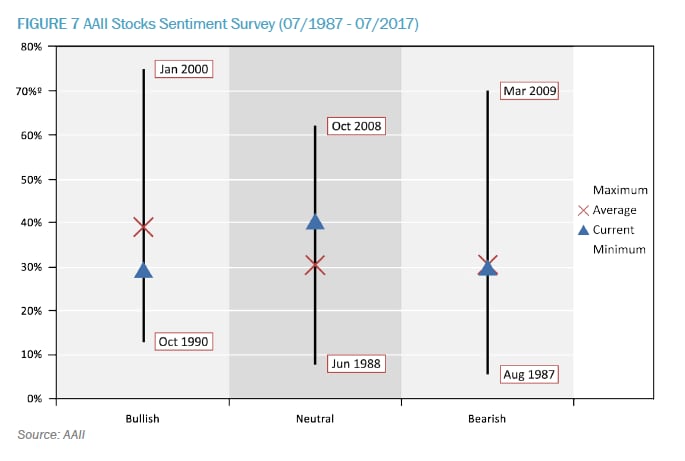 Where's the volatility? 
To illustrate our fourth and last red flag, let's borrow a popular cliché from Hollywood: "It's quiet. Almost too quiet."
To make sure we're all on the same page, the most common measure of volatility is the VIX, which is the symbol for the Chicago Board Option Exchange's Volatility Index. 
Without getting into too much detail, it's a measure of expected stock market volatility over the short-term (ensuing 30 days).
The general line in the sand separating calm markets from fearful markets is a VIX reading of 20. At the end of January, the VIX dropped below 10 for the first time in a decade. And on 9 June, the VIX dropped to 9.37, which is the lowest reading in 23 years.
Even the Fed is concerned. The Fed minutes from the January report to Congress read: "They also expressed concern that the low level of implied volatility in
equity markets
appeared inconsistent with the considerable uncertainty attending the outlook for such policy initiatives."
For some added context, here's a table from Investing.com showing the percentage of time the market spends at various VIX levels.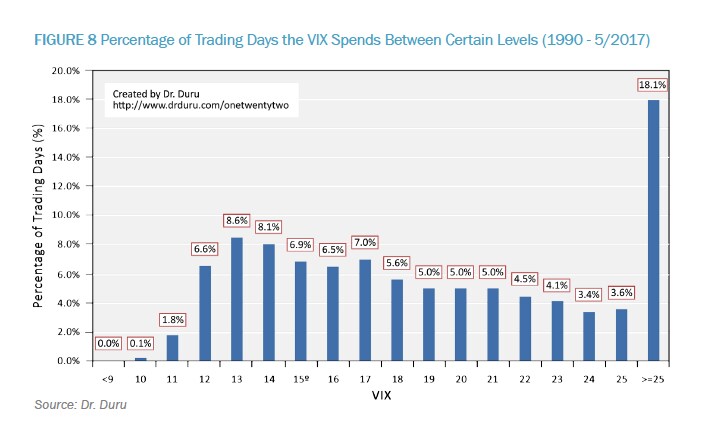 Now, low volatility does not mean a market blow-up tomorrow. We could remain in a low-VIX market for a long time. 
However, this anaemic VIX is another brushstroke painting the broader image of a market that we believe is flashing more yellow and red than green.
This is part one of a four-part series on how best to implement a tail risk strategy in an ageing bull market. 
By Meb Faber, who is the co-founder and chief investment officer at Cambria Investment Management, and creator and host of The Meb Faber Show podcast. He is the author of 'Invest with the house: hacking the top hedge funds' and 'Global asset allocation: a survey of the world's top investment strategies.'
Disclaimer Past performance is not a reliable indicator of future results.
CMC Markets is an execution-only service provider. The material (whether or not it states any opinions) is for general information purposes only, and does not take into account your personal circumstances or objectives. Nothing in this material is (or should be considered to be) financial, investment or other advice on which reliance should be placed. No opinion given in the material constitutes a recommendation by CMC Markets or the author that any particular investment, security, transaction or investment strategy is suitable for any specific person.
The material has not been prepared in accordance with legal requirements designed to promote the independence of investment research. Although we are not specifically prevented from dealing before providing this material, we do not seek to take advantage of the material prior to its dissemination.
CMC Markets does not endorse or offer opinion on the trading strategies used by the author. Their trading strategies do not guarantee any return and CMC Markets shall not be held responsible for any loss that you may incur, either directly or indirectly, arising from any investment based on any information contained herein.
*Tax treatment depends on individual circumstances and can change or may differ in a jurisdiction other than the UK.