Chipmaker Nvidia [NVDA] opened the week around $178, down 4.3% since Thursday, after rival Intel [INTC] cut its full-year revenue guidance to below 2018 levels, forecasting a rebound for the second half of this year.
Nvidia investors were likely spooked by Intel citing a slowdown in data centre spending worldwide as one of the main drags on future earnings. The data centre business accounted for roughly a quarter of Nvidia's $11.72bn in revenue in the twelve months ending in January fiscal year 2019.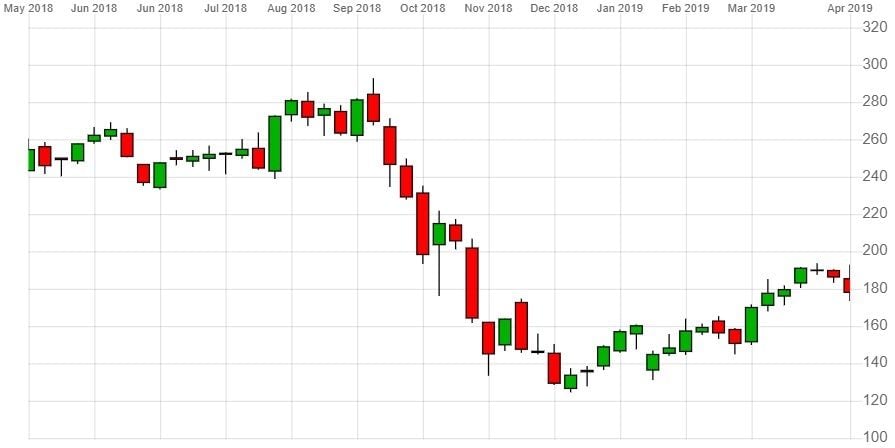 Nvidia 1-year share price performance, CMC Markets, 01 May 2019
Intel CFO George Davis's comment on "customers becoming more cautious in their buying patterns" echoed earlier remarks from Nvidia CEO Jen-Hsun Huang, who in February told analysts of "a level of cautiousness across all of the enterprise customers and the cloud service providers that we've not experienced in a while", pushing a number of deals beyond the fourth quarter.
Nvidia's Q4 results showed some resilience in data centre business, which saw sales rise 12% year-on-year even while the company's top line decreased 24%, driven by a halving in gaming revenues.
But analysts at the time took the company's comments as foreshadowing persistent doldrums in its data-centre business. "We think the incremental softness on gross margins suggests a continued pause in [the segment]," read an RBC Capital Markets note – and Intel's bearish forecast will now reinforce that conviction.
Market cap
$

110.14bn

PE ratio (TTM)
27.30
EPS (TTM)
6.63

Operating Margin

(TTM)

32.47%
Nvidia stock vitals, Yahoo finance, 01 May 2019
"The data centre rebound the company was banking on... doesn't look like it's going to happen," US chip industry analyst Patrick Moorhead told the Financial Times last week.
What's next?
Nvidia is clearly still banking on data centres as a key source of demand. In March, it completed the $6.9bn cash acquisition of Mellanox, an Israeli high-power computing (HPC) supplier, beating Intel and Microsoft [MSFT] to the punch. Nvidia said the acquisition would be immediately accretive to GAAP gross margin, non-GAAP EPS and free cash flow.
The gaming segment could also see a rebound thanks to e-sports' growing popularity, according to BAML's Vivek Arya. Indeed, a recent survey from Susquehanna found that Nvidia's was regaining market share in graphic processing units for laptops and desktop computers.
$6.9bn
Value of Nvidia's cash acquisition of Mellanox
Some analysts see growth opportunities beyond traditional verticals, advising investors to play the long game. "Longer term, we believe gaming, along with data centre and automotive, are excellent markets, especially when considering its cutting-edge technology and market-leading position," Piper Jaffray analyst Harsh Kumar wrote in March.
But Morningstar's Abhinav Davuluri – who has a very bearish $120 fair value estimate on the stock – questioned how far Nvidia's self-styling as "more than just a chip provider" can go. "While we applaud this focus on software and support, we maintain our view that major customers ranging from cloud vendors to automakers pursuing self-driving vehicles won't put all their eggs in the GPU basket," he wrote in March.
Continue reading for FREE
Join the 30,000+ subscribers getting market-moving news every week.