There are currently around three million electric cars on the road; this number will hit 125 million in 2030. 
By 2050, more than 80% of cars, as well as being electric, will be self-driving autonomous vehicles in an industry expected to generate $7tr worth of economic activity. 
Some 50% of car sales were electric (and hybrid) in Norway last year. China has implemented aggressive electric vehicle subsidy programmes. Ireland has pledged to ban petrol and diesel cars by 2030, France will follow suit by 2040.
So it's hardly surprising that the world's major car and technology companies are rushing to get a piece of the pie: with rising fuel costs and stagnating sales, carmakers will have to innovate to grow and bring returns to shareholders, or face collapse. It's why there are far more players in the industry than just Tesla [TSLA]. 
One of the biggest recent moves was by Mercedes-Benz, which announced it has spent more than $12bn developing a line of luxury electric SUVs and crossover cars that will go into production next year. 
"There is no alternative to betting on electric cars, and we're going all in," said Dieter Zetsche, CEO of Daimler [DAI], the parent company of Mercedes-Benz, following the announcement in early September. 
To put things in perspective, in 2017 Mercedes-Benz had a revenue of $110bn, to Tesla's $11.8bn. 
The company will also launch its own driverless fleet of robot taxis in the early 2020s. It joins luxury carmakers Porsche and Audi (both owned by Volkswagen [VOW]) and Tata's [TATAMOTORS] Jaguar that have all launched alternatives to Tesla's Model 3.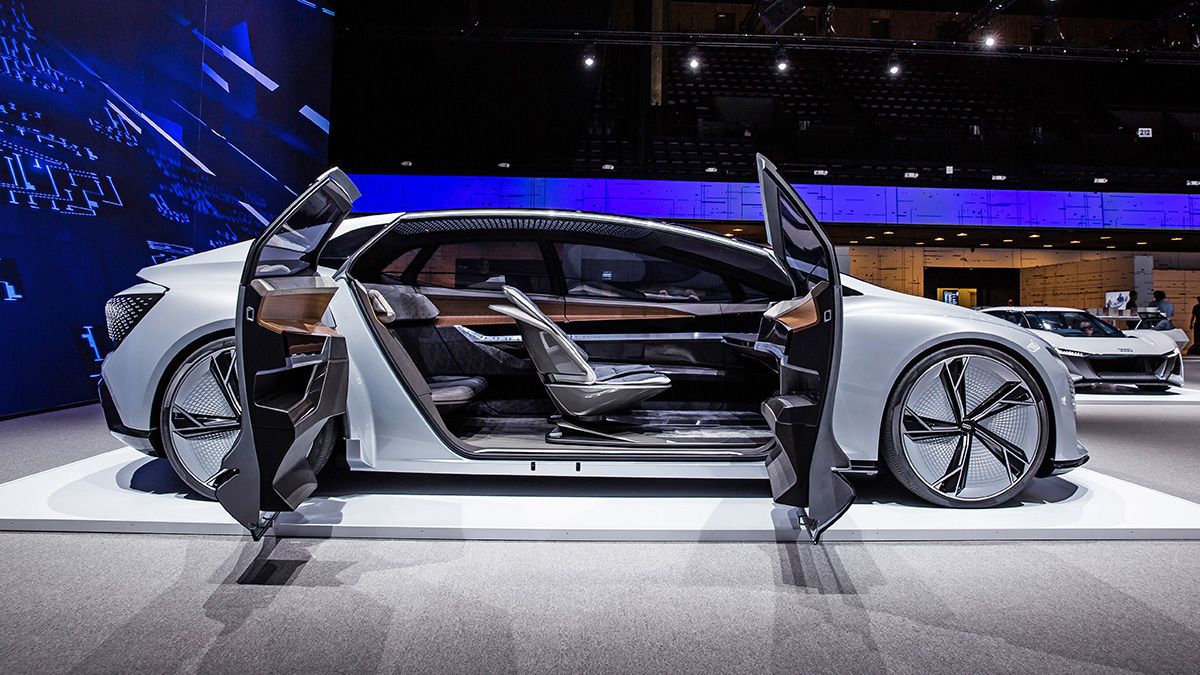 Setting things in motion
While the move to electric is one that many companies have already grasped, it's the autonomous element that could yet be the golden goose. 
Conservative estimates suggest $80bn was poured into the sector in 2016 alone.
The technology involved in creating cars that can drive themselves encompasses a dizzying array of sensors, cameras, radars and lasers, as well as advanced computing, and even, at the front end of the market, deep learning and artificial intelligence.
"There is no alternative to betting on electric cars, and we're going all in" - Dieter Zetsche, Daimler CEO
But despite impressive advances, most agree that the industry is still a long way off a fully fledged autonomous "level 5" (see box) car hitting the market, unless a manufacturer comes up with a surprise sometime soon.
Today, the closest to this is Audi's non-electrified A8 model. A "level 3" car, the vehicle, rather than the driver, actively monitors its environment, although this happens only in certain circumstances and for a certain period of time.
While it may have not cracked automation, and despite its CEO's erratic behaviour, it can't be denied that Tesla has been the driving force behind many of the most exciting innovations across automation and electrification. 
Its commitment to the technologies has forced carmakers to take note, and its pioneering software, such as its capacity to update cars remotely, will have spooked less innovative rivals. 
Big names 
Toyota [TM], the world's most valuable carmaker, has certainly sprung into action. It has invested more than £4bn in robotics and AI research and patented more than 480 technologies since 2001, more than any other carmaker in the world. 
It's traditional US rival Ford [F] also committed to investing $4bn in a self-driving division by 2023.
General Motors [GM], meanwhile, plans to mass-produce cars without steering wheels and pedals next year, teasing the possibility of the coveted "level 5" capability. 
Further launches in the coming months are sure to pique the interest of investors. GM acquired Cruise Automation in 2016, a company that develops the AI that enables vehicles to drive themselves. 
It now has more than 100 autonomous vehicles that are being tested on public roads and plans to release a fully autonomous model sometime next year.
Tech giants like Alphabet [GOOGL], whose Waymo is due to launch a self-driving taxi service in Phoenix, Arizona this year, are also jostling for positions in the race, alongside the likes of ride-sharing companies Lyft and Uber. 
Disrupting the disruptors 
Behind the hype and the headlines, a sector that promised to revolutionise global transport is itself being radically disrupted by new startups.  
A heady mix of intensified competition, squeezing margins, high levels of capital expenditure, and an ever accelerating pace of technological change are dismantling traditional business models and supply chains. This is producing an extremely dynamic – and at times unpredictable – marketplace. 
Silicon Valley upstarts are making waves along the supply chain, generally finding highly specialised niches where they can best add value. One of the most interesting areas is 'LiDAR' (or light detection and ranging) sensor technology, which uses lasers to create 3D visualisations. 
$68m - Daimler market cap
The technology has a host of applications outside the automotive sector and is being trialled by Quanergy, one of the leading exponents of the technology, along the Mexican border, where it is being used to detect illegal migrants.
Other companies, like chip maker Nvidia [NVDA], are also bringing their own specialist software expertise to bear. More than 300 companies involved in driverless cars are now using Nvidia Drive. 
And Tesla's fall from grace could well be someone else's gain. Shanghai-based rival Nio [NIO] has been nipping at Tesla's heels for some time and, despite a lacklustre IPO, it surged 76% on its second day of trading. 
With the high-profile backing of Chinese internet giant Tencent [0700.HK], which has a 15.2% stake in the company, and enviable access to the largest electric-vehicle market in the world, it could give Tesla a run for its money.
Not easy
The struggles engulfing Tesla may well serve as a warning to new companies entering the market however: building cars is hard. 
One of the most shorted stocks on Wall Street, Tesla's eye-watering valuation of nearly $50bn – on par with GM and more than Ford and Volvo – has been raising eyebrows for some time. Blighted by production issues and struggling to achieve profitability, Tesla's huge cash shortfall has irked many. 
Reports that its Model 3s have been languishing in California parking lots unsold may also suggest demand is weaker than anticipated. 
$45bn - Tesla market cap
Such issues should – at least in the short term – prompt investors to interrogate the profitability of an industry that requires not only extremely high levels of capital expenditure, but also extensive periods for research and development and, beyond that, testing and validation. 
Other concerns for driverless vehicles focus around consumer uptake and the regulatory environment which, at least outside the US, is not particularly conducive to the commercialisation of such technologies.
Competition< >Collaboration
Despite intense competition, one of the hallmarks of the driverless sector has, in fact, become collaboration. 
In April 2016, Google announced a partnership with Ford, Lyft, Uber and Volvo [VOLV B] with a view of pooling expertise and resources to tackle both regulation and production. 
Honda has teamed up with GM, taking a stake of Cruise and promising to invest $2.8bn in the company in an announcement that triggered a pop in GM's share price. 
Fellow Japanese carmaker Toyota [TM] meanwhile has invested $500m in Uber to jointly develop autonomous ride sharing.  
$36bn - Ford market cap
Given the already complex nature of vehicle supply chains, Jeremy Carlson, principal analyst at IHS Markit, says it's likely that this trend will continue. 
"We expect to see a lot of partnerships, a lot of acquisitions, and a lot of overall collaboration within this space. There's only so much you can do in sequence. All development has to be done in parallel and with the final product in mind."
Long road ahead
Despite such a flurry of activity, investors should be in it for the long game. "We are looking at a very long time frame [for autonomous vehicles] to gain a significant share of the market," says Carlson. IHS Markit's forecast goes out to 2040, and the insights company is in the process of expanding it out to 2050. 
"Automakers have been developing in these types of technologies for decades, it's just that the final form now is very different to how we would have expected it to be five or 10 years ago." 
Perhaps the most encouraging, tangible factor for the future of driverless cars is the underlying strength of the electric-vehicle market. When electric batteries improve and the cost of electric falls below combustion engines, an important juncture will be crossed. 
Driverless doesn't look set to become ubiquitous in the immediate future, but electric unquestionably will be. Those companies already poised to take advantage of this will likely reap the reward.
Disclaimer Past performance is not a reliable indicator of future results.
CMC Markets is an execution-only service provider. The material (whether or not it states any opinions) is for general information purposes only, and does not take into account your personal circumstances or objectives. Nothing in this material is (or should be considered to be) financial, investment or other advice on which reliance should be placed. No opinion given in the material constitutes a recommendation by CMC Markets or the author that any particular investment, security, transaction or investment strategy is suitable for any specific person.
The material has not been prepared in accordance with legal requirements designed to promote the independence of investment research. Although we are not specifically prevented from dealing before providing this material, we do not seek to take advantage of the material prior to its dissemination.
CMC Markets does not endorse or offer opinion on the trading strategies used by the author. Their trading strategies do not guarantee any return and CMC Markets shall not be held responsible for any loss that you may incur, either directly or indirectly, arising from any investment based on any information contained herein.
*Tax treatment depends on individual circumstances and can change or may differ in a jurisdiction other than the UK.