I
t's been a flat few years for the alcohol industry, with worldwide alcohol consumption only increasing by 0.01% in the past two years, according to the IWSR, a leading drinks market analyst. In the US, people have been drinking less booze for four consecutive years. A similar story is playing out across most of Europe, including in the UK. And while beer sales are up 1.4% in the US overall since 2014, they have declined year-on-year for the last two years, according to data from market research specialists IRI. 
9.3%
Diageo earnings growth 2018
The sobering state of affairs is partly explained by the rising focus on health and wellness, especially with millennial and Gen X consumers. Hundreds of startups have led the disruption, either by responding to health-conscious customers looking for alcohol-free drinks that reproduce the taste or characteristics of alcohol, or by catering to those shifting their consumption from alcoholic drinks to cannabis-infused beverages as legalisation of the drug spreads.
The list of leading beer and liquor producers hedging against declines in alcohol consumption by investing in cannabis is growing longer by the day
For the first time, these kinds of drinks are starting to compete with traditional wine, beer and spirits in a way that is forcing the major alcohol companies to pay attention. Many are diversifying into the non-alcoholic drinks sector themselvesby launching their own cannabis-infused products, low-alcohol versions of their existing brands and alcohol-free "spirits".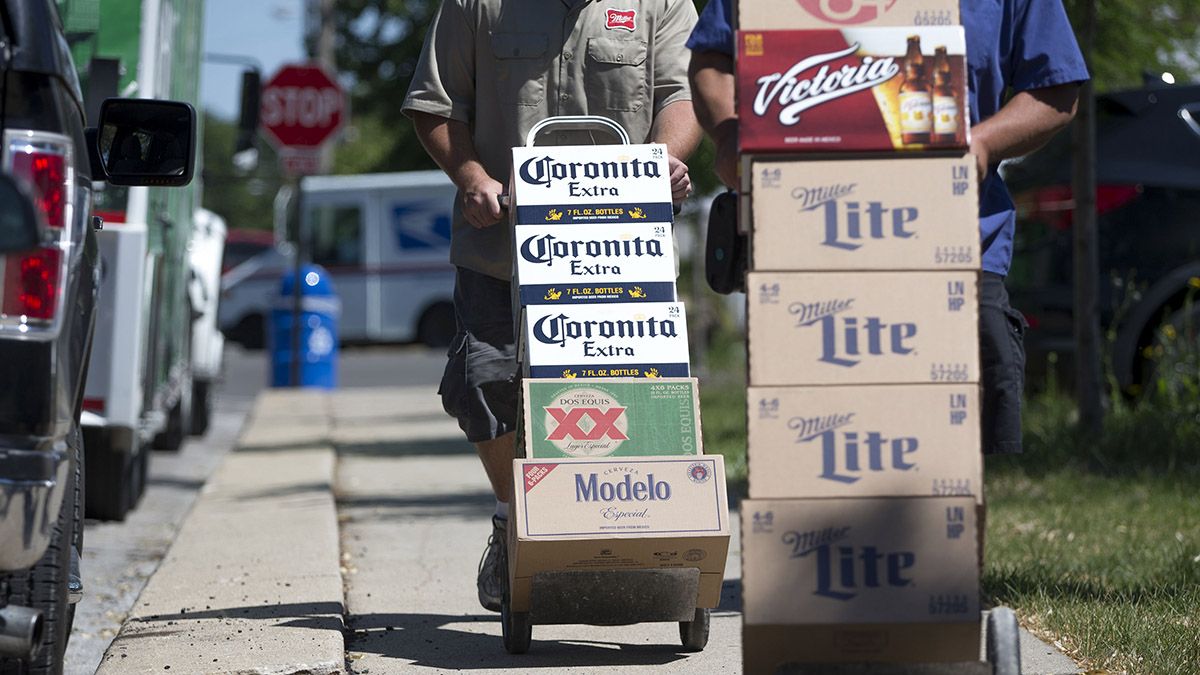 Pivot to pot
The list of leading beer and liquor producers hedging against declines in alcohol consumption by investing in cannabis is growing longer by the day. Beer brand Lagunitas, owned by
Heineken [HEIA]
, recently launched drinks infused with THC and CBD.
Molson Coors [TAP]
partnered with cannabis producer the Hydropothecary Corporation [HEXO] to launch a business focused solely on cannabis-infused, non-alcoholic drinks.
Constellation Brands [STZ]
, the company behind Corona among other major beverage labels, has felt the disruption. Its share price dropped over 12% in early January – hitting a new 52-week low – as the company tried to offset disappointing wine and spirits sales with an investment of roughly $4bn into cannabis producer
Canopy Growth [CGC]
November 2018.
$4bn
Amount Constellation Brands has invested in Canopy Growth
President and COO of Constellation Brands, Bill Newlands, who will succeed Rob Sands as CEO in March, has been heading up the wine and spirits business as the company decides on a strategy to address its underwhelming performance. "We've been challenged by the lower end of our [wine] business," Newlands told analysts on a conference call. "We continue to be slightly overweighted in that sector of the business."
But Constellation's push into cannabis isn't a short-term fix. The company financed the deal with debt and, according to its estimates, the interest expenses are expected to shave 25 cents off its per-share earnings in 2019. The company has a market value of $33.19bn but struggled in 2018, with shares about 30% down on the year before.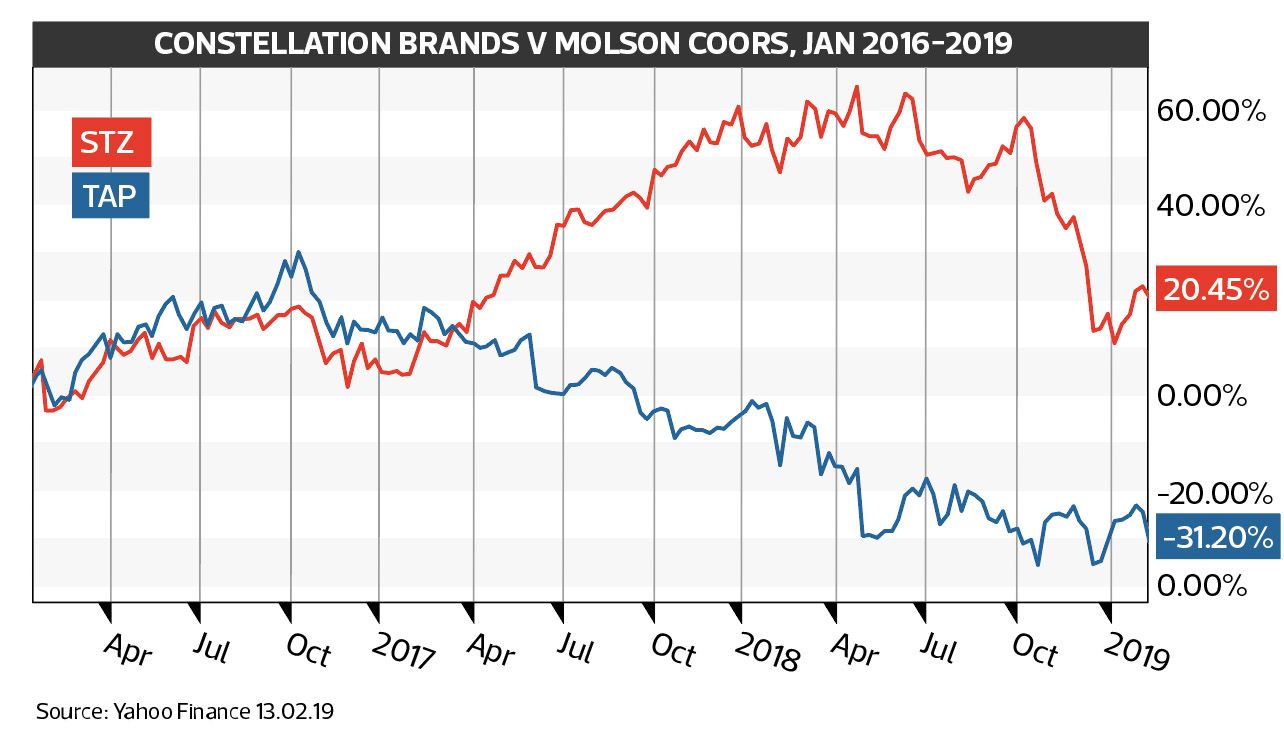 Bonnie Herzog, an analyst at Wells Fargo, saidin a note: "While we remain bullish about Constellation's positioning in beer and its [longer-term] opportunity, especially with its investment in Canopy Growth, we believe it is urgent that it addresses its low-end wine business."  
Alcohol-free
Diageo [DGE]
, one of the world's largest distillers with Guinness and Smirnoff among its brands, had a strong 2018, partly because it doesn't rely on its legacy brands. Results were also boosted by the value of the British pound falling. It recorded earnings growth of 9.3% in 2018, with 0.9% improvement in sales, ensuring it comfortably outpaced the industry average.
The British company has been racing to expand into the non-alcoholic category through its venture arm Distill Ventures, and has already invested in alcohol-free distilled spirits brand Seedlip, among a number of undisclosed investments targeting alcohol alternatives. And late last year, aiming to boost growth and fend off competitors, Diageo reportedly opened discussions with at least three major Canadian producers to add cannabis-infused beverages to its portfolio. "We're monitoring this space closely," said a Diageo spokesperson.
80%
Amount the low- and no-alcohol "spirits" category is set to grow in five years
Increasingly, the marijuana and alcohol industries are converging. Even some of the soft-drink giants are moving in, although perhaps reluctantly. When the CFO of PepsiCo [PEP], Hugh Johnston, said they have no plans for cannabis-infused drinks on a conference call in October 2018, the company's stock immediately dropped 1.4%. Commentators were quick to point out that the company risked being left behind by other soft-drink companies such as Coca-Cola [KO], which has been more openly enthusiastic about moving into the cannabis sector. (Recognising this, perhaps, the CFO released another statement later the same day, saying PepsiCo is "taking a hard look" at the cannabis-infused drinks.)
Cut the sugar
Cannabis-infused drinks are just a small part of PepsiCo's push to expand its portfolio beyond sugary sodas to healthier options. The move is necessary – after all, the consumption per capita of fizzy drinks has fallen to its lowest level since 1985.
PepsiCo still has 22 brands that exceed $1bn in annual revenues, but the company is facing increasing pressures from investors to find new growth drivers after its recent $3.2bn acquisition of SodaStream [SODA], the at-home carbonated drink maker, was labelled overly expensive.
$3.2bn
Amount PepsiCo paid for SodaStream
Still, it could be a smart play long-term. The acquisition seemingly addresses a challenge facing many of the giant soft drinks companies – that buying new drink brands risks cannibalising legacy beverages. It also comes at a time of transformation, with 70% of shoppers in the US expected to buy groceries online by 2025, according to Nielsen. "We get to play in a business – home beverages – where we don't [usually get to] play," Johnston, said.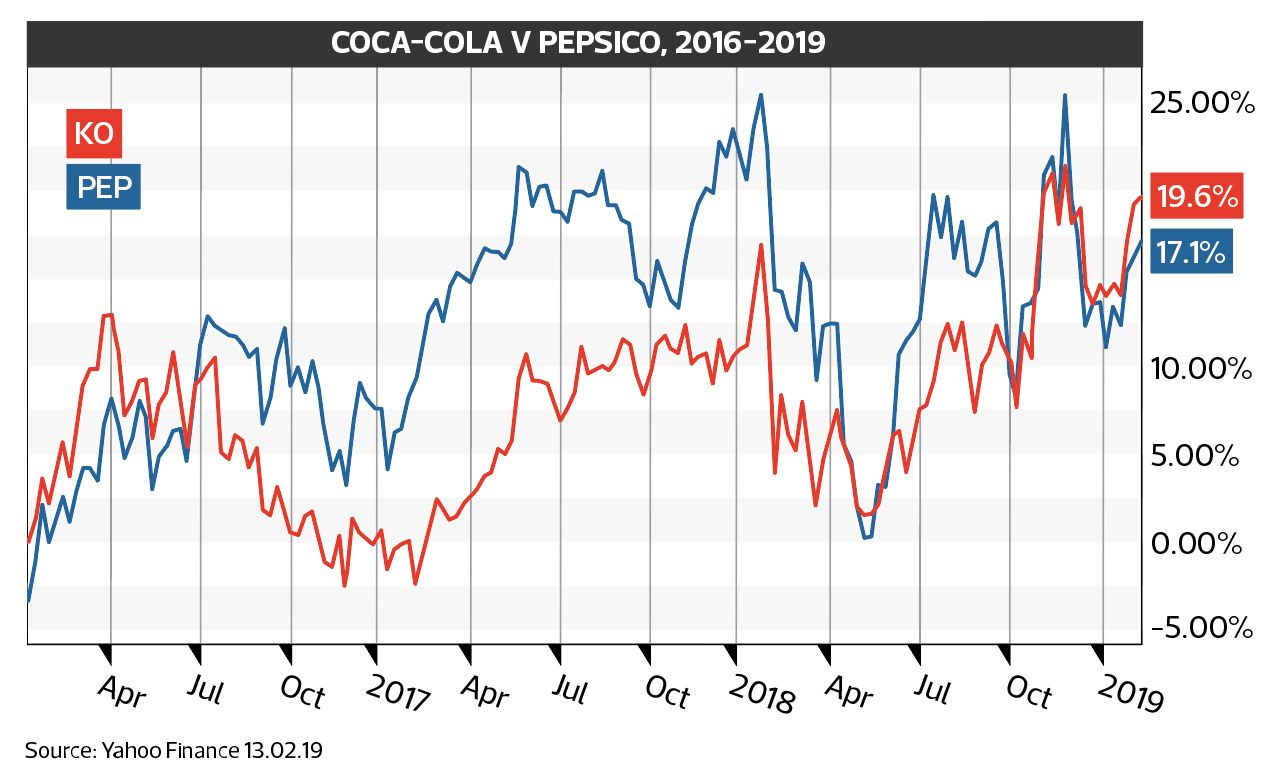 PepsiCo is attempting to reach consumers beyond the bottle in other ways, too, reflecting an industry-wide trend. To embrace wellness, companies can do everything from changing their products' ingredients (including reducing sugar, using plant protein or removing gluten)to emphasising mental health benefits. PepsiCo's acquisition of Quaker Oats is part of its pushto expand its portfolio beyond fizzy drinks highin sugar. So, too, was its 2018 acquisition ofHealth Warrior, a healthy plant-based snack brand. It was also the first investment led by the PepsiCo HIVE, a new entity within PepsiCo's portfolio designed to grow small, upstart brands.
New ingredients
Healthy ageing is providing another investment opportunity. Longer lifespans are presenting food and drink manufacturers with the chance to take inspiration from the beauty industry and create products that help people look and feel young.
Ingredion [INGR]
, Coca-Cola, and
Tate & Lyle [TATE]
among others have been looking for new ingredients – such as Stevia, a plant extract more than 200 times sweeter than sugar – to include in product launches. Elsewhere, advances in biotechnology and other new sweetening agents are also helping brands reduce their products' sugar content.
Plant protein has gained pace over the past several years and is a fast-emerging trend.
More than 66 million bottles of gin were sold in the UK last year, up 41% year on year
The plant protein market is valued at $11bn, according to CB Insights. As the trend continues to gather momentum, food and beverage companies in a range of categories will likely integrate plant protein into their products, from coffee-based drinks to milk and soft drinks.
It's not all bad news for the alcohol industry. More than 66 million bottles of gin were sold in the UK last year, up 41% year-on-year, with sales of high-end gin in particular surging. In January,
Fever-Tree Drinks [FEVR]
announced it expects to report an almost 40% jump in annual revenue for 2018 following strong demand for its flavoured tonic water and premium mixers, leading to a rise of close to 14% in its share price. It claimed 12.6% of the UK's tonic market in 2018, according to Euromonitor International. Coca-Cola, which owns the Schweppes brand in Britain, has seen its share price fall over the same period from $48.27 to $47.69.
Still, it is the non-alcoholic drinks industry that is providing the most growth opportunities for beverage brands. The low- and no-alcohol "spirits" category will grow more than 80% in the UK over the next five years, according to IWSR, despite the booze-free sector currently having few category leaders. Expect to see this sector of the drinks industry really start to fizz.
FAST FOOD, FAST PROFITS?
McDonald's share of the fast-food market continues to stay strong with it consistently beating sales expectations. Comparable store sales gained 4.2% in Q3 2018 on the previous three months, and its stock gained 10% in the weeks following its October 2018 earning report, propelling it to an all-time-high of $189.26. It is partly down to the success of its low-cost strategy of luring customers with heavily discounted meal deals and new breakfast items.
It's investing in modernising its restaurants visually and with more tech, such as self-order kiosks, and continues to grow faster abroad. The recent push into delivery with Uber Eats is also helping sales both domestically and overseas.To date, the company has remained unharmed following the surprising loss in January of its Big Mac trademark in the EU. The stock did slightly stutter following its January report after US same-store sales came in slightly under expectation. It did however also report better than expected revenue and soaring international sales, and the stock has since launched a rebound. Many analysts are bullish on the stock, with a consensus of 'strong buy' ratings and a price target of $191.14 from analysts.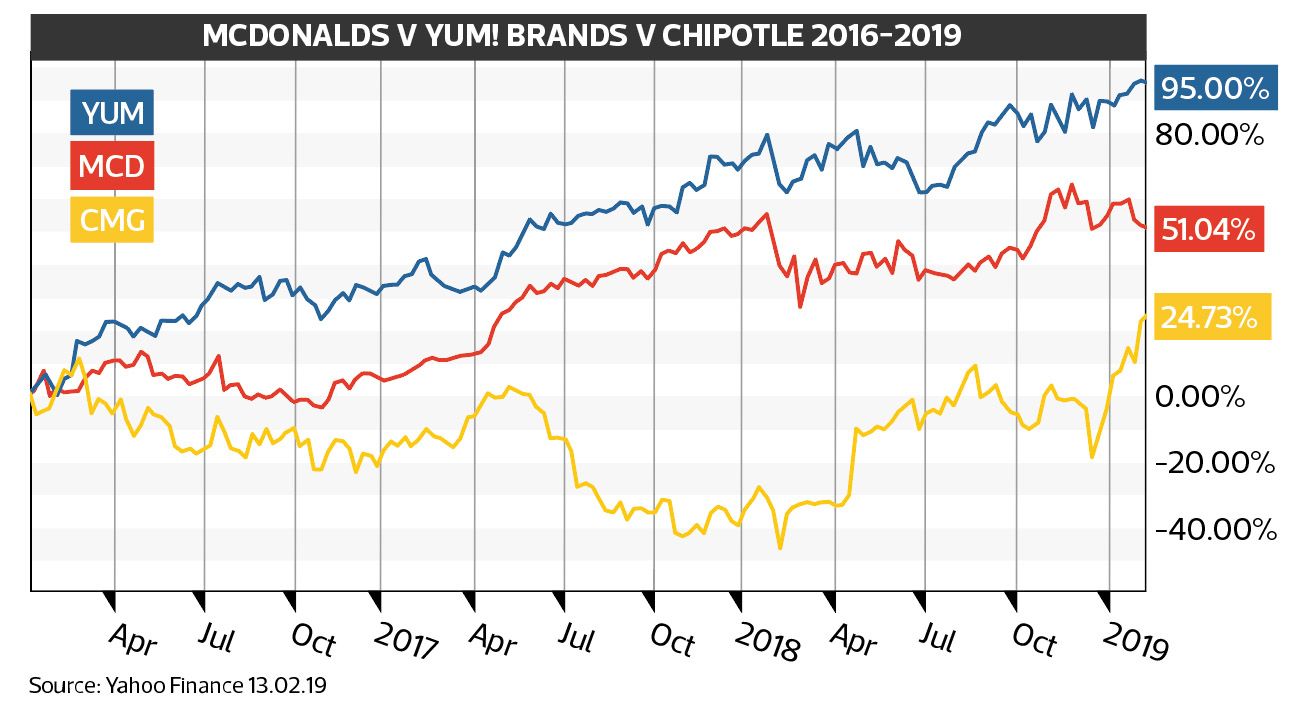 Fast food rules
Yum! Brands – which owns the three iconic companies Pizza Hut, Taco Bell and KFC among many others – has also been performing well. So well, in fact, industry experts predict its bull run will continue long into 2019. In the past six months, its stock has gained more than 15%, compared with an industry average of 11%. The company has introduced a number of eye-catching innovations, including attempts to improve its delivery services by partnering Pizza Hut with Toyota to facilitate pizza deliveries via driverless vehicles.
Chipotle Mexican Grill meanwhile smashed its latest earnings, released in February, reporting a skyrocketing 66% rise in online sales over the previous quarter. Comparable sales were up 6.1%. The positive report sent the stock soaring 15% and builds on gains of 50% in 2018.
Disclaimer Past performance is not a reliable indicator of future results.
CMC Markets is an execution-only service provider. The material (whether or not it states any opinions) is for general information purposes only, and does not take into account your personal circumstances or objectives. Nothing in this material is (or should be considered to be) financial, investment or other advice on which reliance should be placed. No opinion given in the material constitutes a recommendation by CMC Markets or the author that any particular investment, security, transaction or investment strategy is suitable for any specific person.
The material has not been prepared in accordance with legal requirements designed to promote the independence of investment research. Although we are not specifically prevented from dealing before providing this material, we do not seek to take advantage of the material prior to its dissemination.
CMC Markets does not endorse or offer opinion on the trading strategies used by the author. Their trading strategies do not guarantee any return and CMC Markets shall not be held responsible for any loss that you may incur, either directly or indirectly, arising from any investment based on any information contained herein.
*Tax treatment depends on individual circumstances and can change or may differ in a jurisdiction other than the UK.