Alphabet's [GOOGL] stock has grown 7% to around $1,270 over the past month, with investors anticipating a customary earnings surprise when the Google parent releases its first-quarter earnings on Monday after markets close.
Analysts polled by S&P Market Intelligence are expecting EPS of $10.75 and revenues of $37.88bn – up 13% and 21%, respectively, year-on-year. The company has beaten quarterly EPS forecasts since its formation in 2015.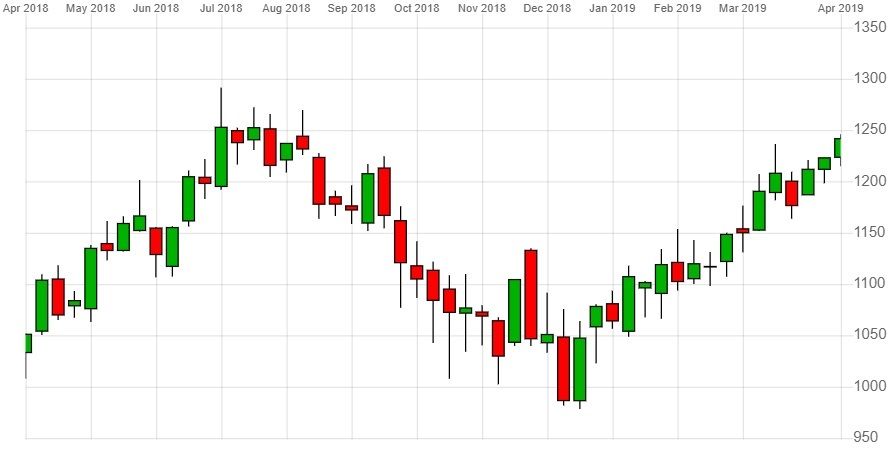 Alphabet 1-year share price performance, CMC Markets, 25 April 2019
But CEO Larry Page and Google division boss Sundar Pichai may have to reassure investors as the company's data-heavy business comes under heightened scrutiny by US and EU regulators. In March, the European Commission fined Alphabet €1.4bn ($1.7bn) for preventing its partner websites from displaying the search results of its rivals.
Alphabet said it will account for the fine – its third from the EU in as many years – as an operating expense, which will be reflected in its EPS. Keen to avoid another showdown with EU watchdogs, the company also announced this month that users of new Android phones will be able to choose from a list of third-party web browsers, alongside Google Chrome, when setting up their device – much like Microsoft was forced to do with Internet Explorer in 2009.
Market cap
$

874.71bn

PE ratio (TTM)
28.74
EPS (TTM)
43.70

Quarterly revenue growth

(YoY)

21.50%
Alphabet stock vitals, Yahoo finance, 25 April 2019
Meanwhile, across the Atlantic, US lawmakers want Pichai to testify again to Congress over Google's "Sensorvault" database of user location data, which a New York Times report claimed has been used to assist law enforcement.
What now?
Any news on the revenue-generating prospects of Alphabet's "Other Bets" division – which spans everything from self-driving cars to drones and cloud services – could provide some distraction from antitrust and PR risks at the core business.
This week, the company's drone division, Wing, got the green light from US regulators to introduce business-to-home deliveries in Virginia. The approval could well pave the way for commercial partnerships with third-party retailers. "Anybody who is delivering packages to houses is wondering how to get drone technology involved," George Ferguson, Bloomberg Intelligence analyst, told a Bloomberg Businessweek podcast.
"Anybody who is delivering packages to houses is wondering how to get drone technology involved" - George Ferguson, Bloomberg Intelligence analyst
Meanwhile, Google Cloud made headlines having completed the installation of a submarine cable connecting California to Chile. The company's cloud division – which has a modest market share compared to Amazon's AWS and Microsoft's Azure – has been building out its proprietary infrastructure in order to differentiate itself from its rivals. Although Google has yet to disclose numbers for its Cloud division, Alphabet CFO Ruth Porat said in February's Q4 earnings call that demand for cloud computing is delivering "sizeable revenue growth", with a "really nice uptick in the number of deals that are greater than $100m".
Continue reading for FREE
Join the 30,000+ subscribers getting market-moving news every week.