I
n an incredibly short period of time, cloud computing has transformed from a hard to grasp lofty concept to one adopted near universally by businesses now increasingly hungry for storing all their data in server filled warehouses the size of small towns. 
The expansion of cloud businesses within these companies has been a core driver of their overall growth and now a magnitude of smaller enterprises want a piece of the pie too, including
Dropbox [DBX]
,
Oracle [ORCL]
and
SAP SE [SAP]
. 
But the cloud is evolving and the next IT model that's set to dominate going forward is a hybrid cloud, which is a mix of public and private clouds that offer software (SaaS), platform (PaaS) and infrastructure (IaaS) services.
Even IBM's CEO, Ginni Rometty, went as far to say that hybrid cloud computing has the potential to become a $1tn market. 
$1trillion
Potential value of hybrid cloud computing market according to IBM CEO, Ginni Rometty
Cloud computing goes mainstream  
Company's expectations have evolved. Cloud technology is no longer just a tool to leverage computing infrastructure, instead businesses are increasingly exploring the benefits of its wider capabilities. 
Over the past few years, cloud technology has developed and expanded, including in cloud storage capacity, serverless cloud computing, software containers, artificial intelligence and machine learning. It has even aided the development of 5G. 
But with this exponential growth, of course comes challenges. Security, in particular, is a serious headwind. Despite the providers going to great lengths to secure their service, it doesn't stop clients causing problems: Analyst firm Gartner has even gone as far to say that at least 99% of cloud security issues will be the fault of the customer going into 2023.
As organisations move more of their IT estates and data to cloud environments, hackers are increasingly targeting cloud infrastructures. In fact, software that monitors users and applications now play a critical role in enabling cloud adoption as they address the security gaps.
Aside from security, the other challenges cloud computing faces are managing spend and regulations that can penalise centralised services.
| | | | | |
| --- | --- | --- | --- | --- |
| Cloud tech stocks - Vital stats | Microsoft | IBM | Amazon | Salesforce |
| P/E ratio | 43.85 | 19.27 | 88.60 | 131.81 |
| Earnings per share (ttm) | 2.43 | 6.20 | 17.85 | 0.96 |
| Quarterly revenue growth (YoY) | 18.50% | -2.10% | 29.30% | 27.30% |
| Quarterly Earnings Growth | 34.20% | -1.20% | 1,026.20% | 550.00% |
| Market cap | 817.3B | 108.65B | 773.2B | 95.654B |
| EBITDA | 47.54B | 16.95B | 24.91B | 1.1B |
Source: Yahoo finance, as at 27 November 2018
Amazon introduces slew of new cloud services
The growth of Amazon's web services (AWS) has been little short of explosive. As the first tech giant to offer cloud computing commercially in 2006, it has dominated the industry since inception.
AWS grew by 46% in the third quarter of 2018, generating revenue of $6.68bn and jumping 9% from the previous quarter – it accounted for 12% of Amazon's total revenue. Moreover, the profit margin of a whopping 25% on AWS far outweighs those of Amazon's retail arm, which in North America currently stands at just 2-3%, while internationally, it continues to operate at a loss.
And while Amazon remains the biggest cloud giant, it has not been immune to the market's volatile state. Since it hit a market valuation of $1tn back in September, its share prices have been battered down by 20% due to the massive technology stock sell-off in October. At the time of writing, its market cap was down to $780bn.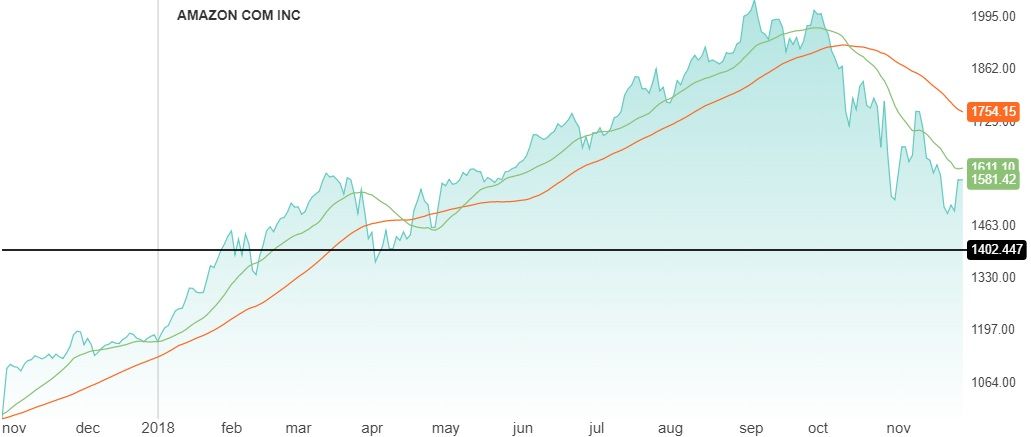 Amazon share price performance, NASDAQ interactive chart, as at 27 November 2018. Past performance is not indicative of future results.
Has been in decline since September and while it holds below the 200-day moving average at $1,691, its outlook should remain negative. Support might be found at $1,400. Resistance might be found at $1,800. 
Amazon owes its profitability to developing the industry's broadest set of hybrid capabilities. AWS is the world's biggest provider of cloud infrastructure, increasing by 45% year over year as it continues to build more and more clusters of interconnected data centres. It most recently announced that it would open a new GovCloud region in the US.  
AWS is so large in fact that 80% of enterprises are running apps or experimenting with AWS as their preferred cloud platform, according to Statista. Yet the reality is that if the e-commerce giant wants to remain a top-tier cloud powerhouse, it will have to expand into new areas such as the PaaS and SaaS spaces.  
With Amazon's sales hurting its share price, it will likely be looking to grow its AWS business as its big cash cow. But with Microsoft growing far more aggressively – and having far more to lose if it doesn't continue to grow (Microsoft's recent success is almost entirely down to the success of Azure) – the e-commerce giant certainly has a fight on its hands to maintain dominance. 
Looking ahead, analyst, James Cordwell expects "AWS and Azure to reach $185bn and $115bn revenue in 10 years' time, implying roughly 70% combined share of the market at that time".   
Microsoft nourishes Azure as key growth driver 
Since Satya Nadella took over as CEO in 2014, Microsoft has transitioned from being defined by personal computing to a company that is focused on strengthening its cloud computing arm – Azure – which was released in 2010. 
Transitioning into the cloud space has worked incredibly well for the firm, especially because of Nadella's aggressive push to offer hybrid cloud solutions. Microsoft's stock shot up from $35 to an all-time-high of $115.61 under Nadella's leadership, almost entirely due to the success of Azure, with the cloud arm seeing revenue increase by 89% in 2018, following a 97% rise in 2017.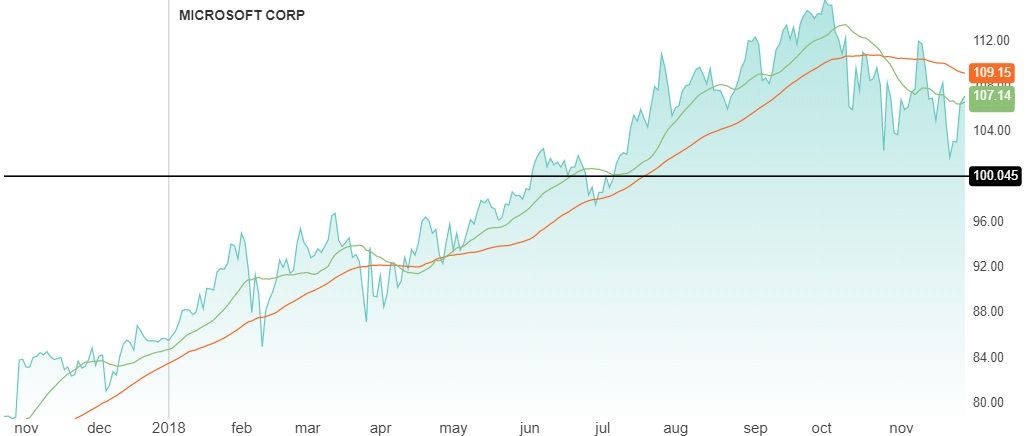 Microsoft share price performance, NASDAQ interactive chart, as at 27 November 2018. Past performance is not indicative of future results.
Has edged lower since October, but while it holds above $100.00, the wider upward trend should continue, and if $110.00 is cleared, it is likely to retest the $115.00 region. A break below $100.00 would be a bearish sign.
The stock has done comparatively well during the aggressive tech sell-off in October of this year, loosing a relatively low 10% since the start of the month. Amazon on the other hand has lost more than 25% from its September high, and Google 15% since the sell-off began. 
In its most recent earnings release, Azure's revenue was up 76% year-on-year growth for the cloud computing segment, which saw a slip of 89% compared to one quarter ago. In fact, it's the slowest growth since Microsoft began to report growth rates in its fiscal 2016. 
Despite this slight slowing of growth, Microsoft's CFO Amy Hood said this figure was in line with expectations and continues to emphasise the growth from its business-focused cloud services. 
"While Azure is not going to establish the monopoly position that Windows enjoyed, we believe it is addressing a much larger market that is still in the early stages of development," Cordwell said. 
Microsoft's most recent push has been its revolutionary project, Natick, which made a splash when it launched the first subsea data centre powered by offshore renewable energy. The shipping-container-size prototype is leveraging technology from submarines and working with pioneers in marine energy to create the next backbone of the internet.  
Investors will be keenly watching to see whether this impressive growth will continue to be driven by its cloud services rather than slow down further, in the company's 2019 fiscal year.
"While Azure is not going to establish the monopoly position that Windows enjoyed, we believe it is addressing a much larger market that is still in the early stages of development," - Atlantic Equities analyst, James Cordwell
Salesforce's figures show strength  
The driving force behind Salesforce's success is its CEO and co-founder, Marc Benioff, who's a pioneer behind cloud computing. Some would even go as far to argue that Salesforce is the spark that ignited the $62.2bn industry. 
With a market cap of $98.75bn, Salesforce is a market leader in customer relationship management software. When it was founded in 1999 it specialised in SaaS, which has quickly grown to be a high-powered portfolio, and has since announced that it will expand into PaaS offerings. 
At the beginning of its most recent earnings call in August, Benioff said "this may be our best quarter yet", the company aptly followed with a revenue growth of 27%, $3.2m for the quarter that ended in July 2018. 
In the Q4 earnings call, Benioff said that outside of the revenue it has reported, it has a cloud-revenue backlog of $20bn of business on and off the balance sheet, representing a 40% jump compared to 2017. 
Amid an increasingly volatile market and the broader tech downdraft, Saleforce's stock has fallen about 12% from its 52-week high of $161.19 in September. However, its free cash flow is continuing to increase rapidly. The company have grown free cash flow by 344% over the last five years with a current yield of about 2.4%.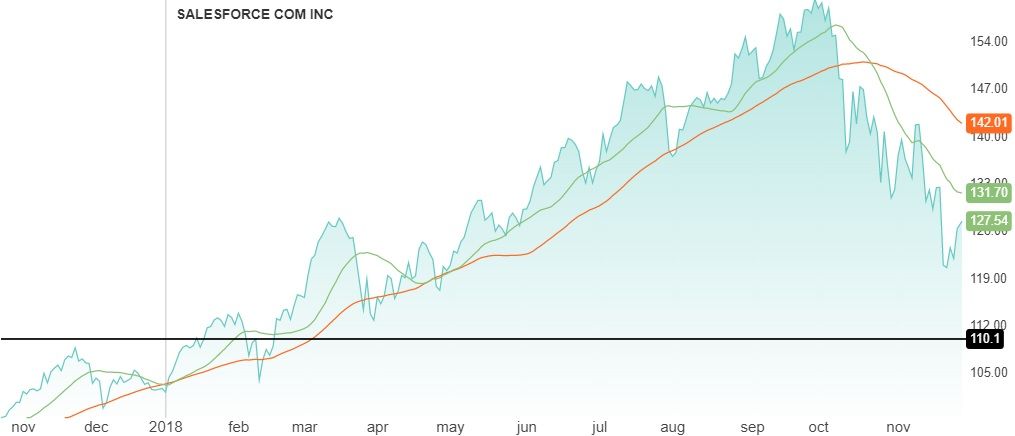 Salesforce share price performance, NASDAQ interactive chart, as at 27 November 2018. Past performance is not indicative of future results.
The stock has driven lower since October and while it holds below its 200-day moving average at $134.88, its outlook is likely to remain negative, and the $110.00 area might act as support. $145.00 – the 100-day moving average might act as resistance.
At a time of massive consolidation, Salesforce has been strategic with its alliances, pairing up with big names such as Google and Apple to further expand offerings. Most recently the firm has also announced an undisclosed investment in Docker, which plans to connect applications across multiple data sources in its expansion of hybrid cloud services.  
As the leading SaaS company in the market, Salesforce has had one of the best performing business models in cloud computing with even industries outside of tech showing interest in adopting its software - with a widening customer bases its profitability is likely to continue over the long term. 
IBM's holistic approach urges strategic partnerships 
First released in 2011, its recently rebranded IBM Cloud has been an ever-changing venture for the tech company, which continues to add services to expand its capabilities, that can be up-sold to the thousands of corporations it has often served for decades. This automation-first approach is delivering results; however, its revenue doesn't quite reflect its level of investment and status in the market. 
Last year, IBM rocked the boat by outperforming everyone in cloud computing revenue for the 12 months ending in June. In doing so, IBM also became the first enterprise to surpass $15bn in fully recognised cloud revenue for a 12-month period.
In total, IBM posted $15.8bn in trailing-12-month cloud revenue, including $7bn from helping clients convert traditional systems into cloud environments optimised for today's digital-business economy. 
But since then things haven't gone so well for IBM's cash cow, its mainframe server called Z Series, looks to be drying up. It reported a year-over-year revenue growth adjusted for currency of 2%. Its stock has also been underperforming for the past several years, and in October it dropped 5% after a disappointing earnings report. 
However, that all may be starting to change. In a massive deal that could catapult IBM to become a leader in cloud computing, IBM has recently acquired software company Red Hat [RHT] for a whopping $34bn. By combining IBM's 90,000 cloud architects and Red Hat's 8 million developers, it plans to work with Red Hat to figure out a way to allow data to move between various cloud services in a push to break into the hybrid cloud. 
Although the deal sent IBM's shares down by 5%, its investment is likely to drive long-term growth, especially considering cloud revenue makes up 23% of IBM's total revenue and is its best performing business. With shares comparatively cheap, some analysts argue IBM may well now be a compelling buy.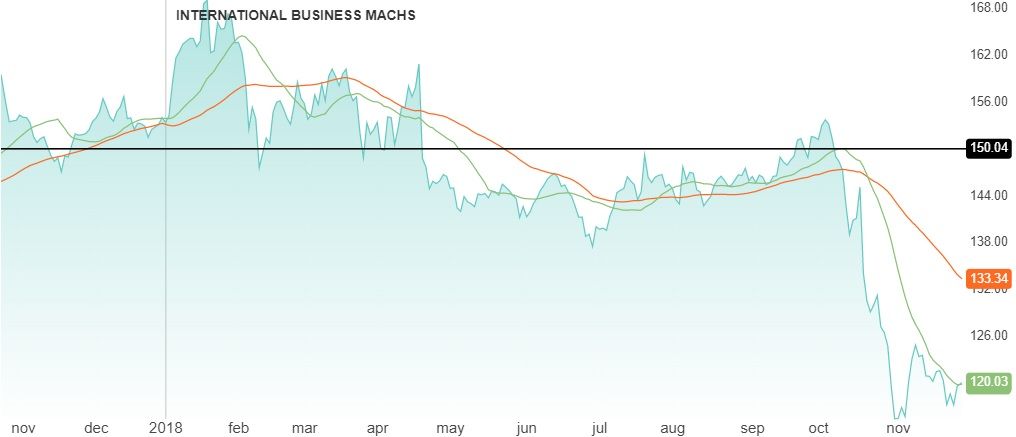 IBM share price performance, NASDAQ interactive chart, as at 27 November 2018. Past performance is not indicative of future results.
The share price has been in decline since February 2017 and if the bearish move continues it might target $100.00. The $150.00 area might act as resistance.
For a company with a market cap of $110bn and that's trading 30% below its 52-week high, Wall Street is feeling surprisingly optimistic about IBM. All eyes are likely to be on its upcoming earnings report on 22 January 2019.
23%
Percentage of IBM's total revenue made up by cloud business
Cloud computing set to keep gaining momentum  
Since cloud computing first launched in 2006, the technology has evolved from simply a remote server to integrate innovative analytics, machine learning, messaging, internet of things (IoT) capabilities and database services.
It's increasingly becoming an integral part of the growth strategy for tech giants, and hybrid solutions, in particular, will likely be the most popular strategy adopted by businesses going forward.
Technology analyst, IDC, recorded revenue of $15.4bn from sales of infrastructure products for cloud IT in the second quarter of 2018 and forecasted it to reach $62.2bn by the end of the year.  
With such rich pickings and high margins, tech businesses are likely to continue to profit from the success of their cloud computing arms, but with the biggest shareholders already starting to dominate the hybrid cloud computing space, competition will be tough. Investors will do well to pay close attention to which companies are able to achieve high growth and dominance in this increasingly important industry.
Chart Analysis from CMC Analyst, David Madden.
Disclaimer Past performance is not a reliable indicator of future results.
CMC Markets is an execution-only service provider. The material (whether or not it states any opinions) is for general information purposes only, and does not take into account your personal circumstances or objectives. Nothing in this material is (or should be considered to be) financial, investment or other advice on which reliance should be placed. No opinion given in the material constitutes a recommendation by CMC Markets or the author that any particular investment, security, transaction or investment strategy is suitable for any specific person.
The material has not been prepared in accordance with legal requirements designed to promote the independence of investment research. Although we are not specifically prevented from dealing before providing this material, we do not seek to take advantage of the material prior to its dissemination.
CMC Markets does not endorse or offer opinion on the trading strategies used by the author. Their trading strategies do not guarantee any return and CMC Markets shall not be held responsible for any loss that you may incur, either directly or indirectly, arising from any investment based on any information contained herein.
*Tax treatment depends on individual circumstances and can change or may differ in a jurisdiction other than the UK.