US earnings season
US earnings season is already well underway. This week stock traders will be watching to see how some of the biggest technology, automotive, telecomms, financial services and food & beverage companies in the world have preformed in Q1.
Technology giants report
Yahoo Q1 earnings 2016 preview
A lot of the value created for the company over the past few years has rested with its stake in Chinese internet retailer Alibaba. After plans to spin-off the Alibaba stake into a standalone entity ran into tax problems with the IRS, Yahoo has been pressured by activist shareholders to sell off its core internet business, where bidders include the Uk's Daily Mail newspaper.
There is now a general belief that CEO Marissa Mayer's turnaround efforts are not making any headway and the longer she is at the helm, the more potential shareholder value will be squandered.
Disappointing earnings could pressure Yahoo shares but downside appears limited while bids are still being considered, with rumours the internet business could be valued at as much as $8bn.
Yahoo is expected to report adjusted EPS of $0.075 on sales of $847m, down from EPS of $0.13 and sales of $1,002M last quarter (which beat street estimates of $0.12 and $948M respectively.
The consensus estimates seem to be fairly pessimistic, anticipating significant declines from both the previous quarter and the same quarter a year ago. This opens the door to a potential positive surprise. That being said, the shares have already rallied up from near $26.00 toward $37.00 over the last two months, indicating some anticipation of better numbers may have already been baked into the price. How much is uncertain as some of the advance may also be on speculation, CEO Marissa Mayer could put the company up for sale or announce some kind of restructuring. Alibaba staging a similar advance over the same time period may also be a factor.
The chart shows shares have broken out from a possible double bottom pattern, which would have an objective of $44.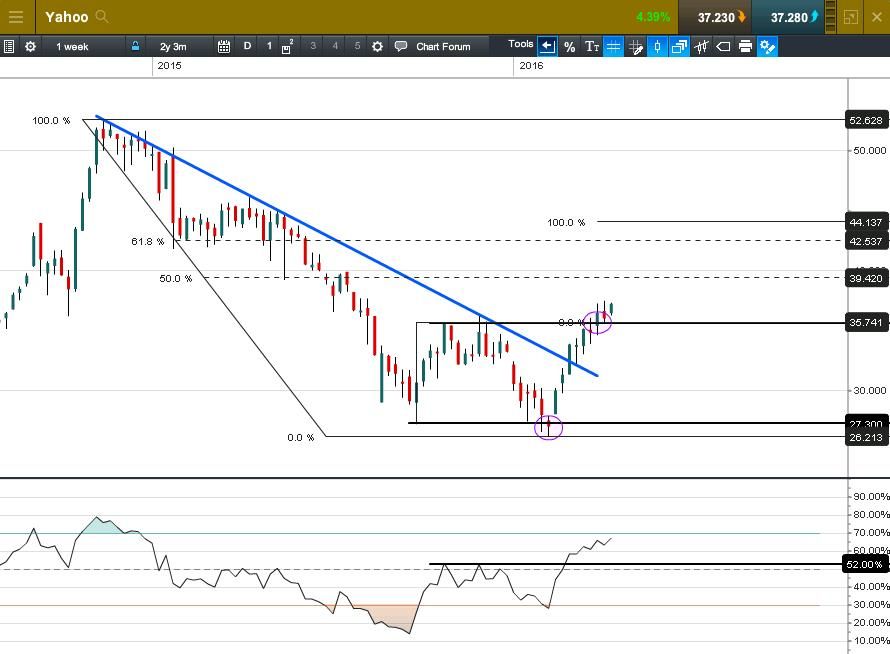 source: CMC Markets, 13/4/16
Netflix Q1 earnings preview
Netflix is a growth company so while earnings will be important, the user numbers will likely dictate movements in the share price.
Netflix's international subscriber growth is expanding while US user growth is slowing. As long an international subscriber growth outstrips the slowdown in the US, the overall growth outlook is good for Netflix.
The main headwinds to US subscriber growth are increased competition (from Youtube, Hulu and Amazon), a scheduled rise in monthly subscription fees and American's reluctance to relinquish cable TV subscriptions.
Costs are rising at Netflix as it expands overseas and creates more of its own unique TV content to pull Americans away from just cable subscriptions. As long as the user growth justifies the expenditure, rising costs and lower profit this quarter needn't be a problem.
Last quarter, Netflix reported earnings of $0.21, triple the $0.07 street estimate, while sales of $1.82B were in line with expectations. As a momentum play, the shares were caught up in the general market panic that rocked the markets back in January falling from above $130 in early December to a low near $80.00 in February.
In recent weeks, the shares have been on the recovery trail, finding their way back up toward $110.00 just below the $115.00 midpoint of its current range. This suggests that market expectations appear to be relatively neutral although 417x forward P/E means any miss or indication of slowing growth may be severely punished. The street is expecting EPS for Q1 of $0.09 on estimated sales of $1.96B, modest growth over the last quarter.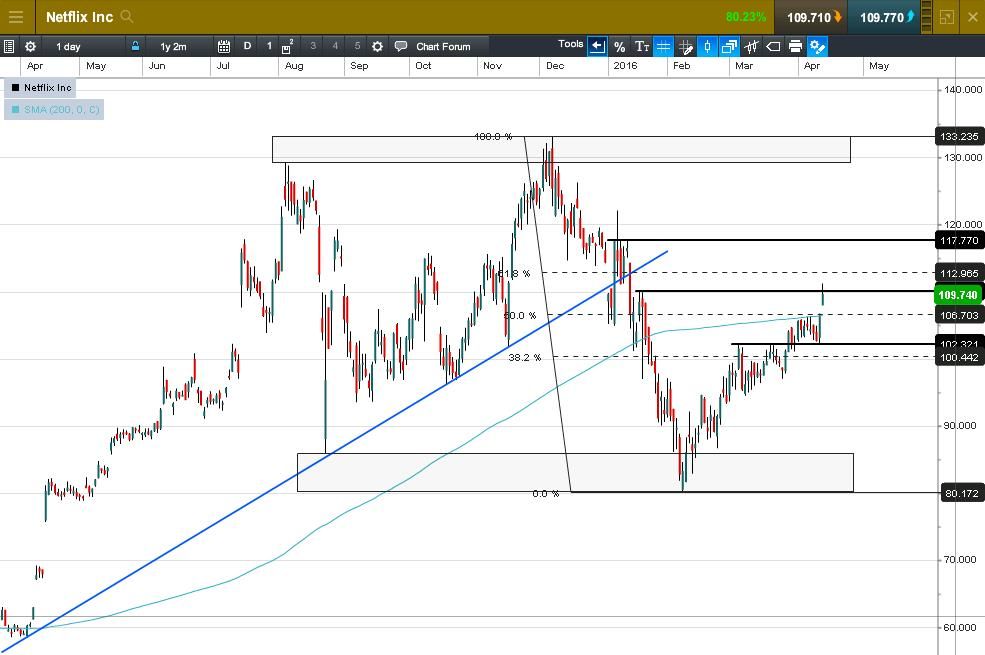 source: CMC Markets, 13/4/16
Microsoft Q1 earnings 2016 preview
CEO Satya Nadella continues to make progress in bringing Microsoft to into the mobile age amid a declining PC market. The Windows 10 operating system has been gaining traction and Microsoft has predicted it will pass 1bn users in the next few years. Microsoft office is translating well into the cloud with office 365 revenues leaping last quarter. Two quarters ago its Bing search engine also turned profitable.
The street has responded favourably to Microsoft's last two earnings reports with the shares gapping significantly upward the morning after earnings in both October and January. This time around, however, with the shares trading just below their 52-week highs and a 19.6x P/E multiple, expectations appear to be higher.
Last quarter, Microsoft posted adjusted EPS of $0.78 on sales of $25.69, strongly beating the street on earnings $0.71 but only a small beat on sales. This quarter, MicroSoft is expected to report adjusted EPS of $0.64 on sales of $22.13B, down from the previous quarter and up only marginally (1-3% growth) over year.
The chart shows shares remain in medium term uptrend, not far off record highs but for the moment are trapped between $50 and $55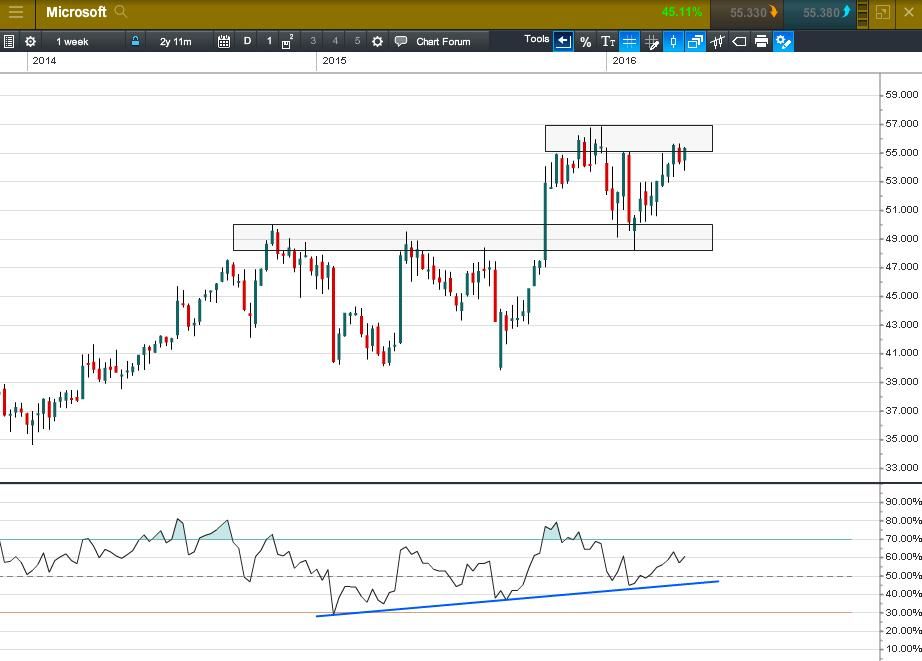 source: CMC Markets, 13/4/16
Alphabet (Google) Q1 2016 earnings preview
Google continues to dominate internet search and bigger screens mean Google is starting to benefit more from mobile search and its associated ad revenue. YouTube is an ongoing success and increasingly being monetised by Alphabet including the introduction of its paid "YouTube Red" streaming service designed to rival Netflix.
The creation of the Alphabet holding company structure has increased transparency and let's investors know how much the company is investing in moonshot projects.
The street appears to be expecting another quarter of steady high teens growth. The shares, near $750 are trading at a similar level to where they were just before last quarter's earnings came out.
Last quarter, the shares spiked then slumped after the company reports sales of $17.27B above the street estimate of $16.86B. This time sales of $16.54B are expected down from the previous quarter but up about 19% over last year. The shares are currently running at a forward P/e of about 22X and would not appear to be too richly valued if the company can deliver growth of around 20%.
The chart shows Alphabet remains in an uptrend but bearish RSI divergence and three failed attempts to breakout above $800 warn of a bigger pullback towards support at $600.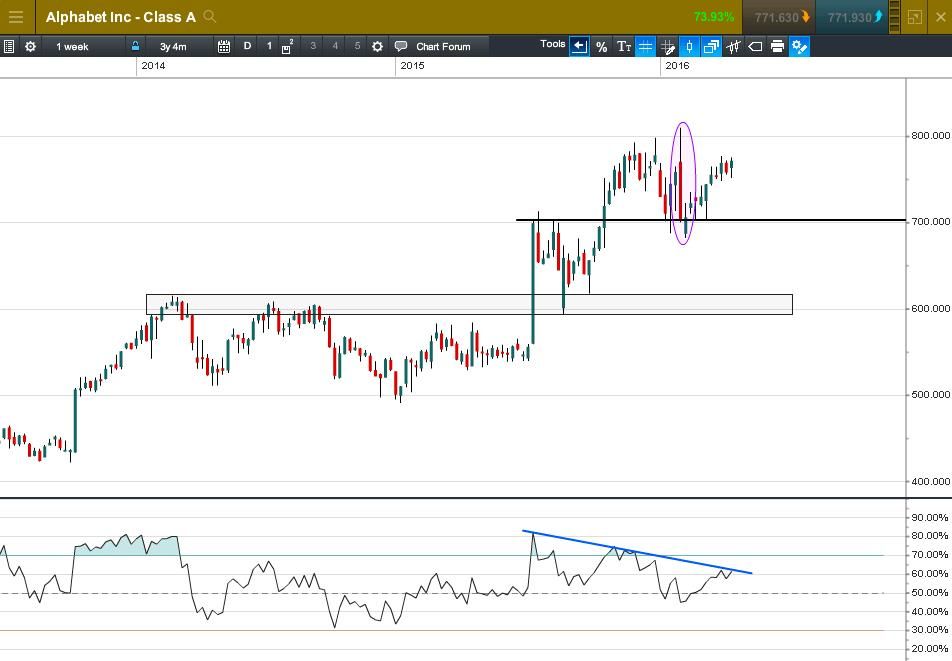 source: CMC Markets, 13/4/16
Amazon Q1 2016 earnings preview
Amazon's sales growth has never been an issue as it continues to gain dominance in online shopping. But last year the company delivered some profitable quarters, something long craved by investors.
The prime membership encourages more buying as well as the fees being a source of revenue in of itself. Customers buying more make it cheaper to stock and ship goods for Amazon. Amazon Web Services is also becoming one of the cloud computing options of choice amongst large companies.
Expectations had been running really high for Amazon last quarter as its shares spiked just before its earnings report but then were slammed down after the company missed badly on earnings (adjusted EPS $1.82 below street $2.76) and missed slightly on sales ($35.74B vs street $35.90B).
Amazon's fans appear undaunted with the shares having recovered from near $475 toward $600 in recent weeks Recently, the shares have broken out over $600, indicating growing enthusiasm heading into this quarter's results. Although the shares remain well short of their 52-week high near $700, trading at 135x forward earnings, Amazon needs to deliver results to keep its shareholders happy.
This time around, Amazon is expected to generate adjusted EPS of $1.62 on sales of $27.96B. A seasonal drop in sales is normal with this quarter's street estimate up about 23% over sales in the same quarter last year.
The chart shows shares breaking above potential resistance from its broken uptrend line and the right shoulder of a H&S pattern.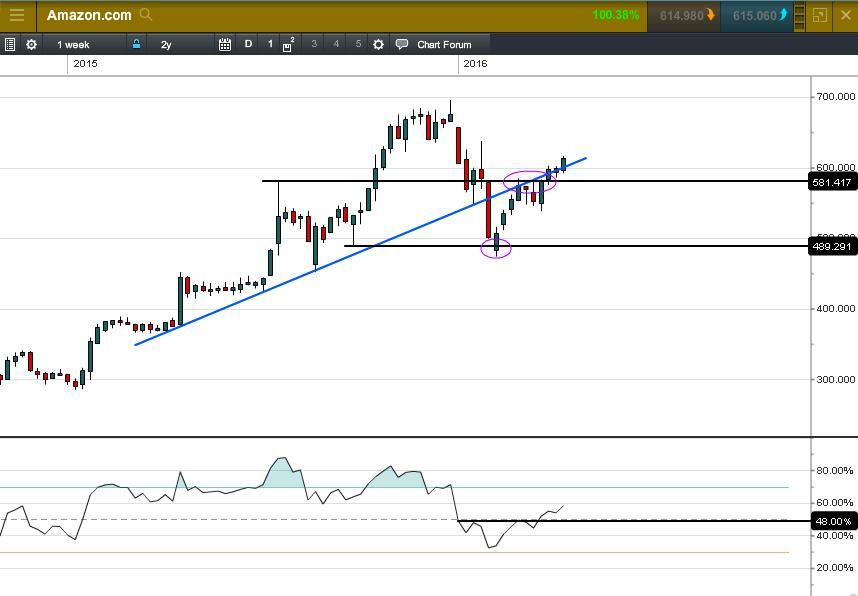 source: CMC Markets, 13/4/16
View the main US companies reporting their earnings
this week (18-22 April)
| | |
| --- | --- |
| ​Monday 18 April | Results |
| Hasbro (US) | Q1 |
| IBM (US) | Q1 |
| Morgan Stanley (US) | Q1 |
| Netflix (US) | Q1 |
| PepsiCo (US) | Q1 |
| WW Grainger (US) | Q1 |
| ​Tuesday 19 April | ​Results |
| Goldman Sachs (US) | Q1 |
| Harley-Davidson (US) | Q1 |
| Intel (US) | Q1 |
| Johnson & Johnson (US) | Q1 |
| Philip Morris International (US) | Q1 |
| Yahoo (US) | Q1 |
| ​Wednesday 20 April | Results |
| American Express (US) | Q1 |
| Citrix Systems (US) | Q1 |
| Coca-Cola (US) | Q1 |
| Fortune Brands Home & Security (US) | Q1 |
| Mattel (US) | Q1 |
| Newmont Mining (US) | Q1 |
| Stryker (US) | Q1 |
| US Bancorp (US) | Q1 |
| Yum Brands (US) | Q1 |
| ​Thursday 21 April | ​Results |
| Alphabet (Google) (US) | Q1 |
| Amazon (US) | Q1 |
| Bank of New York (US) | Q1 |
| Fifth Third Bancorp (US) | Q1 |
| General Motors (US) | Q1 |
| Microsoft (US) | Q3 |
| Southwest Airlines (US) | Q1 |
| Southwestern Energy (US) | Q1 |
| Stanley Black & Decker (US) | Q1 |
| Starbucks (US) | Q2 |
| Under Armour (US) | Q1 |
| Union Pacific (US) | Q1 |
| USG (US) | Q1 |
| Verizon (US) | Q1 |
| Visa (US) | Q2 |
| Friday 22 April | ​Results |
| American Airlines (US) | Q1 |
| Caterpillar (US) | Q1 |
| General Electric (US) | Q1 |
| Honeywell (US) | Q1 |
| Kimberly-Clark (US) | Q1 |
| McDonald's (US) | Q1 |
| SunTrust Banks (US) | Q1 |
Company announcements are subject to change. All the events listed above were correct at the time of writing.
CMC Markets is an execution-only service provider. The material (whether or not it states any opinions) is for general information purposes only, and does not take into account your personal circumstances or objectives. Nothing in this material is (or should be considered to be) financial, investment or other advice on which reliance should be placed. No opinion given in the material constitutes a recommendation by CMC Markets or the author that any particular investment, security, transaction or investment strategy is suitable for any specific person.