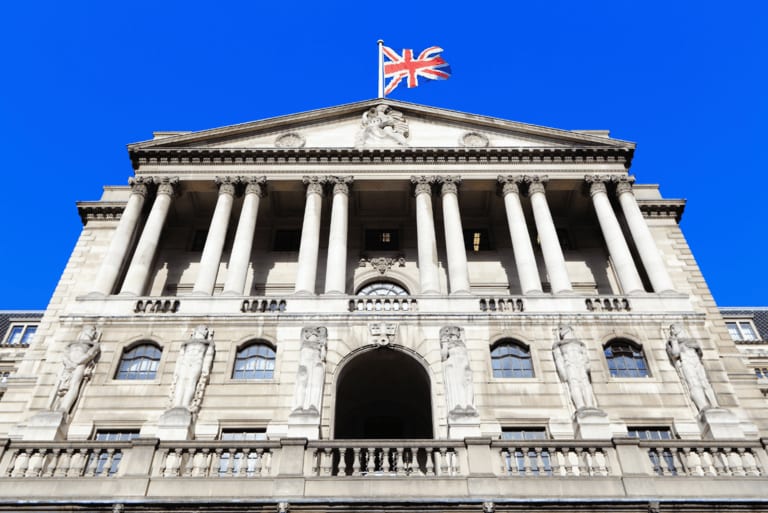 It's set to be a fairly big week for the pound again as we get the latest snapshot of how the UK economy is doing with expectations high that a combination of rising prices and slowing retail sales growth will act as a drag in economic activity in 2017.
One of the more surprising features to come from the Bank of England's recent quarterly inflation report was the reluctance of the MPC to raise its inflation forecast from the current 2.8%, despite once again raising its growth forecast for 2017, this time by another 0.6% to 2%.
The reason this is surprising is that since August the central bank has adjusted its forecasts for the UK economy twice, from 0.8% to 1.4% in November and then from 1.4% to 2% this month, raising the question as to how such an increase in growth prospects won't filter through into a rise in prices.
While the decision to leave interest rates and the current levels of QE unchanged was expected it hasn't taken long for at least one policymaker to express disquiet about the Banks current monetary policy stance.
Kristin Forbes, one of four external members of the rate setting committee, who coincidentally voted against the re-initialisation of QE in August, has expressed concern about the effects that the current low rate policy is starting to have on inflationary pressures. This is already being reflected in UK gilt markets where yields have moved back to where they were prior to the June referendum.
Putting to one side why she didn't express these concerns at the time of the recent meeting, the concerns are no less valid given that input costs are now rising at an annualised rate of 20.5%, the highest level since 2008.
In recent months these inflationary pressures have started to manifest themselves in the form of rising headline inflation, with the recent rebound in energy prices making up a good proportion of the increase.
In the last six months UK CPI has gone from 0.6% to 1.8%, while wages have only increased from 2.4% to 2.8%, which equates to a significant income squeeze, as the gap between wages and inflation decreases.
UK CPI vs UK wages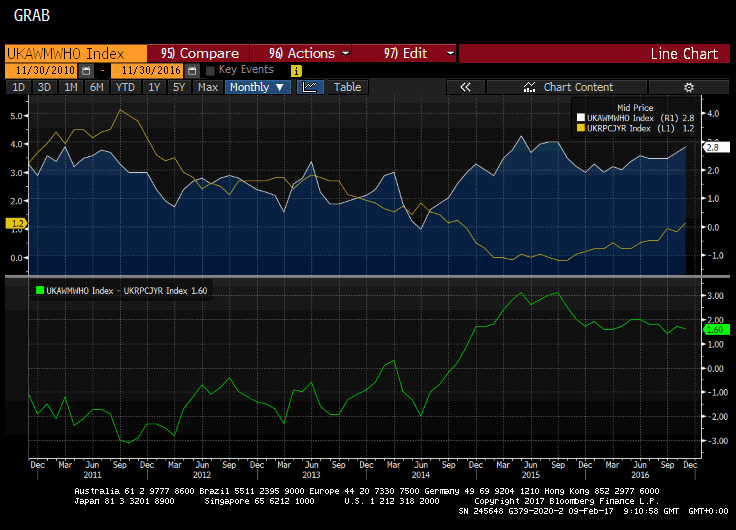 While a squeeze on wages is a concern given that the recent performance of the UK economy has largely been as a result of a resilient UK consumer, the gap still remains in positive territory which is where it has been since mid-2014, though on the RPI measure inflation is much higher at 2.7%.
The 1% rise in annual CPI seen in the last six to nine months just got wider when the latest January CPI numbers came in at 1.8% this morning, which would suggest that in the coming months we could well see inflation close in on the Bank of England's 2% inflation target.
If this were to happen it is even more important that wages growth is able to hold up. With unemployment currently at multi year lows of 4.8%, a tight labour market could well help in that regard.
On the retail sales front it will surprise no-one to see a slowdown in consumer spending in the aftermath of what has been a strong year for the UK economy, but to attribute it to concerns surrounding the triggering of Article 50 and Brexit risk, is probably an exercise in lazy assumptions .
Annualised UK retail sales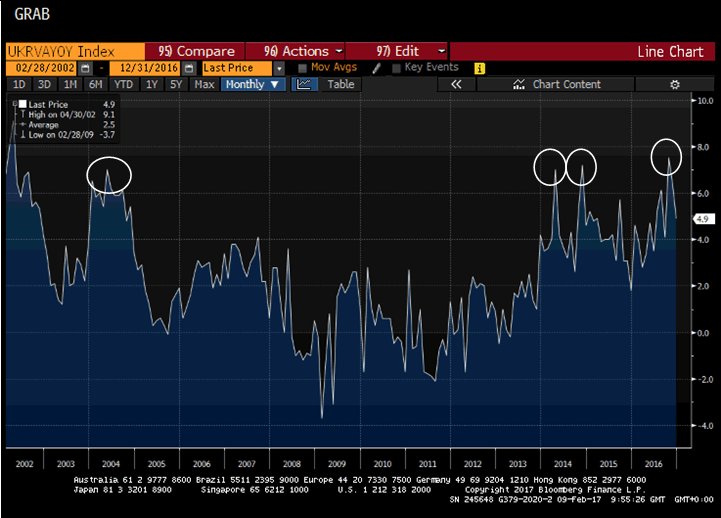 Looking at how UK retail sales growth has behaved over the course of the last 15 years we can see that the pattern of consumer behaviour has been fairly consistent in that retail sales growth of over 6% has always seen a pullback in the months afterwards.
This would suggest that irrespective of how the country had voted last summer, we would still have seen a slowdown in consumer spending, from the heady levels of over 6%.
With that in mind it would be no surprise to see a further decline from 4.9% back towards the levels we saw in the middle of last year at around 4%, which historically is still a fairly decent level.
In summary the outlook for sterling is likely to be dictated by expectations about the prospects for future rate rises, and the potential for further dissent from other policymakers on the Monetary Policy Committee.
Continued rises in inflationary pressure could prompt Ms Forbes to vote to rein back on stimulus and vote to push up rates, but this needs to be balanced against the prospect of other policymakers joining her, as well as the fact that she won't be staying on in her role on the MPC beyond the end of June this year.
CMC Markets is an execution-only service provider. The material (whether or not it states any opinions) is for general information purposes only, and does not take into account your personal circumstances or objectives. Nothing in this material is (or should be considered to be) financial, investment or other advice on which reliance should be placed. No opinion given in the material constitutes a recommendation by CMC Markets or the author that any particular investment, security, transaction or investment strategy is suitable for any specific person.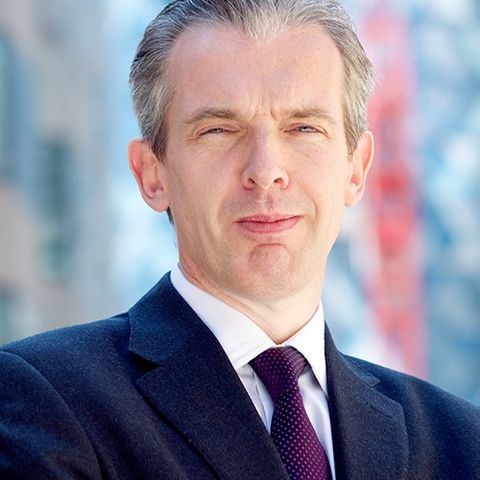 Michael Hewson