There's been little in the way of let up for the UK food retail sector in the last 12 months. Having seen sharp slides in market share and share prices in 2018, there was a hope that 2019 might bring about a change in fortunes.
It's been a tough decade for the established big four for UK supermarkets as cost conscious consumers turn increasingly to the lower cost retailers and new kids on the block of Aldi and Lidl who have seen their combined market share grow to challenge the likes of Sainsbury and Asda, while jumping ahead of the more established players of the Co-op and Waitrose.
2018 was a tough year for the sector with only Sainsbury's coming close to a performance that was in any way decent and that was only on an expectation that they would be able to complete its merger with Asda which would have put it on a par with Tesco in terms of broad market share.
In what turned out to be a significant blow to the business and the share price, the deal fell through in April this year, vetoed by the Competition and Markets Authority on the grounds that it would increase prices, and decrease competition.
While it is understandable that Sainsbury's should feel aggrieved by the regulators actions, who don't appear to appreciate how competition works, management need to move on, or run the risk that we could see further share price weakness as they look to bounce back from the Asda setback.
As a result Sainsbury's share price has been the worst performer year to date, vying with Marks & Spencer's in the wooden spoon section.
Supermarket share price performance 2019 chart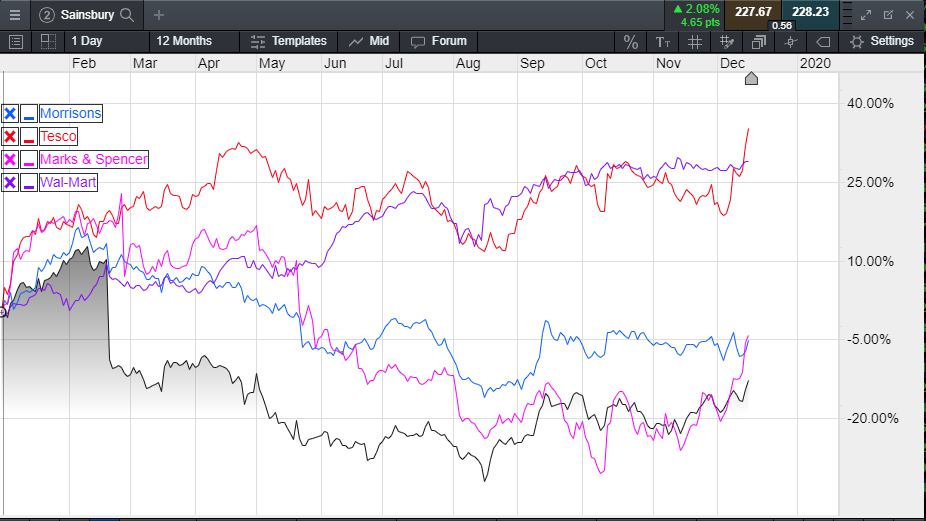 Source: CMC Markets
On the plus side Tesco's share price under the stewardship of Dave Lewis has gone from strength to strength, bolstered by the Booker acquisition in 2018, though its market share has continued to decline.
What Tesco has done well is cutting loose its underperforming parts of its business. In May Tesco took the decision to explore the sale of its mortgage business, selling its mortgage book to Lloyds Banking Group for £3.8bn, thus pulling out of financial services, where net interest margins have shrunk quite sharply. 
In terms of market share, according to Kantar Worldpanel, Tesco still remains the market leader at 27%, followed by Sainsbury and Asda at 15.6% and 15% respectively, while Morrisons comes in 4th at 10%.
These are all lower than a year ago with Aldi creeping up to 8% in 5th position, and Lidl up to 5.9%, as both budget retailers look at ramping up their store opening programs.
Starting with Tesco, the UK's number one supermarket was able to cement its reputation as the brand leader with a 28.8% rise in profits to £1.67bn and an 11% rise in revenues to £63.9bn in its last financial year. The share price has had a decent run this year, however in a sign that margins are likely to remain under pressure for some time to come sales numbers have struggled to push back against the march of the discounters.
The acquisition of Booker has turned out to be a shrewd move in the wholesale space given its position as a catering supplier to a number of restaurants, hotels and cinemas, even though we've also seen a significant amount of retail stress in that area as well this year.
With Christmas coming up it's a key time for all of the UK supermarkets, and it's likely the discounters will continue to make inroads.
The most recent Kantar numbers showed that Tesco sales fell 0.6% in the 12 weeks to 3rd November as this year alone its market share fell from 27.8% a year ago to 27% now. Tesco will be hoping that its Clubcard Plus offer which offers 10% off two big shops per month will create some cut through with those shoppers who spend more than £50 a more a week.
Sainsbury's share price has had a disappointing year, and runs the risk of dropping out of the FTSE100 if investors continue to lose faith in the current management, and their ability to turn the business around.
The collapse of the Asda merger earlier this year doesn't appear to have prompted much in the way of soul-searching amongst senior management, despite the fact that it cost the business £46m. In October the company decided to embark on a significant improvement program with respect to cutting the amount of floor space, when it comes to the store footprint.
The plan to close 125 stores was the main headline, however this was offset by an announcement that it would be replacing these with 110 convenience stores, while inserting 80 Argos outlets inside the bigger stores would also help maximise floor space.
Management could also take a leaf out of Tesco's book and look at offloading Sainsbury Bank, having already stopped all new business activity. In its most recent quarter Sainsbury saw profits fall 92%, largely as a result of a write down in its property portfolio.
It is clear that having staked all on the Asda deal that Sainsbury management are on the back foot, with the Argos division underperforming after a 2% drop in sales for the 12 weeks to September. Clothing sales were also disappointing, though Q2 was noticeable by a marked improvement on Q1.
In terms of clothing and grocery there was a sizeable improvement on Q1, though the underperformance of Argos is likely to be a concern and needs to be addressed urgently.
Morrisons share price has gone pretty much nowhere this year.
Like its peers it has also gone down the diversification route, signing a deal with convenience store chain McColls two years ago, in addition to a tie-up with Amazon, which has seen the shares trade at a slight premium in the hope that a bid might be forthcoming.
A bid has become much less likely now that Amazon has bought the Whole Foods business, but Morrisons should be expected to reap any benefits now that Amazon has started to ramp up its exposure in the UK food retail sector.
That it hasn't done so despite signing a multiyear deal with Amazon in September should be a worry to those who think that a move into wholesale could well help management diversify the business model.
Morrisons is also continuing to work with Ocado in making its online deliveries much more efficient. Its market share has also shrunk from 10.3% to 10% this year, with year on year sales down 1.75% to £2.7bn.
Ocado, has also performed well this year which depending on how you view it, can either be viewed as a retailer, or a technology provider, having continued to pen some lucrative contract wins this year.
In the last couple of years the company has announced a number of high profile warehouse technology deals with large overseas food retailers, Casino of France, Sobeys in Canada and Krogers in the US, not to mention a £750m deal this year with Marks and Spencer.
The company hasn't had it all its own way this year after its new warehouse in Andover went up in flames, at a cost of more than £100m, as deliveries got disrupted. Soon after another fire at its Erith warehouse caused further disruption calling into question some of the company's safety procedures.  
The danger here is that a lot of the gains in the share price in the last two years, while welcome, are predicated on investors filling in the blanks when it comes turning these new deals into significant levels of sustainable profits. Looking at revenues these have grown from £1.1bn in 2015 to be just shy of £1.8bn by the end of this financial year.
In that time Ocado's market cap has gone from £2.1bn to £7.6bn with little sign of any accrued profits to justify the current valuation, which means management will need to provide further details in the coming months.
The UK supermarket sector has continued to absorb significant amounts of change, with fewer large out of town stores, and more mini stores cropping up on a variety of street locations.
The aggressive expansion plans of Aldi and Lidl have continued to pressure margins, as well as eat into the market share of the bigger players. There is precious little sign that the supermarket sector has been more able to pass on price increases than it has been in the last three years, despite rising wages and lower inflation.
Higher wages and costs in the form of a rise in the living wage, as well as lower inflation has given consumers a pay rise. Wages growth was able to peak to 4% earlier this year having been at 3.2% at the end of last year, and almost 2% higher from the end of 2017.
It is highly likely that 2020 will be just as challenging for the big supermarkets as 2019 has been, given that Aldi and Lidl are showing little sign of pulling their tanks off the lawns of the established players.
Aldi has already said it plans to open a new store every week over the next two years, with the intention to increase its footprint in the greater London area, from 45 stores to 100 by the end of 2025, while Lidl has said it is looking to open 230 new stores across the country by 2023.
The war for UK supermarket market share looks set to be stepping up a notch over the next few years. That's likely to be bad news for the established players, which means the pressure on costs is only likely to increase. It should be good news for consumers.

Disclaimer: CMC Markets is an execution-only service provider. The material (whether or not it states any opinions) is for general information purposes only, and does not take into account your personal circumstances or objectives. Nothing in this material is (or should be considered to be) financial, investment or other advice on which reliance should be placed. No opinion given in the material constitutes a recommendation by CMC Markets or the author that any particular investment, security, transaction or investment strategy is suitable for any specific person. The material has not been prepared in accordance with legal requirements designed to promote the independence of investment research. Although we are not specifically prevented from dealing before providing this material, we do not seek to take advantage of the material prior to its dissemination.