Palladium overtook gold as the most expensive precious metal in January, and even though it suffered a severe sell-off recently over fears it is in a bubble, the metal is still top-dog. 
A shift in the auto-sector towards reducing emissions even further, combined with supply concerns drove the market to all-time highs.
Palladium is primarily used to reduce pollutant output, and it is estimated that in excess of 80% of the world's palladium is put to use in catalytic converters. Russia is the largest producer of palladium in the world, and the country has added to supply squeeze by declaring a ban on exporting scrap and tailings of precious metals from May until November.  
The climate change debate has been heating up in recent years and attitudes are changing, and there has been an increased push to reduce exhaust emissions. The EU have pledged to cut emissions by 2030. In March 2018, China announced that it met its 2020 carbon intensity target - well ahead of schedule, but the scheme was a scaled-back version of what was originally planned. Nonetheless, the wide is turning, and a decline in emissions is where the world is headed. 
Diesel has been a dirty word in the auto sector for a number of years. In 2015, it emerged that Volkswagen has been rigging it diesel emissions tests in a bid to downplay the impact on the engines are having on the environment. Stricter regulation has dented the sale of diesel cars in recent years. For example, in March 2019, UK diesel car sales a dropped by 21% when compared with March 2018, and it is worth noting, total UK car sales dropped by 3.4%. Brexit uncertainty is playing a role too, but diesel sales are clearly underperforming.   
Jaguar Land Rover are at the forefront of the diesel vehicle sales decline, as approximately 90% of the firm's UK production is for diesel vehicles, and earlier this year the firm announced plans to trim its UK headcount by up to 11.3%.
The rise of electric cars and hybrid vehicles is going to challenge the old guard. At the moment the sectors are still in their infancy, but in the decades to come they are tipped to become significant players. The batteries used in electric vehicles require metals like nickel and cobalt and these metals are likely to see an increase in demand in the years to come. That's not to say that palladium will be side-lined, as the metal is used in hybrid cars. Hybrid cars sales accounted for 3% of global market share in 2016, and JP Morgan Chase predicts that proportion will increase to 23% in 2025, and palladium could still have a bright future.
It isn't just the attitudes to emissions that are changing, it is also consumer habits. China is keen to reduce the level of pollutants, but the economy is cooling down. In 2018, the second-largest economy grew at its slowest pace in 28 years. The trade dispute with the US added to the decline in economic growth. Last year, China saw car sales drop by 3% - its first yearly decline in 20 years, and this is a worry for the sector as China is the largest car market in the world. The China Association of Automobile Manufactures (CAAM) predicts that the car market will be flat in 2019, and that the rise in electric car sales might offset the weaker petrol and diesel sales. 
The US and China trade dispute has dragged on but the latest news suggests that both sides are in the final stages of the talks. President Trump felt that China was taking advantage of the US in terms of trade, and that sparked the tit-for-tat tariff spat. Mr Trump has made it clear that he thinks the EU are also taking advantage of the US, particularly in terms of the auto sector. The EU imposes a 10% tariff on imported US cars, while the US only levies a 2.5% tariff on EU imported cars, and a 25% tariff is slapped on EU pickup trucks. There is a possibility, the US could turn its attention on the EU after it wraps things up with China, and that is likely to impact the region. Italy is in recession, Germany just about avoided a recession, and that could be tempting for Trump to launch a trade war.
National trading relationships and consumer patterns fluctuate, but the push for a more eco-friendly world seems to be set in stone. Other precious metals might see an increase too, but that's not to say that palladium's attractiveness will totally diminish. Palladium will run hot and cold like any market, but between growing demand, and tight supply, the metal is likely to continue its wider bullish run.
The metal has been in a strong upward trend since mid-August 2018, and if the bullish run continues it might target the $1,600 area. Moves to the downside, might find support in the $1,200 to $1,158 (200-day moving average) region.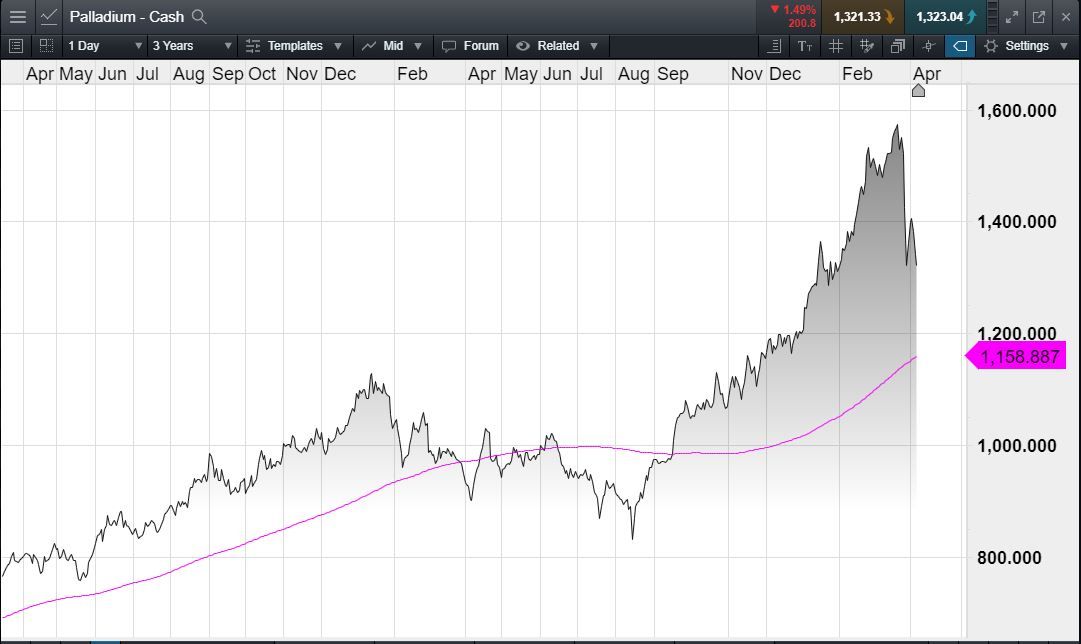 Disclaimer: CMC Markets is an execution-only service provider. The material (whether or not it states any opinions) is for general information purposes only, and does not take into account your personal circumstances or objectives. Nothing in this material is (or should be considered to be) financial, investment or other advice on which reliance should be placed. No opinion given in the material constitutes a recommendation by CMC Markets or the author that any particular investment, security, transaction or investment strategy is suitable for any specific person. The material has not been prepared in accordance with legal requirements designed to promote the independence of investment research. Although we are not specifically prevented from dealing before providing this material, we do not seek to take advantage of the material prior to its dissemination.