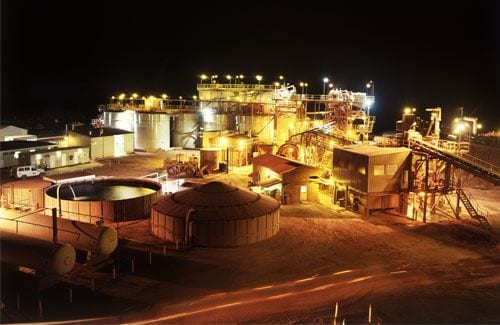 Sliding prices, sliding demand and sliding growth has been a familiar theme for mining stocks since we saw the peak in commodity prices in 2011.
It was back in April 2011 that the Reuters CRB index hit its peak at $370 before seeming to finally find a base earlier this year at $155, at around the same time that we saw the lows in the oil price.
For the first time since then commodity prices do appear to be showing signs of bottoming out and by the end of this year the CRB index looks likely to post its first positive annual gain since 2010.
The FTSE 350 mining index also looks set to post a similarly decent annual performance despite hitting its lowest levels since 2003 in January this year, after iron ore prices hit record lows of $38.30 a tonne, and zinc and coal prices also collapsed.
The recovery in mining stocks didn't come a moment too soon for some like Glencore which at one point saw its share price hit record lows of 70p weeks after the company approved a share placing at 125p a share in order to cut its debt load.
There was rising concern over the sustainability of the company's balance sheet and its profitability at a time when commodity prices were in freefall and its debt levels were eye wateringly high, at levels of $30bn.
It was a familiar theme across the sector at the end of last year as concerns grew about the sustainability of dividends as well as cash flow.
One year on and the picture looks much more stable for the mining sector which appears to have drawn a line under the woes it has seen in the past few years.
In the last twelve months we've seen companies embark on large scale deleveraging as they cut back on over capacity and reduce forward investment so that they are now much leaner, while the strong rebound in commodity prices has also helped making the outlook that much rosier than it was at the beginning of the year.
This pickup in prices has probably been down to some inventory restocking as investors take advantage of rock bottom prices but has also been aided by speculation that new US President Donald Trump could well embark on a significant stimulus program soon after he takes office next year, which has helped boost demand.
This time last year the prospect of a Fed rate rise was helping propel commodity prices lower as a strong US dollar helped heap further pressure on the beleaguered commodity sector, however this year the prognosis looks somewhat different largely down to the fact that inflationary pressure is now showing signs of picking up in contrast to last year where there was widespread fears about deflation.
As we look ahead to 2017 the mining sector appears to be in much better shape now than this time last year, however any further progress is likely to be contingent on market expectations of large scale fiscal stimulus being delivered, or at least showing signs of being delivered in the lead up the first quarter of 2017.
Miners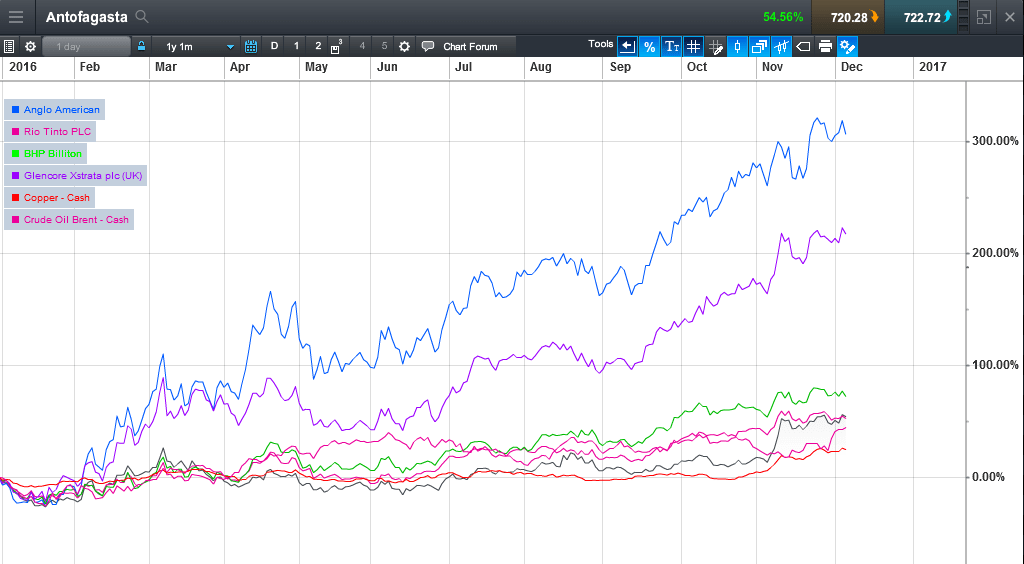 Source: CMC Markets
The biggest casualties last year were companies with high levels of debt with trading and mining giant Glencore the biggest high profile casualty, while Anglo American also saw heavy falls after finally cutting its dividend, as both companies saw over 70% wiped off their share prices in 2015.
After a rocky start at the beginning of the year 2016 has turned out to be a much better one for the sector with last year's two biggest fallers setting the pace with respect to this year's gains, with Glencore and Anglo American showing significant gains.
Despite this outperformance both companies are still well below their pre-crisis peaks. Glencore launched its IPO at 503p and even now despite this year's 200% rebound still sits around the 300p level, while Anglo American is still over 60% down from its peaks of 2011.
For Glencore Chief Ivan Glasenberg, having paid $41bn for Xstrata in 2013 it's been a case of being handed a get out of jail free card and though revenues are still way below the $221bn levels seen in 2014, the level of debt has halved to a more manageable $15bn, albeit on projected lower revenues of $157bn for the year ended 2016.
The company is also expected to post pre-tax profits of just over $1.2bn in contrast to last years $8bn loss, a welcome relief, while earlier this month Mr Glasenberg felt confident enough about the future outlook to acquire a 19.5% limited liability stake in Rosneft in conjunction with the Qatar Investment Authority, for €10.2bn.
Commodity price performance 2016.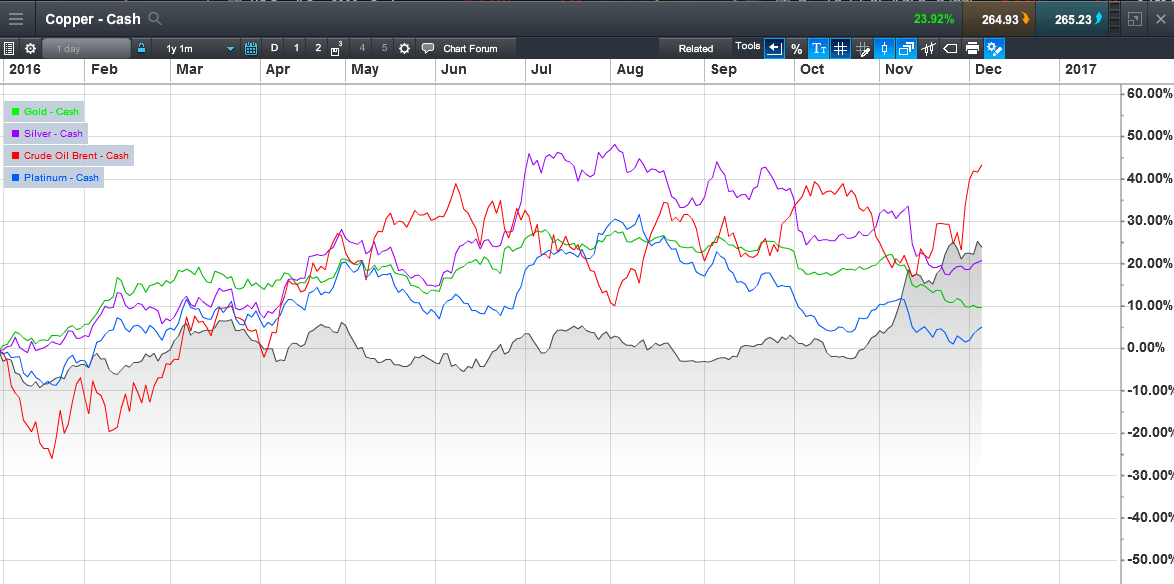 Source: CMC Markets
The rebound in commodity prices above has helped drive this year's recovery in the mining sector with iron ore prices doubling from their January lows along while other base metal prices like Zinc have also rebounded strongly, up nearly 70% year to date.
The world's two biggest mining giants BHP Billiton and Rio Tinto have underperformed relative to their smaller peers this year but that's not altogether surprising given that their size helped insulate them from some of the more extreme declines, but even so they are still showing share price gains in excess of 50% year to date.
In BHP's case the announcement that it was slashing its dividend in February this year wasn't entirely unexpected but it was also the actions of a responsible management who realised that a yield of 10% was completely unsustainable at a time of shrinking margins and heavy losses.
Last year revenues slumped to $30.9bn and the company posted a loss of $7.9bn while this year the company is estimated to post a pre-tax profit of $8bn on revenues of $36bn, though we do need to be aware of possible further ongoing provisions in respect of the Samarco dam joint venture, eating into that number.
As we look ahead to 2017 it is clear that the overcapacity in the mining sector seen in the past few years is now starting to work its way through, and with key benchmark commodity indexes showing signs of bottoming out further gains are likely to be contingent on further gains in commodity prices as well as future demand considerations.
This is by no means a given in a low growth world where the recent rebound in commodity prices may well be due a short term pause, after some impressive gains in recent weeks. It is also important to note that even though we've seen a rebound in the Reuters CRB index of 14%, the index still remains over 40% down from its 2011 peaks.
The material (whether or not it states any opinions) is for general information purposes only, and does not take into account your personal circumstances or objectives. Nothing in this material is (or should be considered to be) financial, investment or other advice on which reliance should be placed. No opinion given in the material constitutes a recommendation by CMC Markets or the author that any particular investment, security, transaction or investment strategy is suitable for any specific person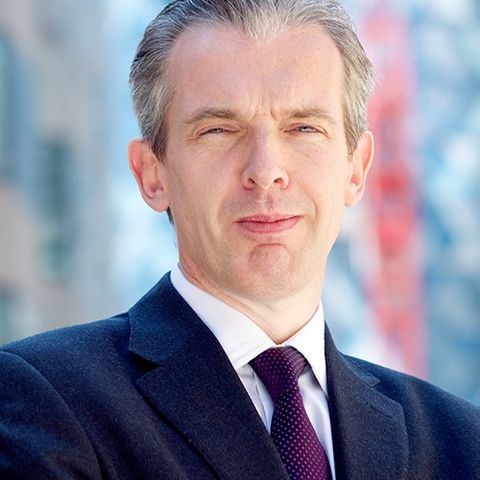 Michael Hewson