The European Court of Justice recently upheld a directive that says cigarettes for sale must contain health warnings that cover over half of the packaging. The UK is taking the rules under the EU's Tobacco Products Directive (TPD) a step further. Cigarette packages sold in the UK will be completely plain starting on Friday May 20th 2016.
Big Tobacco fought the plain packing ruling but is likely a bit happier about stricter rules on e-cigs / vaping. E-cigs will now be categorised as tobacco on the same date the plain packaging rules start. The higher taxes and increased cost of complying with the new regulations on how e-cigs can be sold, presented and manufactured will almost definitely increase prices.
Whilst traditional tobacco sales are dwindling in the UK and Europe, e-cig sales are flourishing. As well as the reported health benefits, the lower price has been big reason for smokers to switch to vaping. Stricter EU rules on e-cigs that result in higher prices will likely mean fewer smokers choose to switch to vaping.
Big tobacco has been forced to take steps to recapture its lost smoker customers by acquiring vaping companies. Tobacco companies now own some of the biggest e-cig brands. The most popular e-cig brand in America, where growth is strongest, is 'Blu' owned by Imperial Brands. If EU regulations slow demand for e-cigs that's a bad thing for Big Tobacco's stake in vaping but overall a good thing for the core revenue-driving business of selling tobacco.
The TPD is another step down a long line of hostile regulatory moves against smoking in the western world. Bans on television advertising, bans on smoking in enclosed spaces, gruesome health warning labels as well as better health information have all contributed to falling numbers of smokers.
Big Tobacco's successful strategy of focusing efforts on growing sales in Asia, South America and Africa, which have much lighter restrictions, will be unhindered by the new EU/UK rules.
Tobacco company shares continue to outperform broader markets over time despite the regulatory hurdles. In the last twelve months tobacco company shares have gained on average 30% whilst the broader markets (as measured by the S&P 500) are flat.
Tobacco's "defensive" quality has helped as investors sought safety in turbulent markets that have seen oil prices drop sharply. Whilst M&A is unlikely to be such a big driver of the sector's desirability after the Reynolds-Lorillard deal, tobacco is the ultimate "sin stock". The strength of sin stocks has many unprovable explanations but is undeniable over time.
Unless markets snap into a new raging bull market, the "sin" and "defensive" qualities of tobacco shares are unlikely to be trumped by new regulations aimed at reducing tobacco usage, especially when combined with tighter restrictions on e-cigs.
The chart below shows the 12-month performance of British American Tobacco, Altria Group, Reynolds American, Philip Morris, Imperial Brands and the S&P 500, the benchmark US equity index.
12-month chart of the S&P 500 and top tobacco companies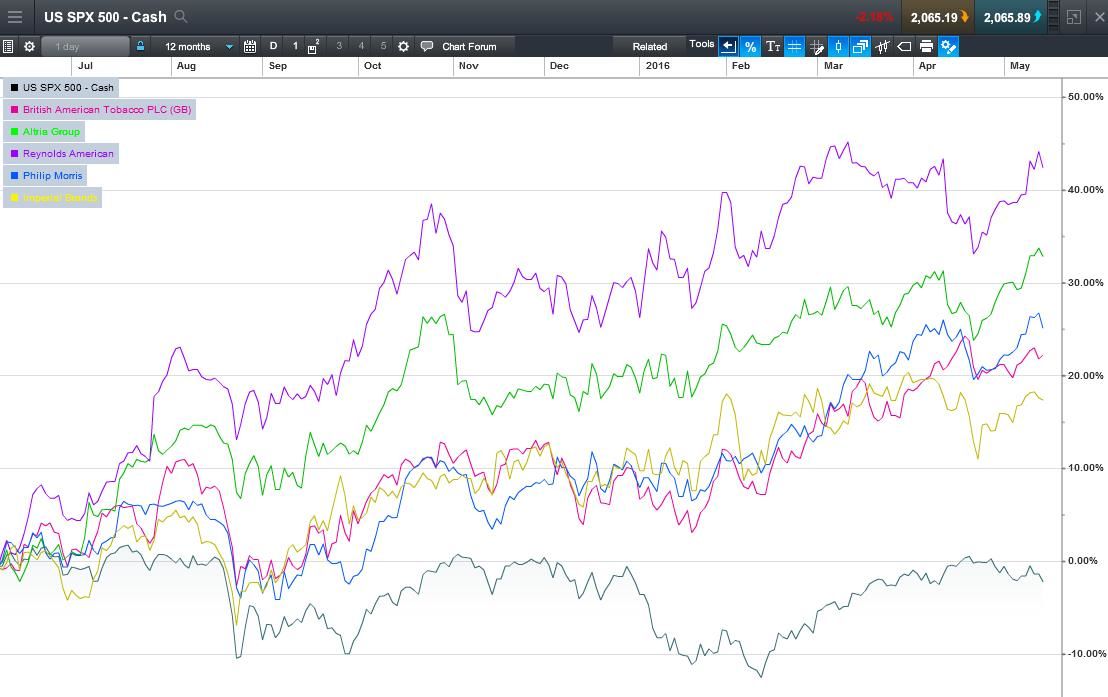 Source: CMC Markets, 16/5/16
CMC Markets is an execution only provider. The material (whether or not it states any opinions) is for general information purposes only, and does not take into account your personal circumstances or objectives. Nothing in this material is (or should be considered to be) financial, investment or other advice on which reliance should be placed. No opinion given in the material constitutes a recommendation by CMC Markets or the author that any particular investment, security, transaction or investment strategy is suitable for any specific person.