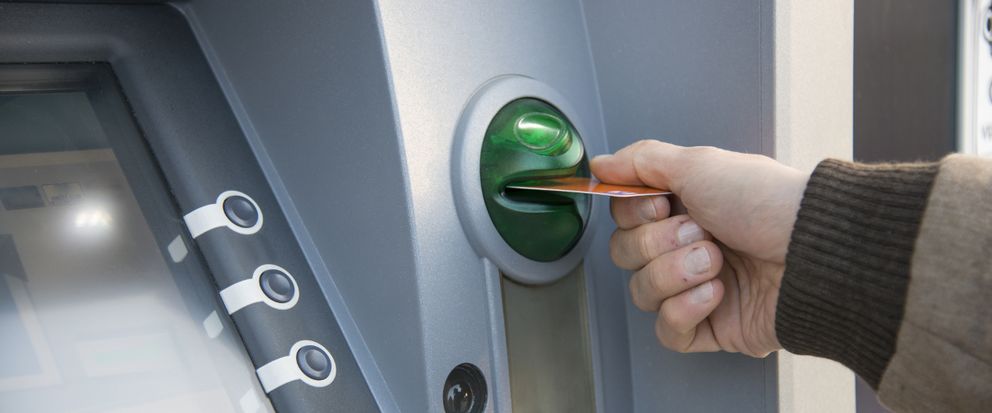 It's been a disappointing year for the UK's domestically-focused banks, already under pressure from continued litigation fines, restructuring costs and a low interest-rate environment.
And they have been hit particularly hard as a result of the June Brexit vote, on concerns about the potential effects on UK economic activity in the months and years ahead.
While the more Asia-focused HSBC and Standard Chartered have been able to outperform their more domestically-focused peers, their outperformance does need to be in the context of some sharp declines from the peaks seen in 2013.
Last week's numbers from the major US banks have continued the recent divergence between their performance and the performance of the European and UK banking sector, over the course of this year.
We'd already seen some evidence in July that US banks were seeing a pickup in profits on the back of better than expected trading activity in terms of bond trading as well as loan growth, on a slowly improving US economy, however in Europe the outlook for banks is nowhere near as optimistic, as bad loans and negative rates hollow out the prospects of any sort of profitability.
The sharp fall in the share prices of the UK banks in the aftermath of the Brexit vote has shown little signs of being reversed, and the outlook probably won't have improved too much given the cut in UK interest rates that followed in August which flattened the UK yield curve even further
The kneejerk reaction in any profits downturn is to look to cut costs and in this regard the last few months have seen a familiar theme play out with Lloyds Banking Group announcing a further 1,300 job cuts as the management continue their strategic overhaul of the business. In total the bank intends to cut 12,000 jobs by the end of next year as the bank looks to reposition itself into a more digital operation.
On the plus side the government has announced that it will be disposing of the remainder of its 9% stake in the bank, though there was some disappointment that there was no announcement of a discounted share offer.
Given the fall in the value of the shares since June this was always likely to be wishful thinking and so it has proved, but with the share price currently trading just above three-year lows it remains quite cheap, and with a dividend yield of over 4%, it does appear that the worst of its problems are likely to be behind it, though we need to pay particular attention to its net interest margin, (its ability to make a return in the current low interest rate environment), which in July showed an improvement to 2.74% from 2.62% in 2015.
UK bank share price performance this year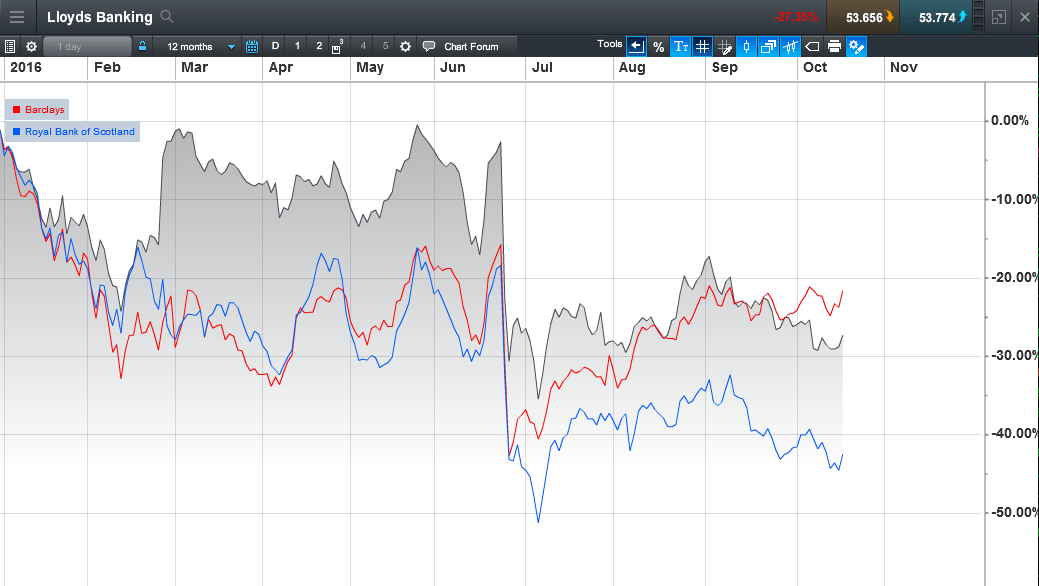 Royal Bank of Scotland, on the other hand appears unable to catch a break, as the Americans say, with the UK government writing down the value of its stake in the beleaguered bank for the second time this year, down to £14.8bn, from £21.5bn in March due to the sharp decline in the share price since June.
That sale of £2.1bn worth of shares at 330p a share back in August 2015 seems a long time ago now.
While the bank has put on hold its plans to spin off its Williams and Glyns branches which it was informed it had to sell as a result of its 2008 bailout, thus saving a significant amount of money there, at least £50m a month, though it still faces a number of regulatory hurdles that it needs to overcome.
First of which is the investigation that it is still facing from the US Department of Justice over mortgage back securities mis-selling. While Deutsche Bank has hogged the headlines, and will likely continue to do so this week when they report their latest numbers, as it looks at a potential $14bn fine.
RBS also needs to arrive at a settlement, and that's before factoring in the controversy surrounding its corporate restructuring group, and its role in shuttering a raft of small businesses after 2008, which could involve further sanctions from UK regulators.
The bank has yet to post an annual profit since being bailed out in 2008 with total losses in excess of £50bn already, and the likelihood is that we will see further provisions set aside in lieu of further litigation in this week's numbers.
In recent quarters the underlying retail business has been doing ok, posting profits in Q1 and Q2, unfortunately the bank can't escape the anchor of its legacy issues, and this week's update looks likely to continue that trend.
Barclays Bank completes our trio of underperforming UK banks, and here it is also undergoing a significant restructuring program, while facing the same challenges as its peers. At its last trading update in July there was a decent performance from its fixed income business and if last week's US banks updates are any guide this is somewhere we could well see a decent outcome.
New CEO Jes Staley will need to prove he is on target to outperform given that he cut the dividend in half earlier this year, in an attempt to speed up the move away from its non-core operations, including the disposal of its Africa business.
All three banks also need to consider the impact of the potential loss of pass-porting rights after the Brexit vote to leave the EU in the event that Article 50 gets triggered next year, though Lloyds is likely to be least affected by that due to its primarily domestic exposure.
Given the current and future regulatory environment in this low interest rate world, expectations surrounding overall performance are already quite low, which suggests that with the shares already near significant multi year lows and significant underperformers any disappointment on the profits front could well be already priced in?
CMC Markets is an execution-only service provider. The material whether or not it states any opinions is for general information purposes only, and does not take into account your personal circumstances or objectives. Nothing in this material is (or should be considered to be) financial, investment or other advice on which reliance should be placed. No opinion given in the material constitutes a recommendation by CMC Markets or the author that any particular investment, security, transaction or investment strategy is suitable for any specific person.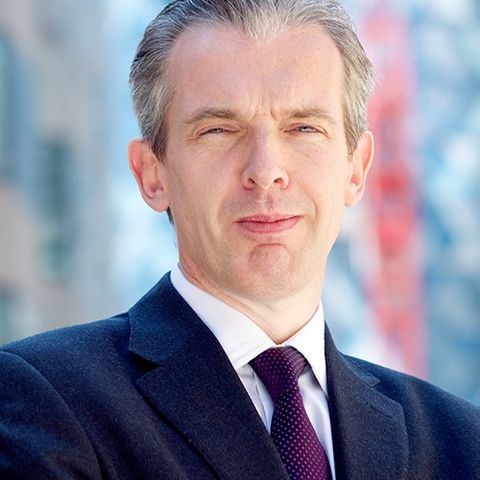 Michael Hewson