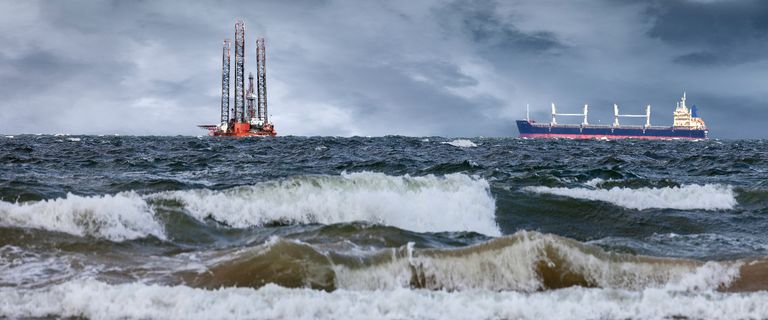 OPEC's wily plan to keep supplying the market with oil, drive prices to a level that will bankrupt the competition, which will in turn reduce output and lead to price recovery, is starting to take shape.
US oil production has fallen for the last four months, catching up with an 80% plunge in the number of oil rigs from the peak in 2014, whilst oil futures have rallied 85% from this year's low. It would seem unwise for OPEC to backtrack on what, on the face of it, is an increasingly successful strategy.
The last three official meetings of the Organisation of Petroleum Exporting Counties (OPEC) saw oil prices slump to multi-year lows in the following weeks. Brent crude oil futures plummeted 42%, 33% and 36% before finding any kind of base following OPEC's decisions in November 2014, June 2015 and December 2015 respectively.
2 year oil price chart including OPEC meeting dates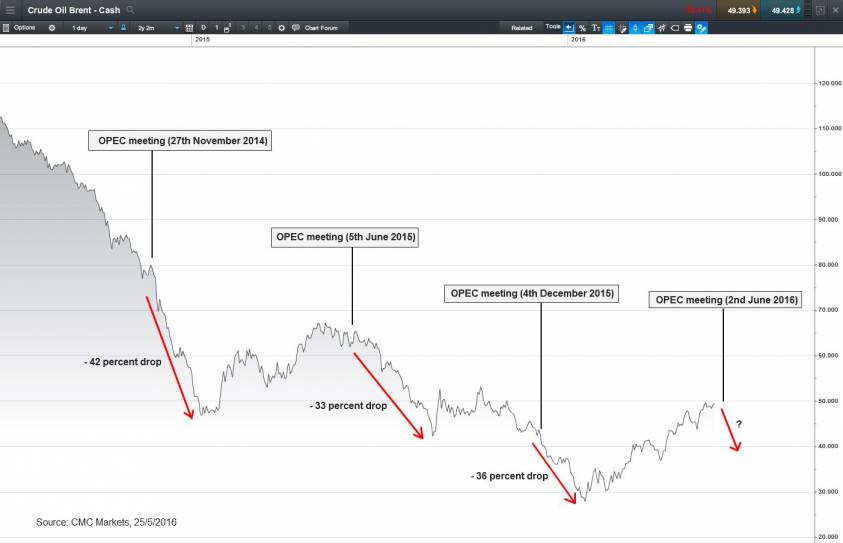 At its last official meeting, OPEC failed to even agree on a quota, which previously stood at 30m bpd. At a meeting between several OPEC and non-OPEC producing nations in April, no agreement was reached to even freeze production, let alone cut it.
OPEC's strategy to not cut production is cutting its nose off to spite its face. Forcing US shale producers to feel the heat of low oil prices necessarily means oil-producing nations must sweat it out with them. The heat varies largely between OPEC members.
Saudi Arabia maybe feeling a little hot under the collar, as implied by fund-raising efforts like the IPO of its national oil company Aramco and its issuance of government debt. Venezuela on the other hand is melting apart without its national oil revenues to prop up its unhinged economy. Naturally those countries least able to withstand the lost oil revenues are the ones calling for an output cut. With the lowest cost of production and the biggest oil reserves, Saudi Arabia is the major holdout on maintaining output and supressing oil prices.
Saudi Arabia has stated on numerous occasions that it will not consider cutting production unless it is in conjunction with all OPEC nations and other major oil-producing nations like Russia and Mexico. Saudi Arabia's stance hardened to not even succumbing to an output freeze under the influence of Deputy Crown Prince Mohammed bin Salman (Mbs). New Saudi oil minister Khalid al-Falih is expected to toe the line on existing oil policy, increasing the odds that no agreement is reached at the meeting in June.
The countries that dominate OPEC decision-making understand that by cutting their own production, higher cost producers like US shale will take advantage of the higher price to increase their own production. Essentially, Saudi Arabia understands that it's not the swing producer it once was.
In fact, the rise in crude oil back towards $50 per barrel, even without an OPEC output cut, is likely to tempt some of the most efficient shale producers back into the market. Should US oil production start to pick up again – because of higher oil prices – that extra supply would mean prices could come under renewed pressure. On and off US production could mean a prolonged period of oil prices trading in a low range. Until there are widespread defaults amongst US shale oil firms that will prevent a reaction jump in production to higher prices, the fall in US oil production will be uneven and its effect on the oil price can only go so far.
A renewed strength of the US dollar as the Federal Reserve preps for another rate hike and a global growth slowdown (especially in China) still pose a risk to oil prices.
CMC Markets is an execution only provider. The material (whether or not it states any opinions) is for general information purposes only, and does not take into account your personal circumstances or objectives. Nothing in this material is (or should be considered to be) financial, investment or other advice on which reliance should be placed. No opinion given in the material constitutes a recommendation by CMC Markets or the author that any particular investment, security, transaction or investment strategy is suitable for any specific person.