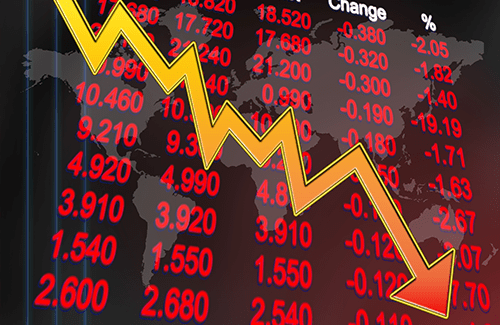 market falling stocks lower bear market
Europe
While it's been another negative day for European markets on concerns about the outlook for economic growth, the FTSE100 has managed to outperform due to its high exposure to US dollar income streams with Royal Dutch Shell rising despite a decline in oil prices, as have the global defensives of big pharmaceuticals and tobacco in the form of Glaxo and British American Tobacco.
In contrast the FTSE250 has slid back from its recent peaks as have the rest of Europe's main benchmarks as bond yields continue to push ever lower. Banking stocks have once again come under pressure on the back of concerns about the damage lower yields will do to their profitability as well as concerns about Italian banks which continue to take centre stage, with Monte Di Paschi dropped another 12% giving it a market value of €850m.
The negative rate horror story also took on another dimension today as Swiss 50 year bonds joined the rest of Swiss bonds in negative territory. German yields are already negative out to 15 years so far.
In response UBS one of Switzerland's biggest banks has made new all-time lows on its share price, as pressure on investment bank margins look set to increase further.
US 10 year yields have also hit record lows albeit still well above 1% at 1.375%, however given the rate at which global yields are dropping this could well come down even more.
The low yield environment continues to drag on financials despite this morning's comments from Bank of England governor Mark Carney as he announced some new measures to help the UK economy weather the uncertainty caused by last months "Brexit" vote.
As expected Mr Carney announced a cut to UK banks countercyclical capital buffer from 0.5% to zero in an attempt ensure that the amount of money available for lending to the UK economy remains at decent levels.
Mr Carney went on to say that UK banks now hold £600bn of high quality liquid assets, four times more than the amount before the financial crisis, as he attempted to instil confidence in the wake of the recent sell-off in the UK banking sector.
His comments about dividend payments also struck a chord despite the fact that they were aimed at the banks, in that they called into question the sustainability of dividend payments for companies in general at a time when the average FTSE350 dividend yield is 4.1% on a dividend cover of less than 1.5.
The UK property sector continues to remain under pressure after Aviva followed Standard Life in suspending trading in its own UK property fund, as the share prices of asset managers start to come under pressure in addition to banks and house builders. It is unlikely to be the last given how these events have a tendency to follow the domino model, of one after another. Standard Life, Aviva, Legal and General and Schroders shares are all pointing lower.
UK retailers have also come under pressure as investor's price in a much more uncertain economic outlook into the end of the year, with Sainsbury's and Marks and Spencer slipping back.
Whitbread shares have also dropped sharply after being downgraded by Barclays.
US
US markets opened sharply lower as US investors catch down with yesterday's declines in Europe.
Stocks in focus are set to include Tesla Motors after the company announced that it had missed its production target for Q2 of 17,000 vehicles. This miss suggests that despite the popularity of its cars the company hasn't got robust enough processes in place to handle the increased demand for its products.
The small matter of US economic data almost seems like a side show as factory goods orders showed a decline of 1% in May, more than expected, while durable goods revision to May showed a decline of 2.3%.
FX
The pound has had another difficult day on the currency markets sliding to a new 31 year low against the US dollar, as well as multi-year lows against the yen and the euro, based on expectations that we could well see further monetary policy easing, as soon as next week. Despite the growing pressure on the pound one can't help feeling that the current sell-off seems overdone given that bond markets already suggest that 50 basis points is already priced in.
This might suggest that expectations of a rate rise as soon as next week may well be premature and this does chime somewhat with the tone of the Bank of England governor when he suggested that low rates could potentially cause more problems than they resolve.
The Japanese yen has continued to push higher which is likely to be a particular concern for the Bank of Japan, posting its biggest gains against the pound and its highest levels since 2012. Since last August the pound has slid over 30% against the yen, against a decline of 15% against the US dollar, declines which are likely to cause concern at the Bank of Japan and the US Federal Reserve.
Commodities
As global bond markets start to price in the prospect of a global slowdown oil prices have started to come back off their recent highs. Earlier this year oil prices found a base just below $30 a barrel and since then have rallied strongly to levels just above $50, a move that has seen the recent decline in rig counts start to reverse, which suggests that supply story could well be about to call time on the current rebound.
With supply expectations set to remain high and concerns about the growth outlook still uncertain a small move lower towards the June lows wouldn't be unexpected.
Silver prices have slid back sharply after peaking yesterday above $21, slipping back below the $20 an ounce, dragging gold prices down with it, however given current levels of risk aversion it probably won't be long before it edges back up again.
CMC Markets is an execution only service provider. The material (whether or not it states any opinions) is for general information purposes only, and does not take into account your personal circumstances or objectives. Nothing in this material is (or should be considered to be) financial, investment or other advice on which reliance should be placed. No opinion given in the material constitutes a recommendation by CMC Markets or the author that any particular investment, security, transaction or investment strategy is suitable for any specific person.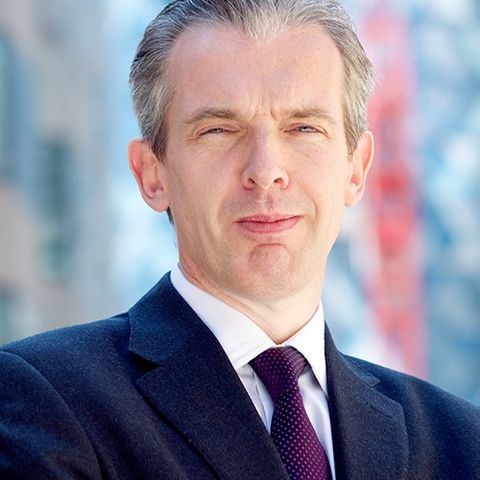 Michael Hewson