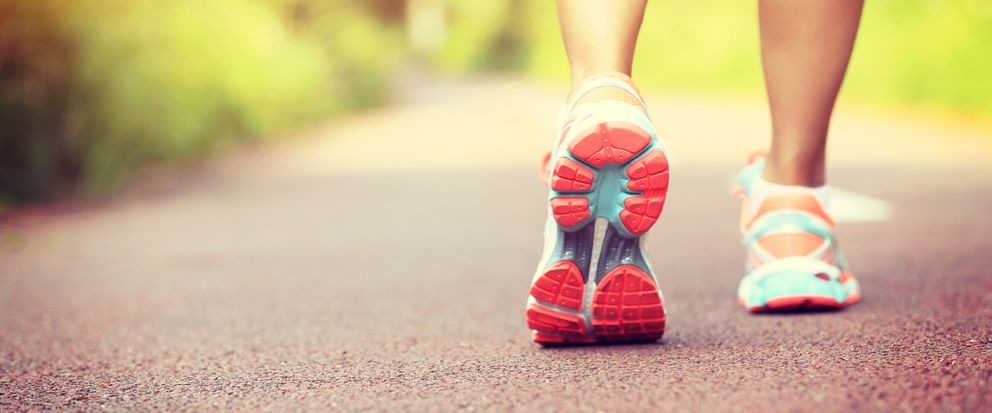 Nike is the biggest sportswear company in the world and a money-making machine. On September 27, Nike is scheduled to report its fiscal Q1 2017 results.
Shares of Nike are flat over the past 12 months, whilst its footwear and apparel rival Adidas has seen shares more than double in value.
Earnings have beaten expectations for 16 straight quarters, but the problem for the shares this year has come from the revenue side. Revenues have been sliding for several quarters. Last quarter sales in North America didn't rise year-over-year, which hasn't happened in over five years.
The revenue decline is in part because of adverse currency movements, namely a stronger dollar which devalues its foreign earnings. As a German company, Adidas has benefited from the counterfactual of a lower euro.
The disparity between the share price movements between Nike and Adidas cannot all be put down to currencies. Shares of US-based rival Under Armour are down -5% year-to-date, Nike shares are off -11.5% YTD.
Nike's success over time has been its ability to differentiate itself from the competition with innovative products and successful branding, notably through sponsorship. A case in point is the Nike Air Jordans.
Nike's product innovation is clearly evident in the soon-to-be released "'self-tying" trainer, which if it takes off, could be a game-changer. Overall though, there is increased competition in footwear as tastes have shifted to more "casual" styles. Nikes faces competition from not only Adidas but also Puma, New Balance and Sketchers.
Where the pendulum may have swung for Nike is on the sponsorship and endorsements. Of the top 10 biggest endorsement deals in history Nike makes up 8 out of 10, with Adidas making up the remaining 2. Nike is the biggest spender on celebrity endorsements but there may have been a few key turning points that hit Nike's desirability amongst its more pop culture-conscious customers.
Rapper Kanye West switching sponsorship deals to Adidas was a big loss for Nike. On New Year's Eve last year, he released a song promoting his 'Yeezy' Adidas brand whilst bashing Nike. In 2016 Nike may have lost some credibility when it cast aside two of its most high profile sports sponsorships of Manny Pacquiao and Maria Sharapova. In 2014 Adidas took a different approach and kept Luis Suarez despite the footballer getting a four-month ban for biting an opponent in the World Cup.
In the chart below it can be seen that in mid-February Nike shares made a new low whilst Adidas shares didn't and went on to make a new highs for the rest of the year, leaving Nike in the dust.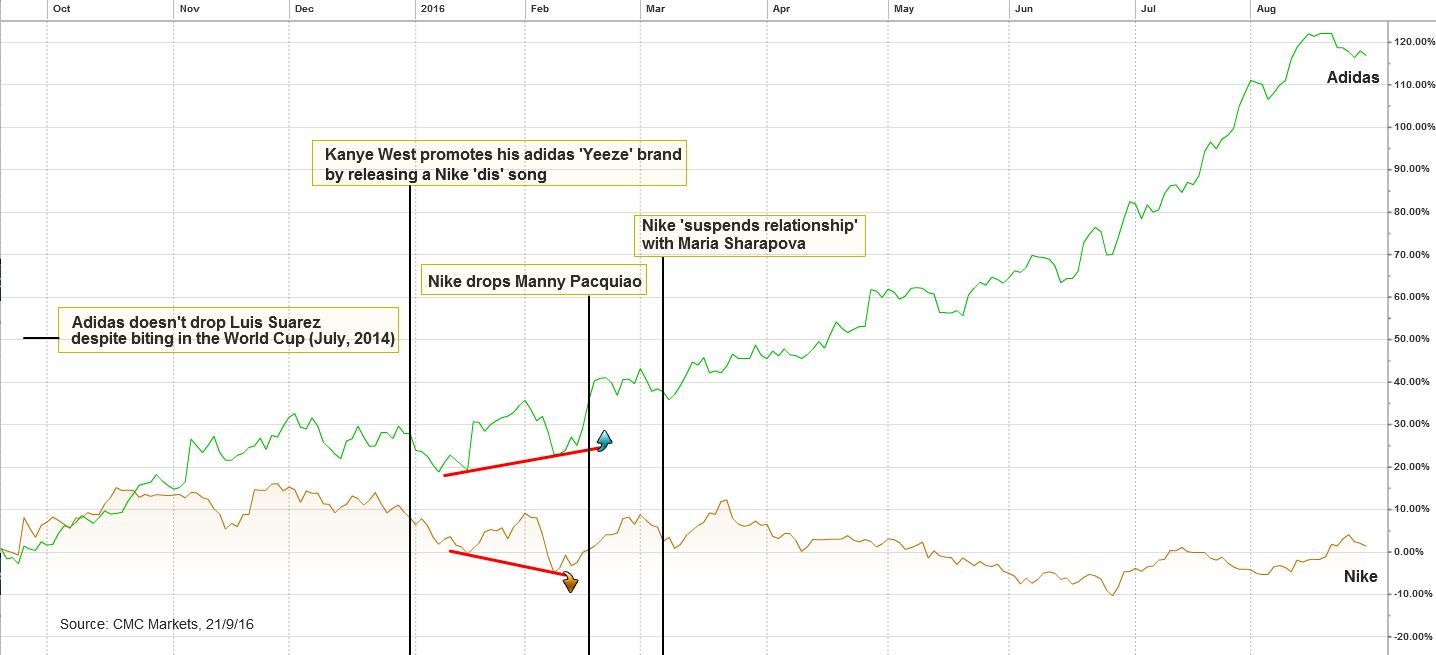 A fall in the US dollar would certainty come to the aid of Nike, like other US multinationals but it also needs a game-changing endorsement to take the fight back to Adidas.
CMC Markets is an execution only provider. The material (whether or not it states any opinions) is for general information purposes only, and does not take into account your personal circumstances or objectives. Nothing in this material is (or should be considered to be) financial, investment or other advice on which reliance should be placed. No opinion given in the material constitutes a recommendation by CMC Markets or the author that any particular investment, security, transaction or investment strategy is suitable for any specific person.