Warren Buffett's Berkshire Hathaway's [BRK] recent fourth quarter results saw a $15,000 loss in class A shares. But with a balance sheet of $100 billion Buffett and investing partner Charlie Munger have a lot of funds to play with.
Recent volatility and macroeconomic worries have seen many high-quality stocks drop in price. This suits Buffett's fundamentals-first, long-term investment style. Not to mention the possibility of picking up some bargains along the way.
The fourth-quarter saw some interesting picks for Berkshire Hathaway. Investors will also note the hedge fund continued to gobble up banking stocks.
Berkshire's bottom line took a hit when Kraft Heinz's stock fell to record lows in 2018. Berkshire controls the ketchup-maker after teaming up with 3G Capital in 2013. So when Kraft Heinz's stock plummeted 27% the hedge fund saw $4 billion wiped off the value of its holding. In its fourth quarter results, Berkshire Hathaway posted a $3 billion writedown due to its Kraft Heinz exposure.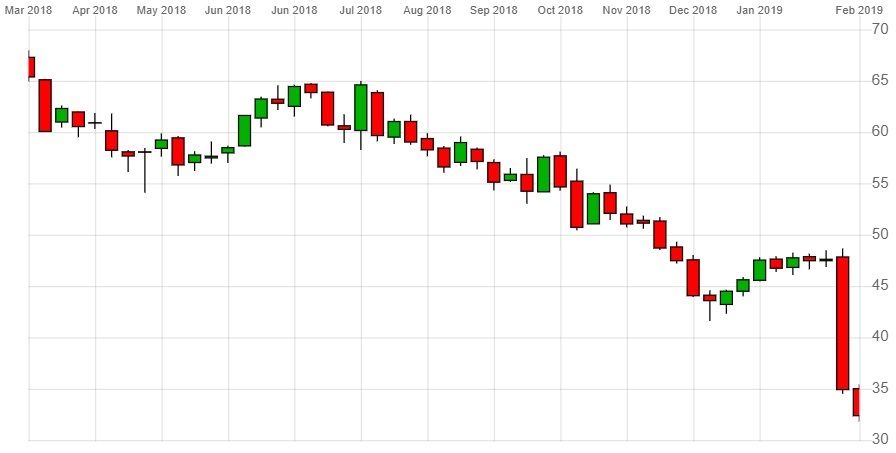 Powered by CMC Markets, as at 5 March 2019
Buffett may now wonder if he went into business with the right people. 3G's approach is different to the long-term investment strategy Buffett espouses.
One explanation for Kraft Heinz's fall is changing consumer trends, with many shoppers increasingly choosing supermarket own brands over the more expensive brand names Kraft Heinz specialises in. More consumers are also cutting down on processed foods which has hurt sales.
"Our industry has been and is likely to remain challenged," Chief executive Bernardo Hees said, acknowledging the future looks tough for Kraft-Heinz.
Berkshire is betting big on finance right now and increased its stake in Goldman Sachs to $3.13 billion in the fourth quarter. Goldman's shares have fallen a steep 25% over the past 12 months so Buffett could have himself a bargain. 
The effects of streamlining at the bank could see the share price start to climb. Goldman Sachs is coming to the end of a business review conducted by CEO David Solomon. The expectation is that this process will see a string of planned redundancies. This includes the fixed income securities and commodities division which lost $100 million in the fourth quarter.
| | |
| --- | --- |
| Market cap | £72.07bn |
| PE ratio (TTM) | 7.76 |
| EPS (TTM) | 25.27 |
Goldman stock vitals, Yahoo finance, as at 5 March 2019
Headwinds for the bank include its role in the 1MDB Malaysian bond scandal. Malaysian authorities have accused Goldman subsidiaries and two bankers of misappropriating over $2.7 billion worth of funds through bond sales. Goldman underwrote the sale for $600 million and the Malaysian authorities now want the money back.
Berkshire Hathaway reduced its holdings in Apple by 1% in the fourth quarter. Not a huge amount, but still a reversal after a string of buys in the stock. Buffett likes Apple and has said that he would buy the company outright if he could. Apple recorded its worst ever fourth-quarter iPhone sales according to market research company Gartner.  The tech firm saw a drop of 11.8% over the festive season, managing to shift 64.5 million handsets. In the fourth quarter of 2017, Apple sold over 73 million iPhones. The company also saw its market share in China half to 8.8%.
8.8%
Apple's market share in Greater China
The worry is that subscription services like Apple Music have left its hardware business neglected. Sales of iMacs and iPhones account for over half of revenue so any slowdown will worry investors. Still it might not be worth reading too much into this one as Buffett continues to own a massive stake in Apple.
Berkshire Hathaway's share buyback scheme has seen its stake in American Express going from 12.6% to 17.9%. This is despite having not traded the stock in almost a decade. That translates to a $1.2 billion cut of American Express's $6.9 billion 2018 profits. Berkshire's stake in American Express is now worth $14.45 billion.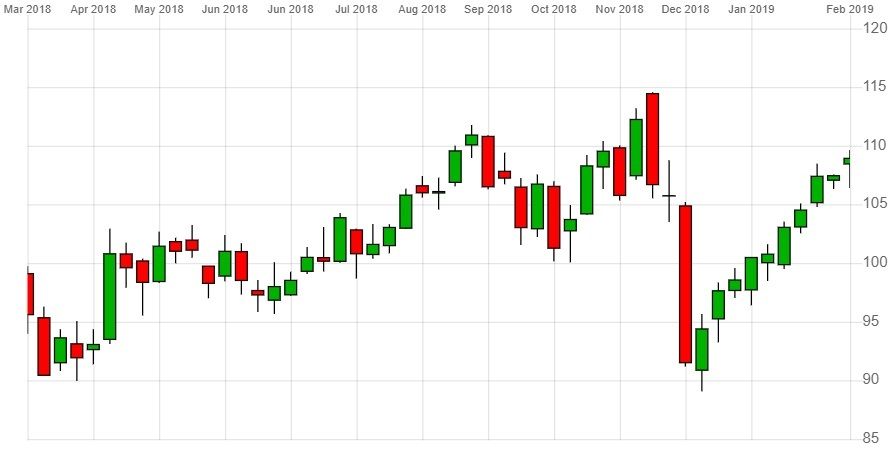 Powered by CMC Markets, as at 5 March 2019
The holdings in American Express sees Berkshire increase their exposure to banking. In the last quarter, Berkshire also scooped up shares in US Bank corp (4,385,739 shares), J.P. Morgan Chase (14,451,627 shares), Bank of America New York Mellon (3,087,774 shares) and PNC Financial (2,175,743 shares).
One reason for going big on banks is their high earnings potential and strong balance sheets. Post-crash, legislation has also meant banks have better risk and financial control. Yet if economic concerns cause a further slowdown in business, bank share prices could take a hit. Still, it looks as if the Oracle of Omaha is staying true to his word and investing in this sector for the long-term.