After a stellar performance in 2018, Twilio's [NYSE: TWLO] share price growth is showing no signs of slowing down as the surge continues into the new year.
The cloud communications platform, which provides software that companies use for managing communications like text messages and video, saw its shares grow by 278% across 2018 after beating earnings estimates and analyst guidance quarter after quarter. It received 11 buy ratings in the three months up to December.
The stock quickly recovered from the October tech stock sell-off – after losing 26% through the month, and had rebounded to close 2018 40% above that low, despite some further volatility.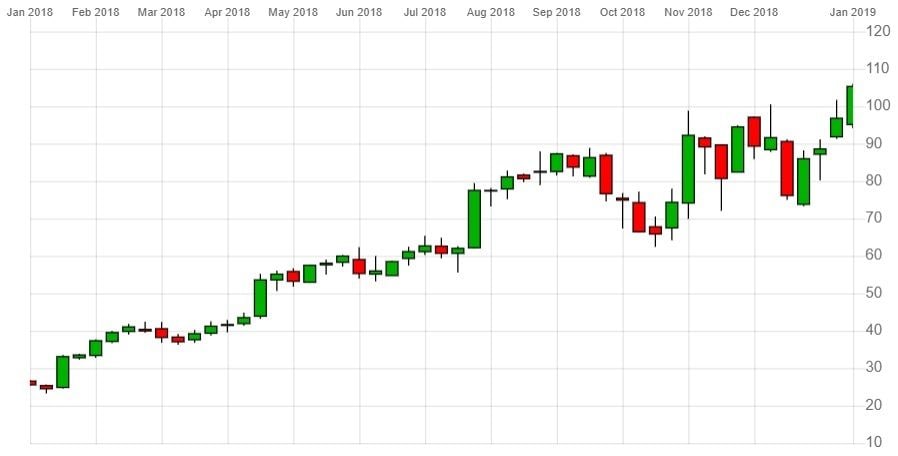 Powered by CMC Markets, as at 24 January 2019
In the lead up to its Q4 earnings, which will be reported on 12 February, the outlook remains bullish. Between 2 January and 18 January the share price saw a 20.5% surge, a sign that its streak could have further to run. Analysts estimate that the cloud company will grow revenues by as much as 28% in 2019. 
The worldwide public cloud services market is expected to grow 17.3% in 2019 to $206.2bn, which is a $30.4bn increase from 2018, according to Gartner. 
 
As a mid-cap company, made public in only 2016, it has become one of the fastest rising stocks in the market, in 2018, after making little progress through 2017. 
In the right business
Twilio is certainly in the right industry. Cloud communications adoption by businesses is set to increase annually by 27% through to 2021, according to consultancy firm Frost & Sullivan.
Currently, 14% of companies use the cloud for email. A further 65% is expected to do so in the next two to three years, according to the firm.
This rapid growth is clearly seen in Twilio's numbers. The company, which competes with the likes of Cisco, said it had 61,153 active customer accounts in its Q3, 2018 earnings report, up 31% from 2017. Whereas Cisco has over 500,000 registered users on its developers programme, DevNet. 
| | |
| --- | --- |
| Active customer accounts % change, Q3 YoY | +31% |
| Market cap | $9.925bn |
| EPS (TTM) | -0.98 |
Twilio stock vitals, Yahoo finance, as at 24 January 2019
Customer uptake has led to its stellar results. By its third quarter Twilio beat analyst estimates for both earnings and revenue, reporting a 68% revenue rise from the previous year at $168.9m. Earnings per share came in at 7 cents per share, above the two cents per share expected.
The company did accrue some debt with the acquisitions of Ytica for an undisclosed price and SendGrid for roughly $2bn, suggesting that revenues may not rise as sharply in 2019. The acquisitions have, however, been positively received by shareholders. 
Currently, Twilio is trading at just under $105, seven times its initial public offering price in 2016. Back then the stock surged 194% in the first three months of trading before plummeting to $30.5 a share. 
194%
Percentage increase in the first three months of trading
Further gains predicted after improving profitability  
Twilio is also continuing to make the right moves, recently making some shrewd hires, bringing in former Amazon and Google exec Chee Chew as chief product officer and Apple veteran Donna Dubinsky to its board of directors.
Such moves have to led to a string of buy ratings from analysts. One such rating arrived this January from KeyBanc, a top 10 analyst according to TipRanks, which recently boosted the company's target estimate from $103 to $114. 
The firm has also increased its 2019 revenue forecast for the company from $827 to $851m, due to "multiple upside levers" including new products and improved sales productivity. 
"We see multiple upside levers to consensus growth of 31 percent in 2019 vs. 68 percent last quarter and are raising our estimates and PT to $114 from $103" KeyBanc's Brent Bracelin wrote in a January 7 report. 
"Our scenario analysis of the SendGrid acquisition suggests that base-case revenue could exceed $1bn next year and then triple to $3bn within five years" he said.
Many echo Bracelin's prediction and expect Twilio to be a favourite growth stock for 2019.