Lloyds [LLOY] CEO Antonio Horta-Osorio's latest pay rise has certainly raised some eyebrows. The Lloyds boss pocketed £6.3 million in 2018, up 13% from 2017. That's a hefty slice of the £6 billion in profits that the bank earned last year.
In an era where bank chiefs' pay is still under the spotlight, political condemnation was swift:
"The pay increase is completely inappropriate and should be abandoned," said Labour MP Frank Field, who heads up the Work and Pensions Committee.
Back in 2014 Horta-Osorio oversaw the termination of final salary pensions at the bank, leaving Horta-Osorio as the only member of staff entitled to this type of pension. With threats of discontent at the upcoming annual shareholder meetings, he has now agreed to drop this perk, bringing his benefits package more in line with Investment Association guidelines designed to curb excessive CEO pension handouts. 
"The pay increase is completely inappropriate and should be abandoned" - Labour MP Frank Field
Yet, this cut went hand in hand with a £25,000 pay rise and annual fixed share payments bumped up to £150,000. Good work if you can get it, but not exactly adhering to the spirit of the Investment Association's guidelines.
Is Horta-Osorio worth the money?
The board claim that Horta-Osorio is now in charge of a more complicated business since ring-fencing regulations came into effect. But Lloyds is the only bank to use ring-fencing as defence for large pay rises.
Still, there's no doubting that Horta-Osorio has revitalised the bank. Since taking charge he's implemented a strategy that centres around the use of digital services to enhance the company's efficiency. The strategy has seen the bank manage to increase the number of loans it extends to its customers, at higher margins and with lower operating costs. The net effect has seen the bank's underlying profits climb to £8.1 billion in 2018, a sharp 6% rise on 2017.
Market cap
£

43.98bn

PE ratio (TTM)
11.24
EPS (TTM)
5.50

Book value per share

 

(MRQ)

0.71
Lloyds stock vitals, Yahoo finance, as at 29 March 2019
If Horta-Osorio's strategy continues to pay out for the bank, then the pay rise could be money well spent. Even so, does Lloyds really have the cash to throw around? Well, cashflow coming into the bank is -£11.3 billion, which is low even by banking industry standards. Lloyds will have to keep its books in rude health if it plans to reward its top executives to this extent.
How has the share price taken the news?
Distracting shareholders from large pay rises have been increasing dividend payouts. 
Lloyds has managed to double returns for shareholders in the past few years. In 2018 Lloyds returned over £4 billion to shareholders, doubling 2015's figure. Following February's full year earnings results, shareholders got a 6% bump to their dividend payments.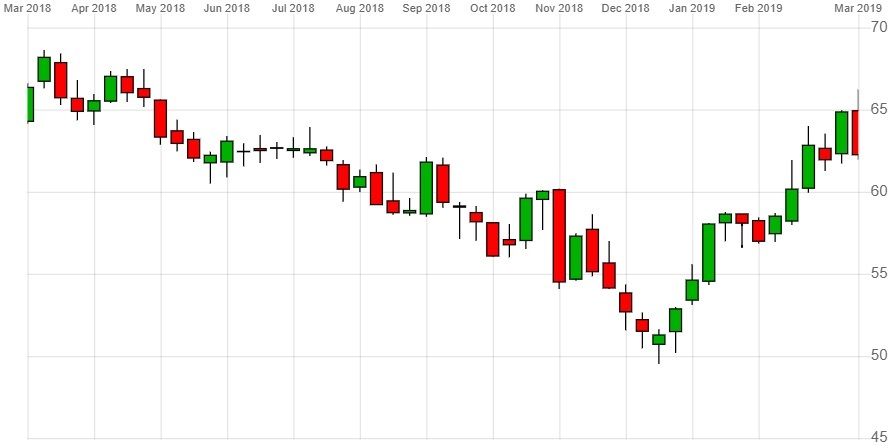 Lloyds 1-year share price performance, CMC Markets, as at 29 March 2019
And with fewer shares out there thanks to the bank's buyback schemes, analysts expect earnings per share to rise to 7.9p by the end of the year.
Can the share price keep growing?
Since the start of the year, the stock is up over 20% and outpacing the FTSE 100's 7% gains. The stock has an 11.35 P/E (ttm) ratio, far below RBS's 18.76 and Barclays' 16.91, making it good value for bargain hunting investors.
Spurring investors on was last week's unveiling of the management team behind Lloyds and Schroders joint venture. Named Schroders Personal Wealth, this will see the two heavyweights offer a new financial planning and advice service. The announcement saw the share price climb over 5% on the day.
+20%
Lloyds share price increase year-to-date
However, Lloyds share price has started to dip since reaching a year high on 19 March. One obvious area of concern is the continuing uncertainty over Brexit. Lloyds does most of its business in the UK and lacks the international exposure of rivals like HSBC and Barclays. 
Then there was the news that the bank had lost its legal battle with Standard Life. Lloyds had planned to cut short an investment contract worth £100 billion. Lloyds now faces a £300 million compensation bill. The defeat is a set back for its ambitions to launch its own wealth management service.
How Horta-Osorio handles these obstacles will ultimately determine whether Lloyds made the right decision to over pay.