E
lon Musk eased shareholder's worries about
Tesla's [TSLA]
fortunes at the company's annual meeting in Silicon Valley on 11 June, saying that it has a "decent shot at a record quarter on every level".
While Musk didn't give any specific financial or production targets, the news prompted a near 2% rally in Tesla's share price on Tuesday, extending a wider June rebound. 
The share price had fallen by more than 46% in the first five months of the year before hitting this year's low of $178.97 on 3 June; shares have climbed over 20% since then. Despite the company's return on investment (TTM) of -5.31, which is still significantly behind the industry's average of 11.08, Musk's positivity and ambitious vision for the future continue to bolster the share price.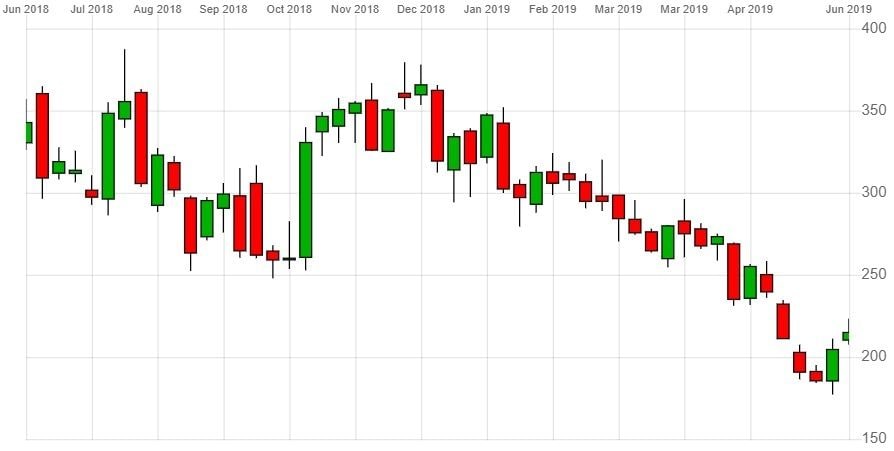 Tesla 1-year share price performance, CMC Markets, 17 June 2019
Model 3 demand concerns eased  
"I want to be clear, there is not a demand problem. There's absolutely not," Musk proclaimed at the event. "Sales have far exceeded production — and production has been pretty good." 
He went on to say that 90% of orders for the Model 3 – which had had fallen by nearly a third from the previous quarter in its April update – were from new customers, and that 63% of its trade-ins are from non-premium categories. 
Tesla expects to deliver between 90,000 and 100,000 cars in Q2 2019 after delivering just 63,000 in the previous quarter. International expansion is set to provide a big boost for production, as the company started shipping to China – its second largest market after the US – and Europe earlier this year.
Market cap
$

38.29bn

Forward P/E

38.24
EPS (TTM)
-5.69

Return on Equity

 

(TTM)

-16.08%
Tesla share price vitals, Yahoo finance, 17 June 2019
Wall Street analysts, however, take a more conservative view, expecting Tesla to generate revenues of about $6.22bn, and for deliveries to reach between 70,000 and 80,000 for the second quarter, according to the Financial Times. Morgan Stanley's Adam Jonas predicts that the carmaker's share price could reach $230, an 8.6% increase on its current price, which is already pushing well beyond a key support level of around $200.
Tesla tries to get back on course    
The upbeat outlook comes after a volatile year for the company that has swung from good to bad. Tesla went from posting back-to-back profits and meeting production goals in the fourth quarter of 2018 to reporting wider-than-expected losses and missing delivery milestones just three months on. 
$230
Tesla share price target - Morgan Stanley's Adam Jonas
Furthermore, Musk has been able to put a fraud charge from the US SEC, in relation to the CEO's tweeting of sensitive information, behind him by agreeing to settle the case. 
After Musk alleviated demand concerns at the meeting, shareholders began to wonder what might be next in the pipeline.
Indeed, Musk did hint at a diversification into mining in a bid to scale up battery production, the upcoming unveiling of the Tesla pickup truck, and the implementation of self-driving features in every car made since October 2016 by next year. Musk also mentioned the production of Tesla's larger electric semi-truck by the end of 2020.
But perhaps one of the more intriguing topics of conversation came up when a shareholder asked whether Tesla had considered building an aquatic car. While Musk said such a project would be a distraction, he did acknowledge that there is a small and enthusiastic market for a car that could drive on land and water, saying that creating such a vehicle would be the "coolest thing". 
An even cooler thing would be to see Tesla's share price move upwards and towards its 200-day moving average of $289.56. But with the short interest in the stock growing (Tesla's short volume ratio increased from 13.04 on 4 June to 20.37 just seven days later), it will require more than Musk's optimism to get there.