The end of 2018 was a troubling time for Standard Life [SLA]. Between the start of October and mid-December the stock fell over 26%. Spooking investors were the company's leadership setup, investment outflow and lacklustre results.
2019 looked to be more of the same with a major Japanese bank pulling investment.
Yet, with Standard Life emerging triumphant in a legal dispute with Lloyds Banking Group [LLOY], the share price has pulled away from last December's lows.
Standard Life wins Legal battle with Lloyds
Standard Life won a major legal fight with Lloyds Bank who were looking to walk away from a £100 billion investment contract. 
£100million
Value of Standard Life's investment contract with Lloyds Bank
Justifying the decision to break the contract, Lloyds claimed Aberdeen Asset Management's 2017 merger with Standard Life made it a virtual competitor.
The arbitration panel disagreed. Finding in favour of Standard Life, it ruled that Lloyds was too hasty in exiting a contract due to run until 2022.
Now Lloyds has to choose whether to stay in the deal until 2022 or pay a hefty compensation bill. This expected to be between £250 billion to £300 billion, which could see Standard Life's pre-tax profits up 10% in 2020. In the short-term, the victory saw Standard Life's share price surge over 5%.
What happened in Standard Life's earnings report?
The timing of the outcome has been a spot of good luck for Standard Life. Last week the company delivered flat earnings results that disappointed investors.
Market cap
£

6.33bn

PE ratio (TTM)
8.93
EPS (TTM)
29.10

Quarterly earnings growth

 

(YoY)

55.90%
Standard Life stock vitals, Yahoo finance, as at 27 March 2019
The results showed total assets under management had dropped to £55.15 billion, a 9.3% year-on-year drop. Despite a 10% cut in operating expenses, profits came in at £473 million, a 13.7% fall. Better news was had in its associates and joint ventures, which saw an 88% jump in profits.
Breathing room for Standard Life to regroup?

Following the legal victory over Lloyds, co-CEO Keith Skeoch commented:
"Now that the arbitration panel has ruled in our favour, we will carefully consider our next steps, working constructively with [Lloyds Banking Group] to bring the matter to resolution."
Skeoch himself has been in a position of some speculation. Standard Life's two CEO structure - with both Skeoch and Martin Gilbert at the helm - has been blamed for a lack of direction. 
Shareholders have been clamouring for a single CEO to take charge, preferably from outside the organisation.
Since the merger between Aberdeen Asset Management and Standard Life, the share price has slumped over 44%. Piling on the pressure has been investors pulling £40.9 billion out of the asset manager.
44%
SLA's share price slump since the merger
Managing to keep hold of the Lloyds contract provides some breathing room for both the company and its leadership.
Is there opportunity in Standard Life's share price?
With some momentum finally behind the stock, now could be a good time for investors to pick up a bargain.
Looking at the financials, the bank could be considered undervalued. Profit to earnings ratio is 9.22 which is less than Lloyds 11.87 and well under RBS's 19.83. The price to book ratio - a measure of a share's value - is 1.94, indicating that the stock is good value. It also beats the 2.22 industry average and the 2.72 sector average.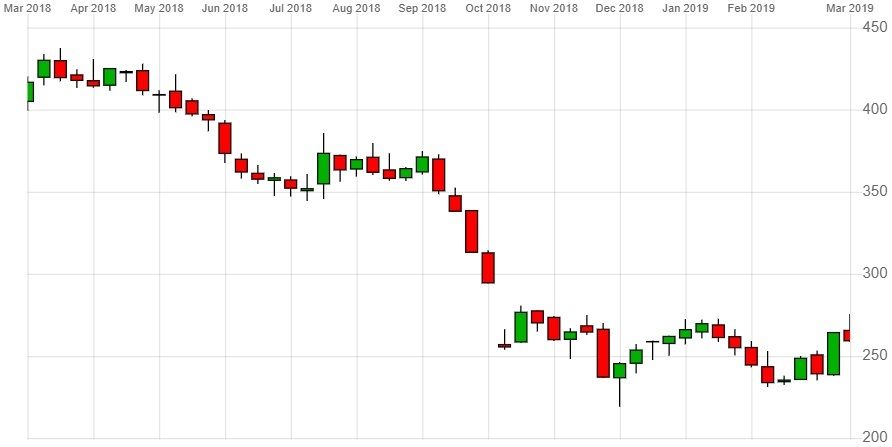 SLA 1-year share price performance, CMC Markets, as at 27 March 2019
The solid financial base suggests suggests that the company is now in a good position to grow. 
According to the Financial Times, 15 analysts tracking the stock have pinned a 480p 12-month price target on the share price. This would represent a massive 78.5% surge. With the share price down 28% since this time last year, there's a long way to go to recoup recent loses.
The latest consensus recommendation according to the Financial Times is 'Outperform', with just 1 analyst recommending 'sell'.