In the last three years, Shell's [RDSA] share price has grown over 45% on the back of rising oil prices. This has seen CEO Ben van Beurden pocketing $20.1 million in 2018. That's a hefty 127% pay rise from the previous year.
Yet, pinning pay on a market that Shell has no direct control over might not be a prudent decision. Especially if this volatile market bottoms out.
127%
Shell CEO Ben van Beurden's pay rise in 2018
Will oil prices continue to climb higher?
When fears of a global economic slowdown caused oil prices to slump last year, Shell's share price nose dived.
But demand for oil has rebounded with the price of crude topping $60/bbl for the first time since November. This is due, in part, to production cuts in Venezuela , Russia and OPEC countries. Also helping to drive prices upwards is last week's announcement from the U.S. Energy Information Administration that crude inventories have unexpectedly dropped, with stockpiles at their lowest level since January.
With oil hitting a four month high, analysts have revised their expectations. Goldman Sachs said:
"The latest Brent rally has brought prices to our peak forecast of $67.5/bbl, three months early ... supply losses are exceeding our expectations, demand growth is beating low consensus expectations with technicals supportive and net long positioning still depressed."
"The latest Brent rally has brought prices to our peak forecast of $67.5/bbl, three months early" - Goldman Sachs
So could oil prices break out this year? J.P. Morgan reckons that with a potential resolution to the US-China trade war on the horizon, and continuing policy-driven supply-side tightness from OPEC and its partners, prices could break out. Shell could be well placed to reap the benefits.
How have Shell's earnings performed recently?
Quarterly earnings growth comes in at an impressive 46.8% year-over-year. This equates to an huge EPS jump of 54.99% over the 1-year period, and 109.71% over the past 3 years.
Market cap

£

212.20bn

PE ratio (TTM)

8.57

EPS (TTM)

280.00

Quarterly revenue growth

 

(YoY)

19.70%
Shell stock vitals, Yahoo finance, as at 22 March 2019
In the fourth quarter of 2018, the company brought in $104 billion in revenue, up 18.47% on the same quarter last year. Net income was $5.646 billion, a 43.41% bump. To cope with the increased demand in oil, Shell produced 2.23 billion barrels of oil per day in the fourth quarter, up from 2 billion in the same quarter last year.
The strong performance has allowed Shell to reward shareholders with an attractive 5.67 dividend yield. This is well above the 4.46 industry average and 4.65 sector average. The payout ratio comes in at 67.12 (TTM), far surpassing the 26.98 and 27.38 at industry and sector levels respectively.
Is there opportunity in Shell's share price?
Traders will need to weigh up a few variables before getting into either Shell or oil. Not least among these are noises from the US Congress that NOPEC is back on the agenda. This would would allow OPEC and its national oil companies to be sued under US antitrust laws.
OPEC could retaliate by flooding the market to crash oil prices. Among the casualties would be the Shell share price.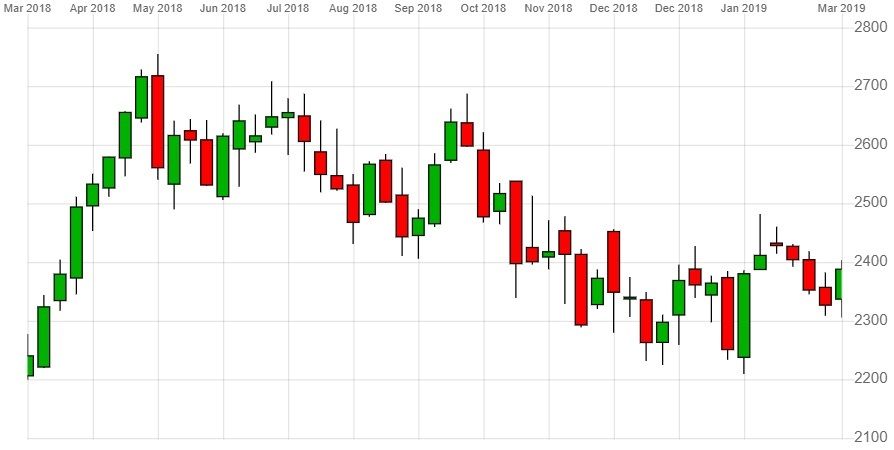 Shell 1-year share price performance, CMC Markets, as at 22 March 2019
On the other hand, OPEC cuts and curtailments from non-OPEC countries could lead to a supply deficit, which would see barrel prices moving higher.
OPEC has kept 1.2 million barrels a day off the market since oil prices collapsed last year and analysts at Morgan Stanley believe this could continue: 
"We assume that OPEC will extend – or even deepen – production cuts to support the oil market at the next meeting in June."
According to CNBC, Khalid al-Falih, Saudi Arabia's energy minister, reckons the deal will continue well into 2019.
Either way, it's an interesting time for oil, and for Shell's well-paid executives.